One bitterly cold January afternoon, Joe Shelton and Mark Grimaldi walked into Prison City Pub & Brewery with some concerns.
The friends and homebrewers had recently decided to start a brewery together. They'd chosen a production system, applied for a loan and even found a site three miles south of Aurora. Still, as they first set foot in the brick confines of the new Auburn brewpub, they were unsure how well their own business would fare in Cayuga County.
After a few minutes in Prison City, they were less unsure.
Shelton and Grimaldi walked through the blonde warmth of its exposed light bulbs toward the swinging double doors leading to head brewer Ben Maeso's system. They peeked through its windows, sizing up the beaming steel vats, the snaking tubes. Then, Maeso approached. He welcomed them inside, showed them the system up-close and asked how theirs was coming along. They exchanged email addresses, and would stay in touch.
More than anything Maeso told Shelton and Grimaldi that day, however, it was what he showed them — a former homebrewer working commercially on a five-barrel system in Cayuga County — that gave them a shot of confidence.
"We can do this," they told themselves.
Encouraged, Shelton and Grimaldi pressed on with what would open in July as Aurora Ale & Lager. It was the fourth Cayuga County brewery to crop up in less than a year.
While it's too early to measure Shelton and Grimaldi's success, it's not too early to measure that of Prison City and the rest of the county's new craft beer scene: Thirsty Pug Craft Beer Market, The Good Shepherds Brewing Co. and Lunkenheimer Craft Brewing. Not only has each business overflown its expectations, already expanding production to meet the demand, but they've also bonded in purpose: To spread the good word of craft beer in the land of Michelob Ultra.
---
Restoring what Prohibition took away
If one looks at the Cayuga County beer scene over the last 70 years, the arrival of four breweries within the last year appears as a sudden spike.
Expand the lens to the last 150 or 200 years, however, and it looks more like a return to form. In 1900, 20 years before Prohibition took effect, there were as many as seven breweries in Auburn, local beer historian Scott Frazier said. 
The earliest record of beer production in the city reaches back to 1813, he said, but the first brewery of significance was Cornell & Co., later Burtis and Son, which opened at 32-34 Water St. in 1859. Nine years later saw the establishment of maybe Auburn's most significant brewery: Future mayor C. August Koenig's namesake.
At its peak, Koenig and later Independent-Koenig Brewing Co. produced 2,000 barrels a year of sunshine cream ale, porter and other beers, Frazier said. But the passing of Prohibition would bleed it like it bled every other brewery in the area. It closed its 117-129 Clark St. doors in 1930, scraping out the teetotaling years prior by producing low- and nonalcoholic beers.
The city would be dry for decades afterward. However, the ingredients for brewing's return to Auburn began piling up several years ago. In 1996, the nationwide number of breweries crossed 1,000 for the first time since Prohibition, according to Brewers Association data. Years of steady growth accelerated in the late 2000s, as the country went from 1,574 breweries in 2008 to 3,464 in 2014.
"A lot of industry experts say that we're going back to the way things were pre-Prohibition — before refrigeration, even," said Theresa Hollister, co-founder of the Finger Lakes Beer Trail. "They say that we're going to see every town and village have a home brewery again."
By 2013, the economic impact of New York state's craft beer scene was $3.5 billion, and the Finger Lakes area was no stranger to the surge. When the beer trail was established in spring 2011, covering Rochester to Syracuse and Corning to Binghamton, there were 24 members. As of June, there were 82. Among the expediting forces was the 2012 passage of a farm brewery law that lets license-holders open satellite tasting rooms, serve full pints and other privileges — so long as they commit to brewing with a rising percentage of state-sourced ingredients.
However, until 2014, Cayuga County seemed locked out of the rest of the state's lucrative party. The array of red markers around its borders on the Finger Lakes Beer Trail map — breweries in Ithaca, in Syracuse, in Geneva — suggested there was some sort of force field surrounding Auburn and nearby towns. 
That's because, like Shelton and Grimaldi, Cayuga County's would-be craft beer entrepreneurs weren't sure whether the market was ready for them.
Marc Schulz, a craft sales manager with TJ Sheehan Distributing and husband to Prison City owner Dawn Schulz, estimates Cayuga County's craft beer market share to be 3 percent. In comparison, Syracuse's is 7 and Rochester's is 25, due in part to the heavy presence of richly stocked Wegmans stores there, he said.
Such figures sowed doubts in the mind of Thirsty Pug owner Mike Sigona.
"There were a lot of sleepless nights planning on opening up this place," he said. "There's the possibility no one shows up."
Ahead Sigona went anyway, opening the downtown Auburn craft beer store in June 2014. Though not a brewery, it was a bellwether.
Suddenly, Cayuga County had grabbed its piece of the craft beer boom.
It often happens that fast, Hollister said. In 2012, Binghamton's drought ended with the opening of Water Street, Binghamton and Galaxy brewing companies, all that year. Chalk it up to coincidence or the collective unconscious — but it's common.
---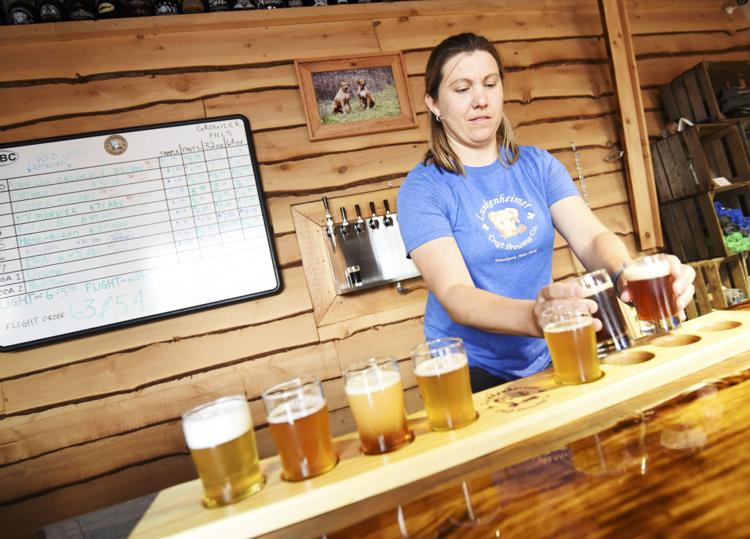 Better than the best-case scenario
Not long after they opened, the members of Cayuga County's craft beer scene got their answer: The market was more than ready. Each business said it has easily surpassed its sales expectations and, as a result, either completed an expansion already or set one in motion:
• Shepherds owner-brewer Garrett Shepherd recently started taking delivery of a 2.5-barrel system. It replaces his half-barrel one, which he said prompted a Brewers Association member to declare Good Shepherds one of the smallest breweries in New York state. Shepherd also lengthened his 8-by-7 bar another eight feet to get to customers faster.
Brewing has almost become a 40-hour-a-week job for Shepherd, who also works with Advocates Inc. in Liverpool, and he hopes to commit to Good Shepherds full-time by the end of the year. He's even eyeing possibilities for a new home for his brewery, having outgrown its 1,240-square-foot space at 31 Loop Road already.
• Lunkenheimer owner-brewers Derric Slocum and Kristen Lunkenheimer-Slocum have also received the parts to a new five-barrel system that will replace its one-barrel predecessor, and expect to have it operating by the beginning of September. They knew as early as spring they'd have to scuttle their original plan to run the one-barrel system for a few years, they said.
The Slocums have also installed an outdoor seating area to accommodate the 20 to 25 people that would otherwise clog their tiny 8920 N. Seneca St. tasting room on Saturday afternoons. 
• Prison City is steadily maintaining more house beers on tap after a few months of scarcity, which Maeso attributed to his needing to carbonate one keg at a time. As it added equipment to its five-barrel system, the brewpub has gotten closer to its goal of having six of Maeso's beers consistently available at all times. He still hopes to add a fermenter and push production from a few hundred barrels a year to 1,000.
Regardless, Prison City has been a hit, owner Dawn Schulz said. 
"When we put our business plan together, we had projections for what we thought would be a good, better and best-case scenario, and we are on target to exceed even the best case," she said.
• Sigona said he's doing double the business he expected at Thirsty Pug, bolstered by Rochester and Syracuse customers who come for his stock of rare, acclaimed beers. Confident he could support it, Sigona recently installed a six-tap system that serves pints, flights and growler fills of beers unavailable in bottles or cans.
The businesses' expansion has been as much about the present as the future. While Prison City has had the most strained supply — Grimaldi and Shelton said no house beers were available when they visited in January — each brewery has kicked its share of taps since opening. Each has also had local bars and restaurants knocking, as well as regional festivals. All of them want the same thing: To pour Cayuga County beers.
"It's hard to say no to people," Slocum said. "They're trying to support us and we want to support them."
Figuring into the demand is the reputation each brewery is developing. Prison City has become noted for Maeso's fruited sours — he and Schulz expect his Cherry Poppins to attract a cult following.
The Slocums believe Lunkenheimer's draw has been darker and lighter-alcohol beers, such as their oatmeal stout. Their Kolsch, a narrowly defined style brewed in Cologne, Germany, has also earned raves from customers who've been to the region, they said.
Shepherd, meanwhile, prefers being known for his variety of traditional and nontraditional beers, from red and Scottish ales to black IPAs and raspberry stouts.
Hollister said word-of-mouth about all three is strong.
"I've heard a lot of positive things about Prison City, its location and its commitment with its food menu, focused on sourcing locally," she said. "Garrett gets good reviews, and Lunkenheimer is starting to build a reputation."
Perhaps the breweries' biggest proponent is Sigona. Although the Thirsty Pug owner and craft beer connoisseur doesn't produce beer, Shelton nonetheless called him "the center of the beer scene" in Cayuga County, promoting its members and keeping in regular contact with them.
Sigona said he tells everyone who travels from afar in order to buy his elusive beers that there are two breweries a stone's throw away, and another two within 25 miles. But sometimes he doesn't have to — because they've come to Thirsty Pug from Prison City, Shepherds or Lunkenheimer. Each brewery also said it commonly greets visitors inbound from the other ones, and tries to send them on to the next.
The camaraderie among the Cayuga County breweries and Thirsty Pug runs deeper than friendly recommendations. They share grain, troubleshoot each other's systems and kick ideas back and forth. Maeso said he hopes to make collaboration beers with his cohorts, too. They first gathered for the Cayuga County Brewmasters' Beer Dinner in May, which paired beer from each with the brewpub's food over hors d'oeuvres, four courses and dessert.
Every member of Cayuga County's beer scene expressed gratitude for its noncompetitive climate. But there's more to it than good vibes.
"You'll not see a lot of industries where someone will send a customer to a direct competitor to try their beer," Sigona said. "But we have to work on building the community together to get people into craft beer, as opposed to fighting over what little market there is now."
---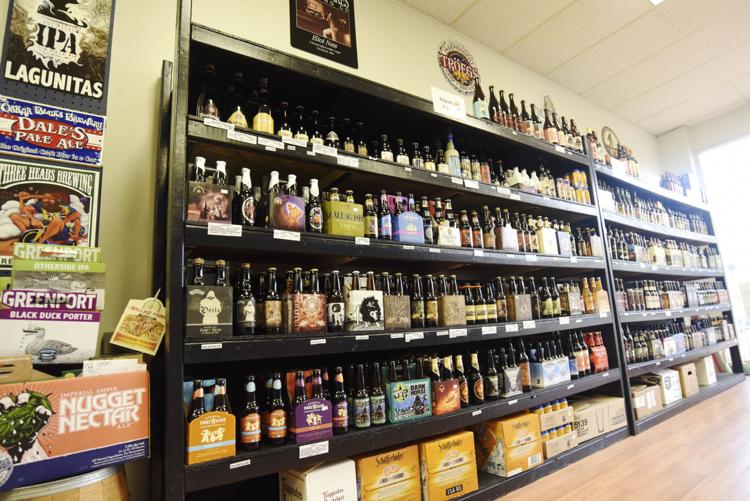 It's a 45-minute drive from Lunkenheimer to Aurora Ale & Lager, and Auburn's two breweries and Thirsty Pug lie almost halfway in between. That kind of density makes Cayuga County's breweries a regional destination, Sigona said, and keeps the area's native craft beer seekers from going elsewhere.
Each business sees a different ratio of local to regional visitors. Sigona said two out of every 10 of his "super beer nerd" visitors are from Auburn; the rest are from Syracuse or Rochester. Lunkenheimer and Prison City report the opposite: 70 to 75 percent of their patronage is local. Despite being breweries, both Lunkenheimer and Shepherds have also developed crowds of local regulars like any bar would.
"They come in and they hang out for an hour or two at least once a week," Slocum said. "It gets to the point that some of them will actually tell us if they're going out of town for the weekend."
However their demographic balance sheets read, the members of the Cayuga County beer scene believe they can do more to court local customers.
The Schulzes see the area's low craft beer consciousness firsthand at Prison City, where customers frequently pass over Maeso's beers in favor of Michelob Ultra.
"It's a reality that Mich Ultra is the official beer of Auburn," Marc said. "This town goes through an inordinate amount of Mich Ultra."
The light foothold for craft beer in Cayuga County is why its brewers feel the scene remains far from reaching a saturation point. At four, the breweries have a ways to go before matching Cayuga County's 11 wineries, some noted.
As potential ceilings go, Maeso and Sigona pointed to Portland, Oregon, where more than 60 breweries festoon its streets. However, the city's market share is almost 40 percent — the highest in the United States.
Growing the Cayuga County craft beer scene therefore means growing its production in step with its consumption. And that means converting those Michelob Ultra drinkers.
Schulz said the battle is one of perception. Potential drinkers should be made aware that craft beer isn't defined by dark color, nor the hoppiness of an IPA, nor 10-percent alcohol content, nor any one thing but the mix of water, malt, yeast and hops. (And its production by a brewery that makes less than 6 million barrels of beer annually, according to the Brewers Association.)
"It's amazing how many people will take one little sip of an IPA and say, 'I'm not drinking any craft beer anymore,'" Maeso said. "It's my whole life and it's still this small segment."
IPAs do appear to rule the roost among the Cayuga County breweries: Maeso's is Prison City's fastest-selling beer, and Exit 40 Pale Ale is one of Lunkenheimer's. The latter is made with 100-percent New York barley, which is another point of craft beer's appeal: locality.
Along with Aurora Ale & Lager, Lunkenheimer is one of Cayuga County's two farm breweries. Both expressed concern that New York hops won't be varied enough to comprise 90 percent of the total hops they use by 2024, as the farm brewery law mandates. They're also skeptical the state will be able to enforce the quota. But they agreed that tapping into the locavore movement can only help them win more drinkers.
To find the right starting point for converting them, Cayuga County's four breweries are quick to spotlight their lighter fare. They try to feel out customers' favorite beers and match theirs to them, whether it's Shepherd giving Bud Light drinkers his blueberry pilsner or Sigona recommending Blue Moon fans try a balanced saison.
They also stress the availability of samples and flights, each of which offers 4-ounce tastes of beers that may seem too risky at 16.
"Try a sample at Prison City, not a Michelob Ultra," Sigona said. "You wouldn't go to a restaurant and order food with the least amount of flavor, or ask for a diet wine."
Of course, there is such a thing as too hard a sell, Shepherd cautioned.
And with its success, the Cayuga County craft beer scene can afford to wait. It's already been 85 years anyway.
"You can't force people to try new things," Shepherd said. "You have to say, 'Here we are. When you're ready, stop on in and have a drink.'"