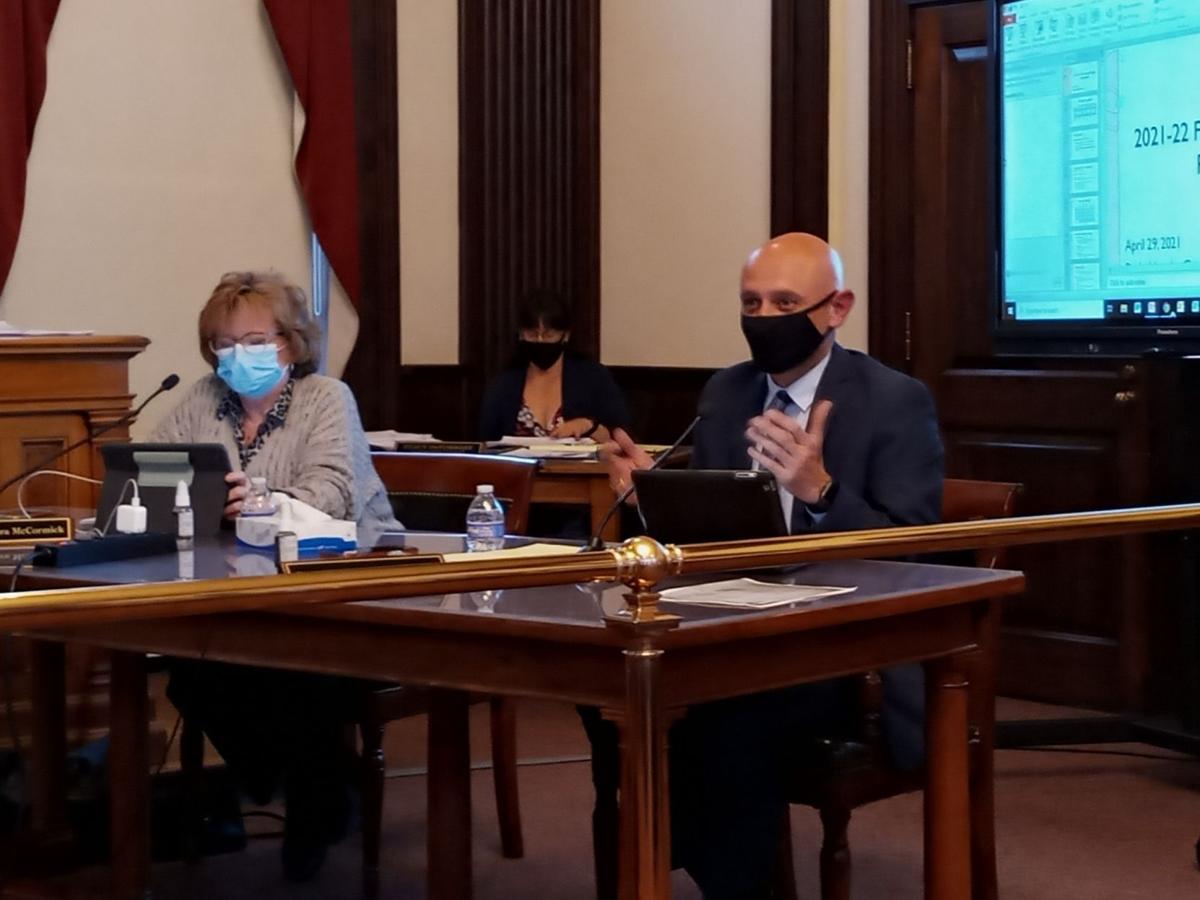 AUBURN — The 3.3% property tax increase in the first draft of the 2021-22 Auburn city budget may be disappearing.
After receiving input from city councilors following the original budget draft presented April 8, City Comptroller Rachel Jacobs presented a revised proposal to the council Thursday that eliminates the property tax levy hike and closes a gap between spending and expected revenue. The general fund would come to $37,910,312 — a 2.8% uptick over the current budget. Councilors will give input on the revised proposal next week. A final budget vote is scheduled for June 3.
A $1.4 million budget gap that Jacobs highlighted earlier this month has been closed using a transfer from the capital fund, which is being filled with federal stimulus funds.
Other revenues included in revised budget include $635,000 from FEMA reimbursements related to COVID-19 pandemic. The total transfers from the capital fund are $2.4 million. Jacobs said $1 million of that would be to basically "reimburse ourselves" for buying 31 Seminary St. for the public safety building, a project slated for completion later this year. "Two years ago we used fund balance to purchase that, so this would allow us to transfer that money back," she said.
Jacobs said the the city's solid waste fund is set to have a $155,000 gap, the refuse collection gap is set to have a $447,000 gap and the transfer station fund is set to have a $419,000 gap, but each of those can be resolved through transfers from the capital fund instead of fee or rate increases.
"All three of these funds, if there are deficits at the end of the year, are covered using fund balance from the general fund, and then an interfund loan is established to eventually get paid back," she continued. "So at this time, there will be no rate increases but we will have to have discussions about possibly having future increases in order to sustain those funds."
Jacobs also presented the council with a range of four property tax levy options, with the original 3.3% increase being the biggest hike. Councilor Jimmy Giannettino acknowledged the four different tax scenarios, and said the council has decisions to make.
"Obviously our goal as property owners ourselves, we don't want to pay anymore taxes, but the reality is we provide services people in this city rely on, and that's never been more evident during the last 14 months," he said. "You look at the last 14 months, this is why government exists, and this government, this local government, has done a damn good job in responding to hopefully the worst pandemic that we ever experience, and that costs money. I know people don't like to hear that. As a property owner, I don't like to hear that, but these are services that we all rely on, and they're necessary services."
City Manager Jeff Dygert asked that the council add some fees to the budget, with discussion set for next week. That included a $100-per-cart fee for retailers on stray shopping carts that city crews pick up around the city and keep in storage until retailers can get them.
He called shopping carts being left across the city "an ongoing problem for us, and it's not one particular retailer that has the issue, but it's continual. ...  It's work for our public works departments, and some of those retailers think of it like we're providing them a service to go pick up the shopping carts and either (return) to them or put them in a safe place until they have time to do it."
Councilor Terry Cuddy supported adding that fee to the budget, while Giannettino said he would be willing to hear suggestions.
"We have to make it enough that it makes sense for them to employ, maybe, their own folks to take care of that," Dygert said.
The city manager also referenced property clean-ups that have taken place in the city recently. He noted there have been occasional issues where people have challenged whether the items that were removed were valuable and whether they should have been cleaned up or not.
Dygert added that the city is going to pursue a new procedure where if there are items that are of questionable value or worth, those items will be impounded for a period of time. The property owner will be notified and will be able to pick those items up, but the city manager would like to have fees attached to that process.
Staff writer Kelly Rocheleau can be reached at (315) 282-2243 or kelly.rocheleau@lee.net. Follow him on Twitter @KellyRocheleau.