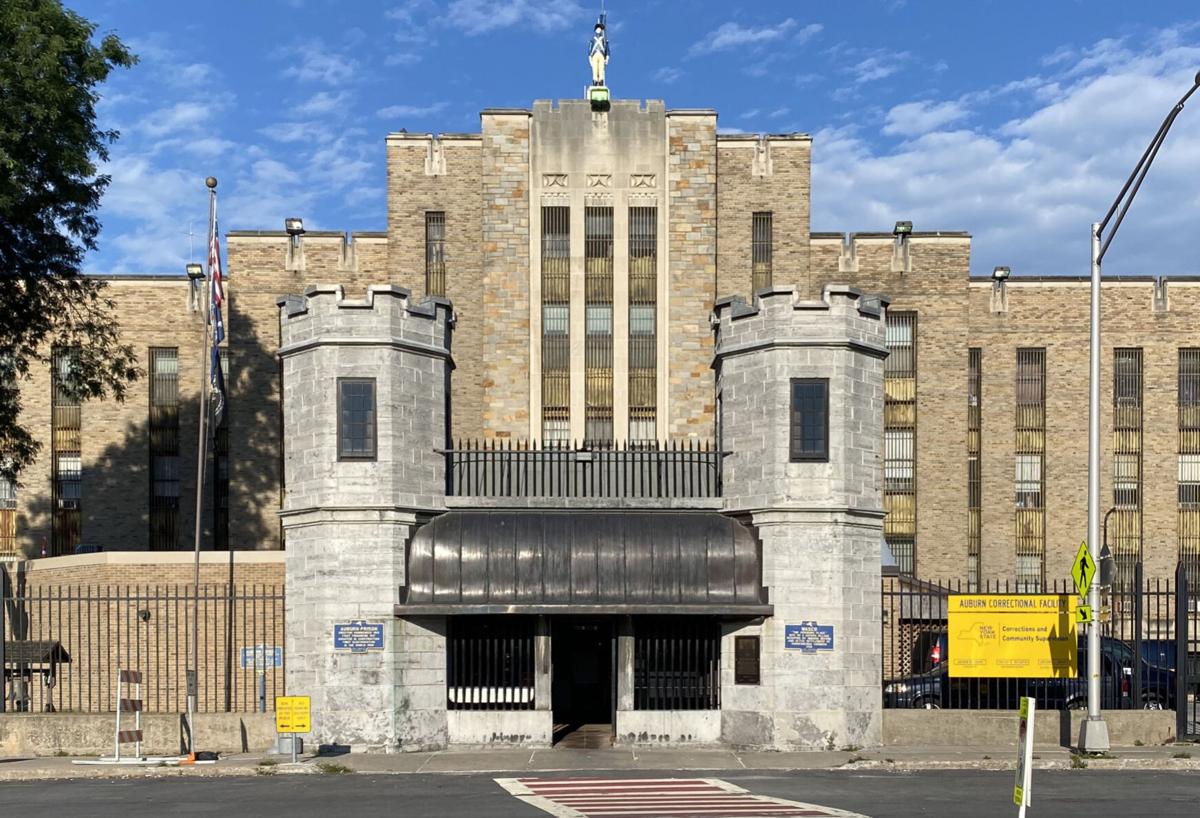 Elevator-sized cells. "Pens" for incarcerated individuals placed in solitary confinement to spend an hour each day outdoors. How COVID-19 affected this maximum-security prison. 
When Assemblywoman Anna Kelles visited Auburn Correctional Facility, she felt it was her duty to "bear witness" — to observe the conditions at the prison, a 205-year-old facility that is one of the oldest in the country. 
Kelles, D-Ithaca, shared her experience during a conference call last week organized by several advocacy groups, including the Center for Community Alternatives, Release Aging People in Prison, #HALTsolitary Confinement Campaign and New York Communities for Change. 
A group of legislators visited jails, prisons and immigration detention centers across the state. State Sen. Julia Salazar, the new chair of the Senate Crime Victims, Crime and Correction Committee, was the first to visit a correctional facility. She toured Fishkill Correctional Facility, a medium-security prison in the Hudson Valley. 
Auburn Correctional Facility, Kelles explained, has 1,700 beds and about 1,300 incarcerated people. Most of the prison population — 60 to 70%, she said — are people of color. Half of those housed in the prison after either serving life sentences or life without parole. 
One of the main takeaways from Kelles' visit is the size of the cells. The prison has what's formally called a special housing unit, but more commonly known as solitary confinement. 
While it may be assumed that there is a difference in size between the cells in the general population and the special housing unit, Kelles said the 1,700 cells in Auburn prison are "the same tiny size." She compared them to the size of an elevator. 
If there is a difference between the cells, it's the features afforded to those who aren't in the special housing unit. In the regular cells, she said there is a shelf where incarcerated people can store more personal possessions. But there are also differences in what's available to inmates in the general population, such as access to programs and when they can leave their cells.
Inmates who are in the special housing unit — there were 65 at the time of Kelles' visit — are allowed to leave their cell for one hour a day. She said they are taken to the roof of the prison where there are "pens." That's how they were described to her when she visited the facility. 
"There was an attempt to figure out another word for it but I was told 'for the lack of a better word we call them pens,'" she said. 
Kelles was informed that the average time an incarcerated individual at Auburn prison spends in solitary confinement is nine months. The facility has to get permission to go above nine months, which she was told is a common practice. 
Advocates and legislators are pushing for passage of the Justice Roadmap, which includes a solitary confinement reform bill. The measure would end long-term solitary confinement. If the bill is adopted, an incarcerated individual could not be held in a special housing unit for more than 15 consecutive days or 20 days within a 60-day period. 
Instead of solitary confinement, there would be residential rehabilitation units that would provide inmates with more time out of their cells, programs and therapy. 
Kelles believes the current system is broken.
"You keep someone in solitary for 23 hours a day for nine months straight, they are allowed one hour in a pen and intentionally not provided any mental health or any programming at all. That is part of the punishment for being in solitary, which to me in and of itself was the most profound of all this," she said. "Because I can't think of something that would be more destructive to a human's spirit by preventing them from having any mental health support in the exact environment that would create the greatest mental health trauma." 
During her visit, Kelles also learned more about how COVID-19 affected the prison. There was an outbreak at the facility that led to cases among the incarcerated population and staff. According to the state Department of Corrections and Community Supervision, there were 123 confirmed COVID-19 inmate cases at the prison. DOCCS, citing security reasons, doesn't disclose employee case totals at specific facilities. 
But Kelles was told that about 240 Auburn prison employees contracted COVID-19, meaning there were well over 300 confirmed cases involving prison inmates and staff. 
Based on the information she received, Kelles said masks weren't required for staff at the prison until September. But according to archived versions of the department's website, the mask mandate for staff had been in place since the early months of the pandemic. 
Kelles added that masks weren't required for incarcerated people until November. The DOCCS website doesn't indicate that there is a mask mandate for incarcerated individuals. It only says the department is "supply all incarcerated individuals with surgical-type masks." Any incarcerated individuals in isolation or quarantine due to COVID-19 are issued masks. 
On the call held last week, other legislators shared their observations from the visits. And they reiterated their support for the Justice Roadmap, which includes other bills related to incarceration. One of the measures, legislation to ensure fair and timely parole for incarcerated people, was advanced by the Senate Crime Victims, Crime and Correction Committee on Monday. 
Politics reporter Robert Harding can be reached at (315) 282-2220 or robert.harding@lee.net. Follow him on Twitter @robertharding.