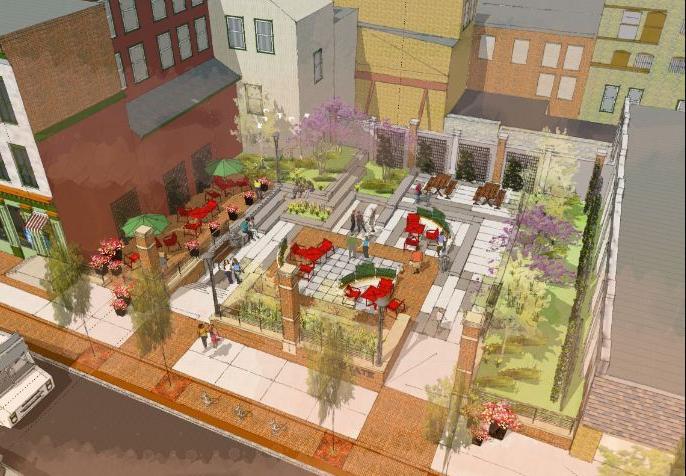 The Auburn City Council next week will vote on a proposed land transfer to the neighbor of a city-owned downtown parcel who had worked to block its redevelopment for several years. 
According to city records, Joseph Camardo Jr. is now willing to allow the redevelopment of 1-7 State St. to move forward in exchange for a small strip of land adjacent to his Genesee Street property.
The agenda for the council's upcoming virtual March 4 meeting includes a resolution to sell a portion of the 1-7 State St. parcel to Camardo. Earlier this year, the city announced construction of its $1.6 million outdoor events plaza was going out to bid, with the goal that project would be completed by early November.
The land sale agreement between Camardo and Auburn includes transferring a 71-by-20 parcel at the back of the property to Camardo, who has agreed to make improvements on it for use as parking for tenants in his building. He also will provide the city easements it needs to move its project ahead, and he will pay all title and closing costs.
City Clerk Chuck Mason said Saturday that Camardo will be getting the small parcel for free, but he will need to cover maintenance and upkeep of that area and other associated costs. Masson added that the city is thrilled to be moving closer to this project started and hopes to begin construction in the spring.
A key provision in the agreement is that Camardo has agreed not sue to the city over the plaza project. He has an extensive history of using litigation to block redevelopment efforts at 1-7 State St. An addendum to the purchase offer and sale contract between the city and Camardo says both parties "agree to exchange mutual irrevocable releases to each other" and to forever discharge one another and other people involved "of and from any and all liability, claims, demands, damages, rights, suits and causes of action whatsoever kind and nature, arising from, relating to, and/or by reason of, directly or indirectly, with the development of 1-7 State Street pursuant to the State Street Event Site Plan."
The addendum to the agreement also includes a provision that the city will limit events at the plaza to only after 5 p.m. on weekdays, or on weekends and holidays. The city also agreed to install a wall at the boundary line with Camardo's property.
The 1-7 State St. location, once the home of the Kalet's Department Store, was taken over by the city due to tax foreclosure in 1995. That storefront was torn down in 2011 to make way for a proposed theater project that would have been owned by Cayuga Community College and used for a nonprofit summer theater festival, but it was scrapped three years later amid legal challenges from Camardo.
But an indication that he was backing off efforts to block the project emerged publicly in September, when City Manager Jeff Dygert said officials were having conversations with Camardo and other project neighbors. Council authorized a resolution at an Oct. 1 meeting to turn over a 15-by-15 foot section of the location to James Driscoll, who owned property immediately south of the parcel, so he "can have fire prevention access to his building, which would, in turn, enable him access to use the 2nd and 3rd floors of the building," that resolution said.
Driscoll sold the larger parcel last month to Muldrow Properties LLC. Mason said Saturday that the area the city sold to Driscoll was also free, but he also had to cover maintenance and other associated costs. Mason also said upcoming small parcel sales to the other adjacent property owners are expected to be handled the small way as the Driscoll sale and the anticipated Comardo sale. 
Officials said in September said transfers of other part of the 1-7 State St. lot were anticipated to be in front of the council at future meetings. Jenny Haines, director of planning and development for the city, said earlier this year that dialogue with the adjacent property owners was still in motion, and the Camardo deal is the first one to appear on the council agenda in 2021.
Staff writer Kelly Rocheleau can be reached at (315) 282-2243 or kelly.rocheleau@lee.net. Follow him on Twitter @KellyRocheleau.