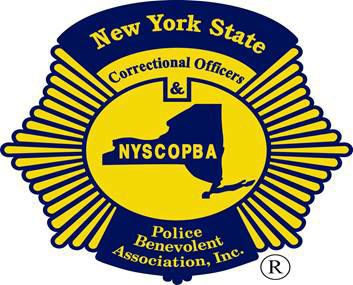 A corrections officer at a state prison in Cayuga County was injured after being attacked by an inmate, according to the New York State Correctional Officers and Police Benevolent Association. 
NYSCOPBA, the union representing corrections officers, said the incident occurred Saturday at Cayuga Correctional Facility, a medium-security prison in Moravia. An inmate started a verbal altercation with an officer who was making rounds in the dormitory. A second officer responded and the inmate was asked to move away from the officer's desk. 
The inmate refused to comply and attacked one of the officers. NYSCOPBA said the officer was punched multiple times in the head. The attack continued into a recreation room, where the inmate hit the officer multiple times. 
Pepper spray was used to end the assault. The inmate was placed in the prison's special housing unit. 
The inmate who attacked the officer is serving a 17-year sentence for attempted murder. 
The officer had abrasions and bruises on his head and face. He was taken to a hospital, treated and released, according to the union. 
"This was a blatant unprovoked attack on an officer by a violent inmate," said Mark Deburgomaster, NYSCOPBA's western region vice president. "Just another example of the dangerous environment that exists inside our state prisons. Contraband and assaults on staff continue to rise as (the Department of Corrections and Community Supervision) takes no real significant steps to reduce them. Our members deserved better." 
The union has criticized DOCCS, which oversees 52 state prisons, for not addressing increasing violence in correctional facilities. In 2019, there were 1,033 assaults on staff — the highest number of attacks in a five-year period. 
Through the first two months of this year, there have been 209 assaults on prison staff. 
When Acting DOCCS Commissioner Anthony Annucci testing at a budget hearing in February, he blamed gangs for the growing violence in state prisons. His comments came as some lawmakers and NYSCOPBA called for an end to "double-bunking," a practice used in medium-security prisons that critics say has contributed to violence in correctional facilities. 
NYSCOPBA's statement on the incident at CCF came a day after issuing a press release on an incident at Willard Drug Treatment Center in Seneca County in which an inmate injured three staff members while trying to swallow contraband.
DOCCS responded with a statement from spokesman Thomas Mailey:
"The safety and well-being of our staff and incarcerated individuals is our top priority. The Department has zero tolerance for violence and contraband within our facilities and anyone engaged in misconduct will be disciplined. If warranted, an incident can and will be referred for outside prosecution. These two incidents are under review and the Department cannot comment further at this time.
Politics reporter Robert Harding can be reached at (315) 282-2220 or robert.harding@lee.net. Follow him on Twitter @robertharding.
Get Government & Politics updates in your inbox!
Stay up-to-date on the latest in local and national government and political topics with our newsletter.