Before it was part of a national park, the Harriet Tubman Home had an important visitor in April 2015. 
Lt. Gov. Kathy Hochul, who had been in office for three months, stopped at the Auburn landmark to speak with National Park Service representatives. It followed a meeting she had with New York's congressional delegation to relay the state's support for establishing the Harriet Tubman National Historical Park — a goal that was achieved in 2017. 
It wasn't the last time Hochul has visited the Auburn site. Karen Hill, president and CEO of the Harriet Tubman Home, said the incoming governor has toured the property a few times over the years. On one occasion, she brought her husband, Bill, with her. 
"She has been a real advocate for Tubman," Hill said. "We just look for really good things from Kathy Hochul." 
Hochul will be sworn in as New York's 57th governor — and first female governor — on Tuesday. As she ascends to the highest office in New York, she also prepares to continue the work and relationships she started across the state, including Cayuga County. 
"I always describe Auburn as a city that really punches above its weight," Hochul told the crowd. "You have less than 30,000 people who call this home, but you act like a big community. You've got cultural attractions and the theater and public arts and the history here. This place oozes with history.
"You don't know how many times that my husband and I pop into this community, have a brew at a local pub ... and also just celebrate what this community has going for it." 
Hochul added that she talks about Auburn when she is visiting other parts of the state, including New York City. Whether it's in Brooklyn, Manhattan, or elsewhere, she asks, "Have you been to Auburn?" 
Her love of Auburn began years before she became lieutenant governor. As a student at Syracuse University, she would visit her aunt and uncle in Auburn. That passion for the city is reflected in her work with local leaders, who consider her an asset to the area. 
"She's a great lady and we will be well served by her (as governor)," Auburn Mayor Michael Quill said. "She is a down-to-earth person. She is genuinely concerned about cities, towns and villages and the people that live in New York state." 
After Gov. Andrew Cuomo announced his resignation, Cayuga County Legislature Chairwoman Aileen McNabb-Coleman said she contacted Hochul's office to relay her interest in meeting with the governor-in-waiting and to keep the line of communication open. 
McNabb-Coleman has attended New York State Association of Counties conferences in the past and Hochul hosts a women's roundtable. Based on that experience, she's looking forward to Hochul's tenure as governor. 
"She's a great friend to Cayuga County," McNabb-Coleman said. "I find her to be a very reliable, very intelligent leader. I'm really excited to work with her at the state level in her new capacity." 
One of the main themes of Hochul's visits to Auburn and Cayuga County over the years is economic development. She delivered regional State of the State addresses in Auburn and, as chair of the statewide regional economic development councils, has participated in meetings with central New York's panel. 
She was there when Auburn's Equal Rights Heritage Center opened in 2018. When downtown businesses began to reopen after the COVID-19 shutdown in 2020, Hochul was the first statewide leader who visited the city. 
Tracy Verrier, executive director of the Cayuga Economic Development Agency and one of the county's representatives on the Central New York Regional Economic Development Council, has seen Hochul's work and interest in Auburn and Cayuga County. 
"She is an ambassador for our community and for the region," Verrier said. "I'm sure she is for many of the regions, but I believe her when she says that there's a soft spot in her heart for Auburn and Cayuga County. She has shown up to a lot of different activities compared to a lot of people at the state level." 
In an address to New Yorkers after Cuomo announced his resignation, Hochul pledged to continue her trips across the state. As lieutenant governor, she has visited each of New York's 62 counties every year. There have been years in which she made multiple stops in Auburn and Cayuga County. 
Those visits aren't for photo opportunities. For Hochul, they allow her to collect feedback from local leaders. As governor, she said she will meet with New Yorkers to "assure them that I've got their backs and I will take their concerns and bring them back to our state Capitol." 
When there is a leadership transition, there can be a learning curve. But with Hochul and Cayuga County, Verrier said, she is already aware of what's happening in the community.
"She's seen it," Verrier continued. "She knows what we're trying to accomplish. She knows what we've accomplished already." 
Gallery: Gov. Kathy Hochul's visits to Auburn and Cayuga County
Cayuga Culinary Institute 17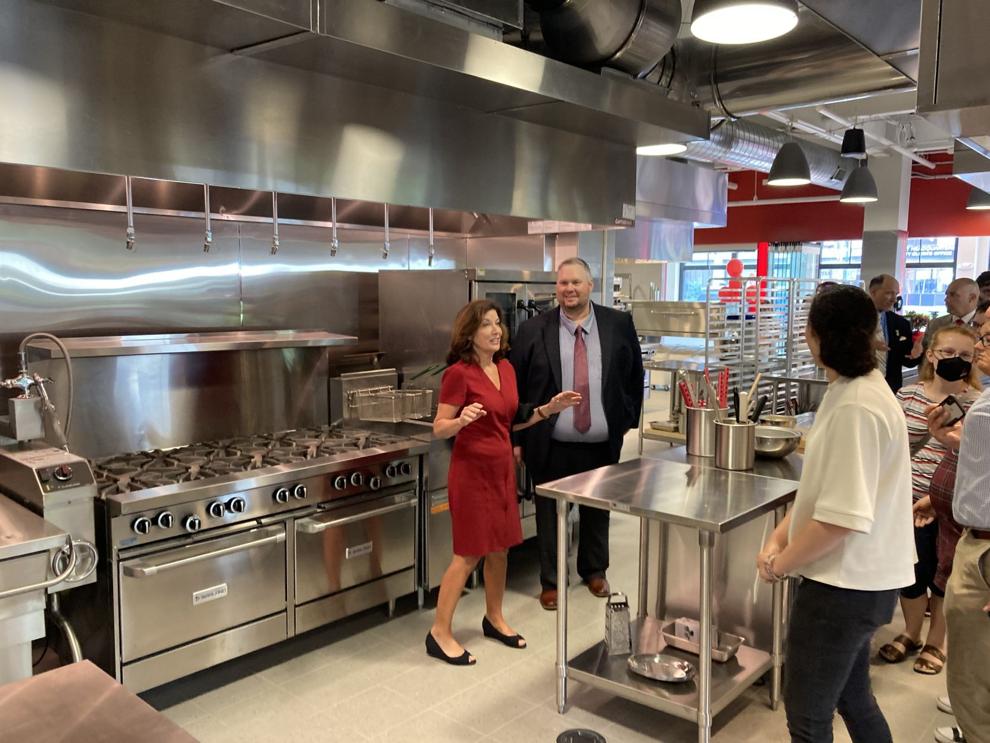 Cayuga Culinary Institute 16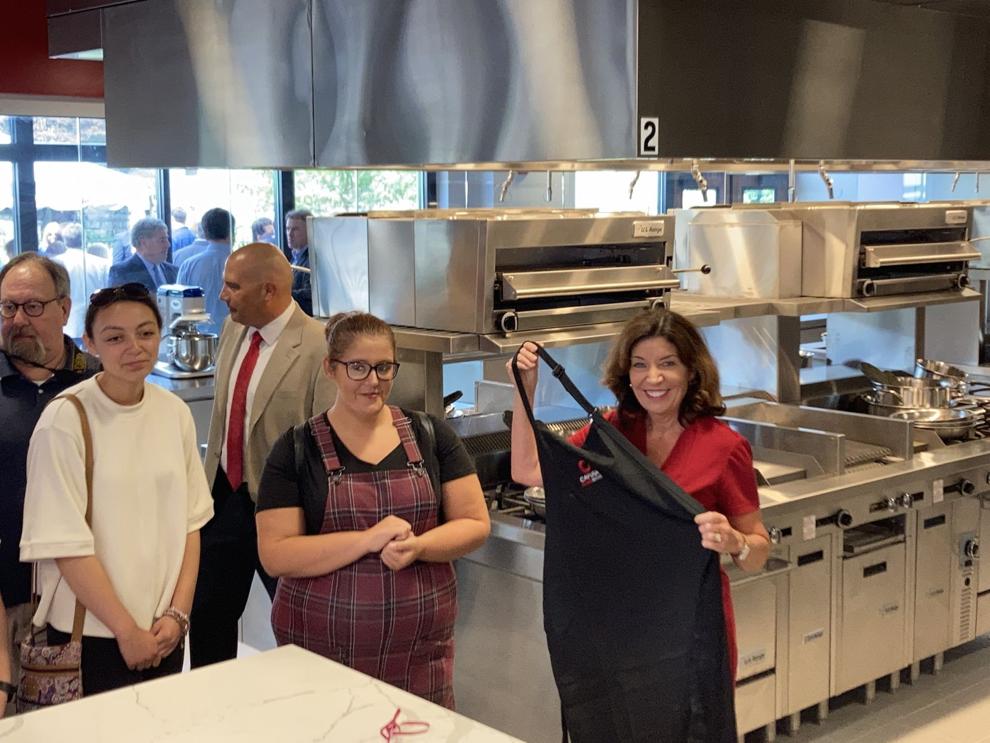 Lt. Governor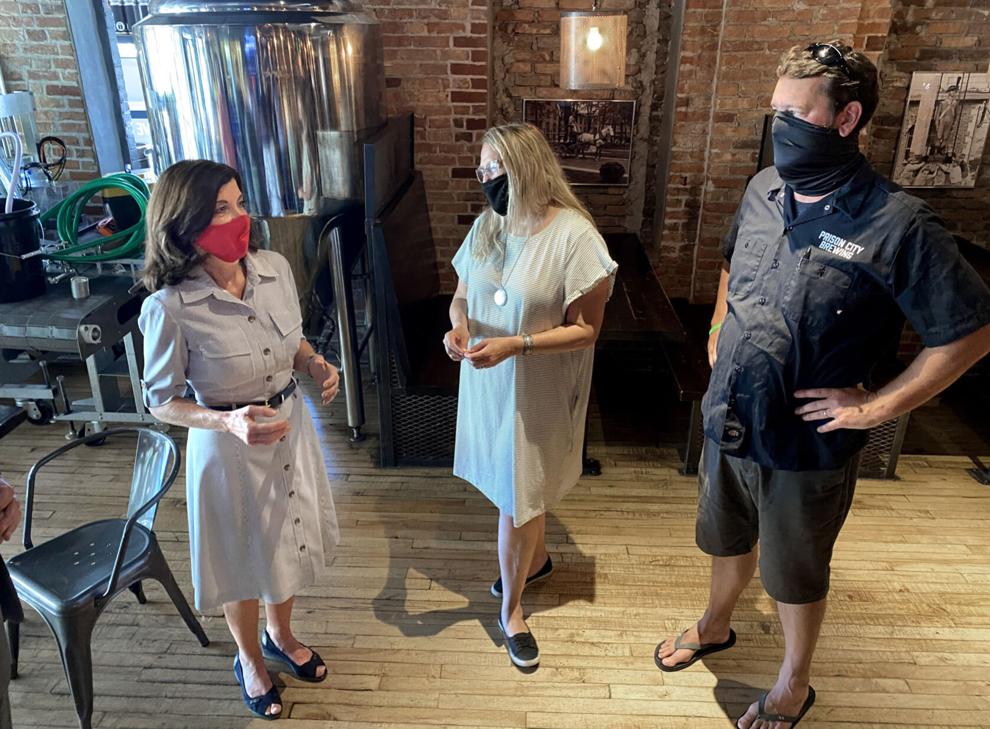 Lt. Governor visit 2.JPG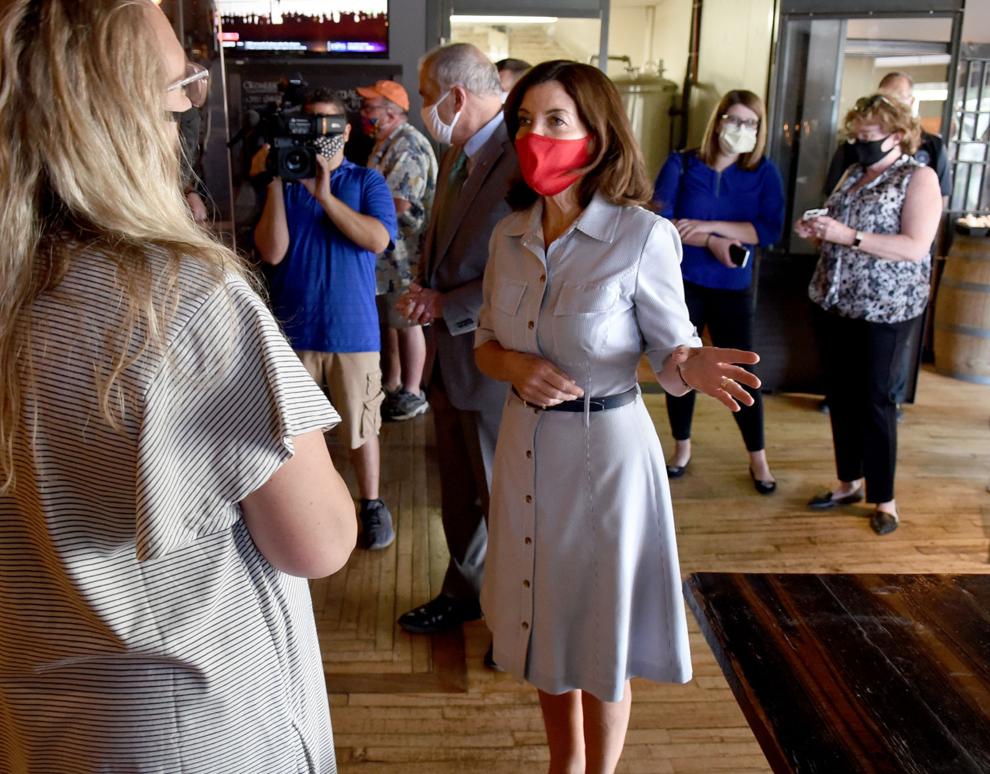 Lt. Governor visit 3.JPG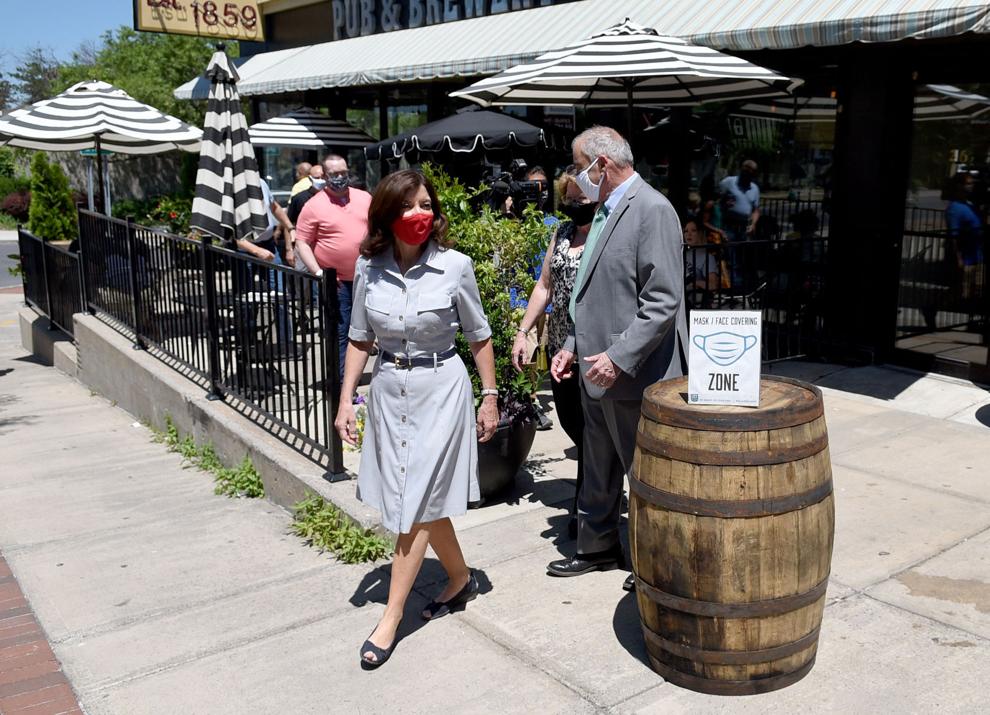 Lt. Governor visit 4.JPG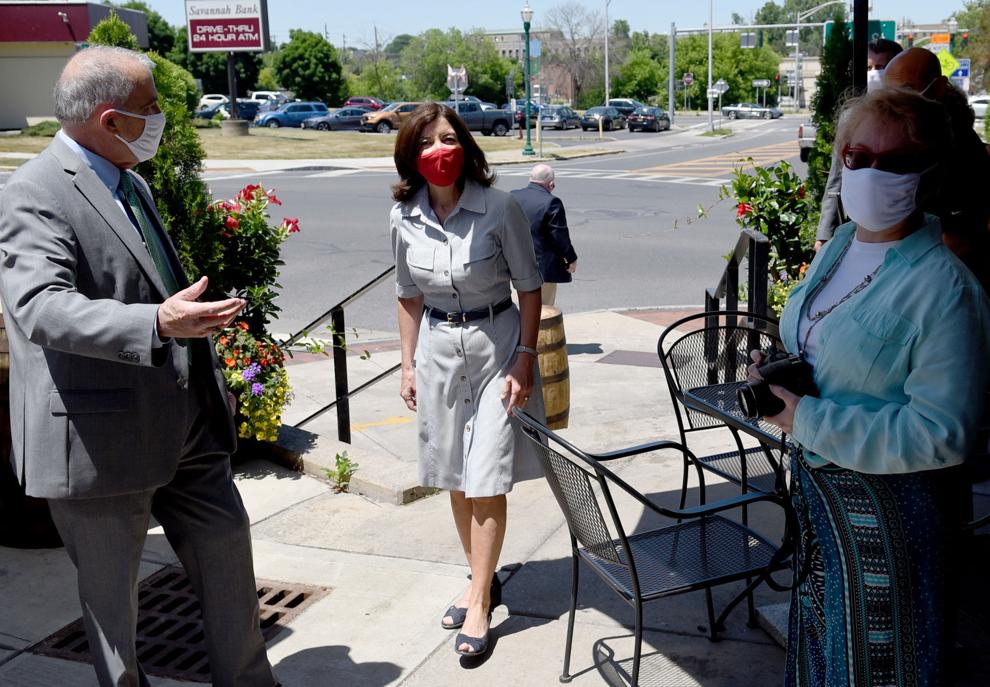 Lt. Governor visit 5.JPG
Kathy Hochul 1.JPG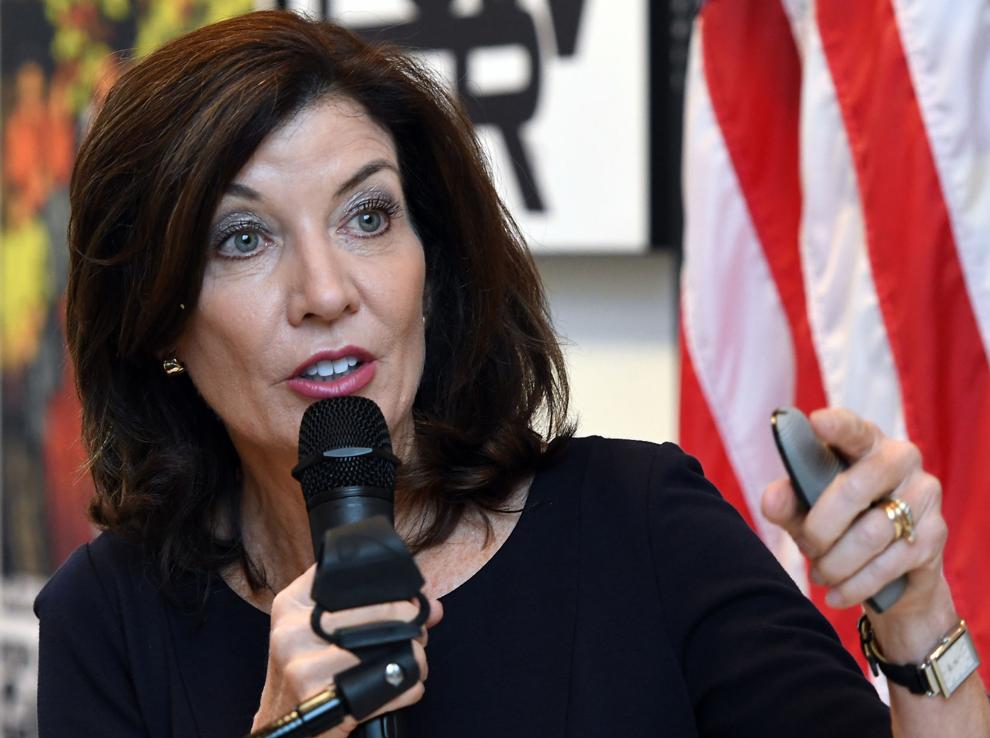 Kathy Hochul 3.JPG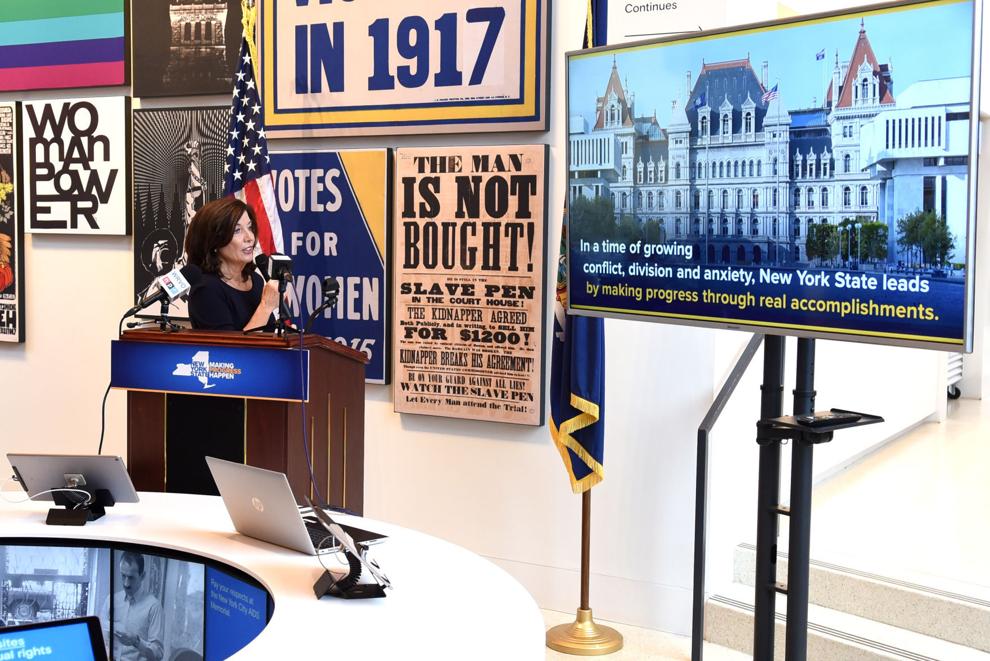 Kathy Hochul 4.JPG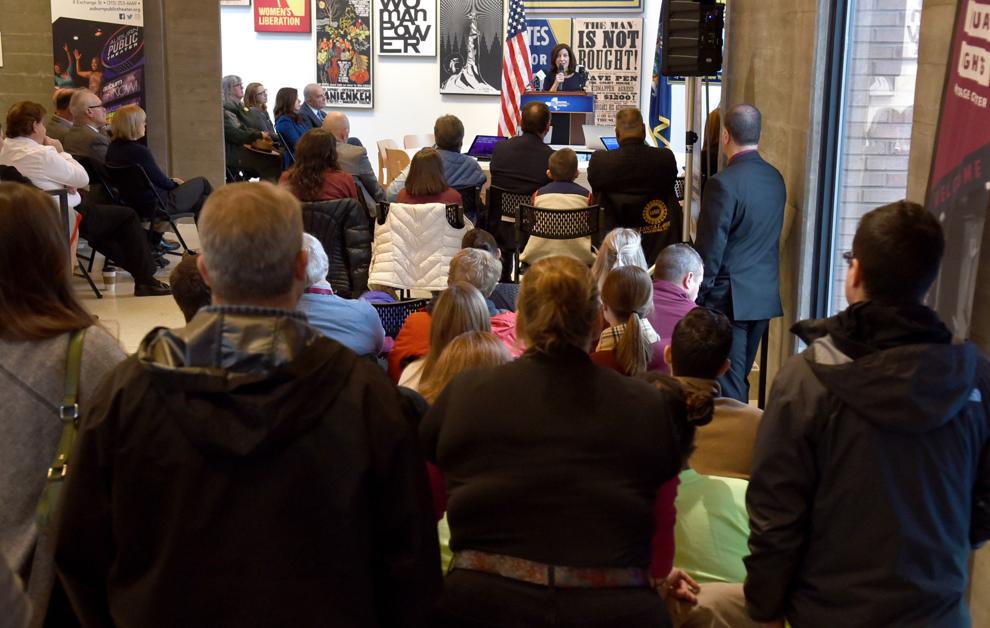 Trooper Funeral 15.JPG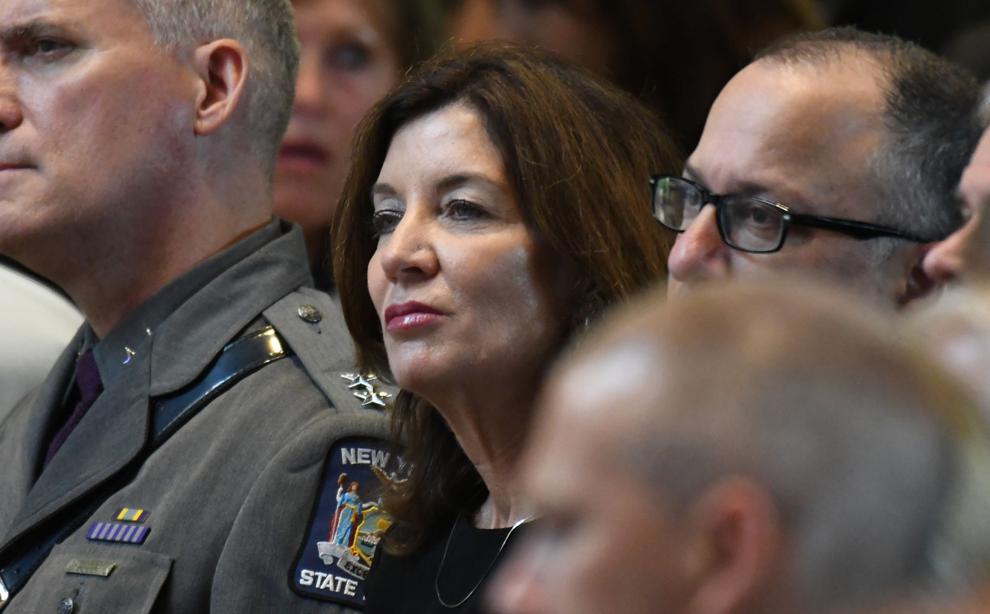 Welcome Center 3.JPG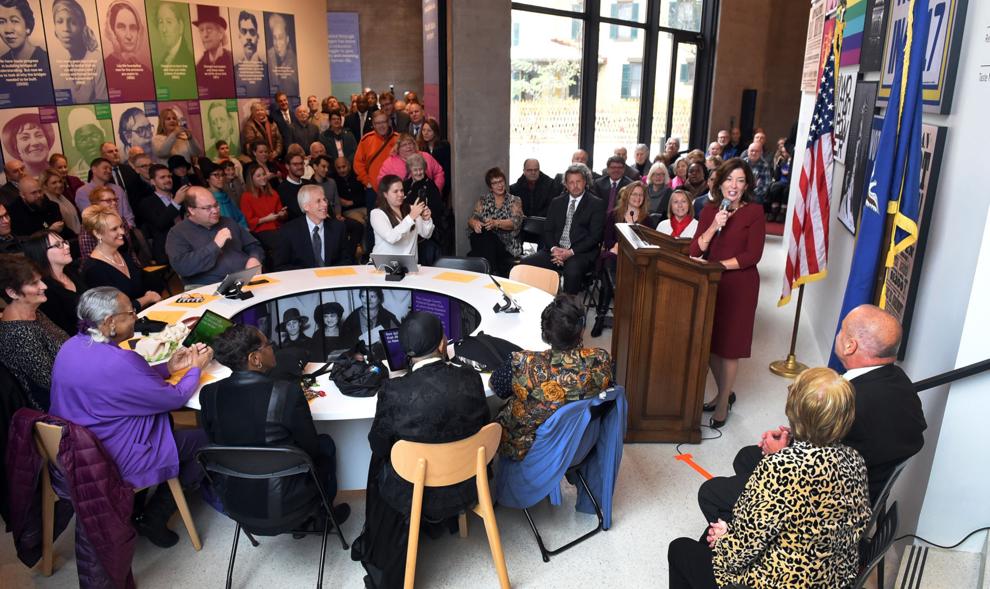 Welcome Center 12.JPG
Kathy Hochul 5.JPG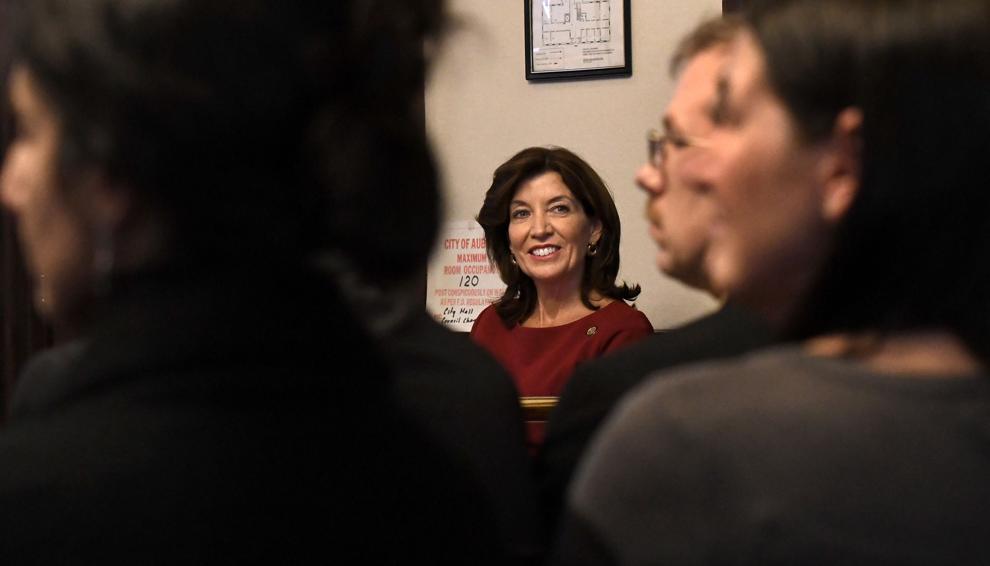 Kathy Hochul 7.JPG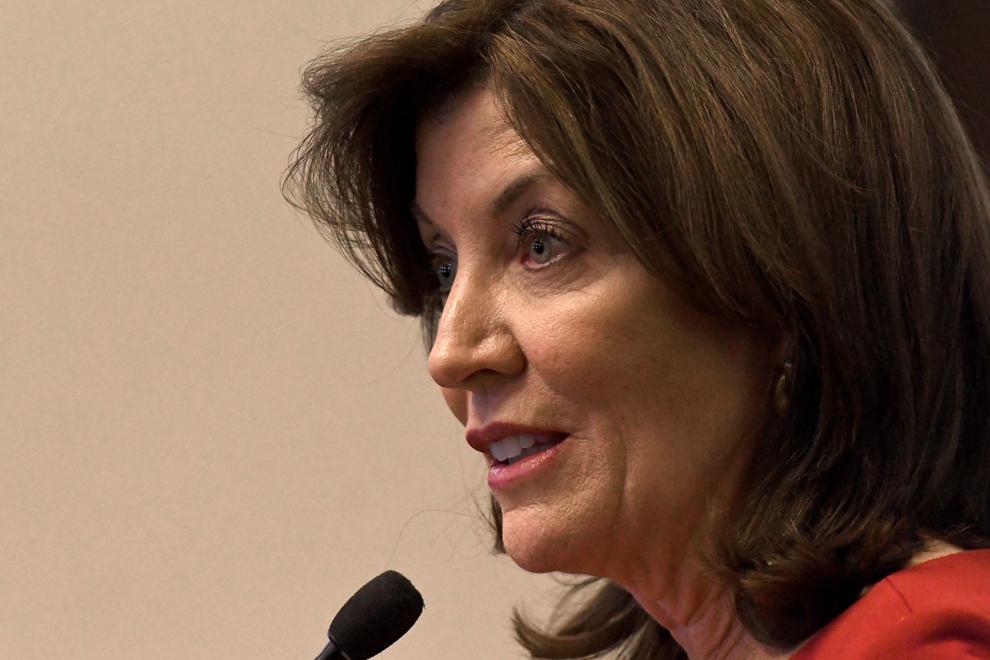 Kathy Hochul 8.JPG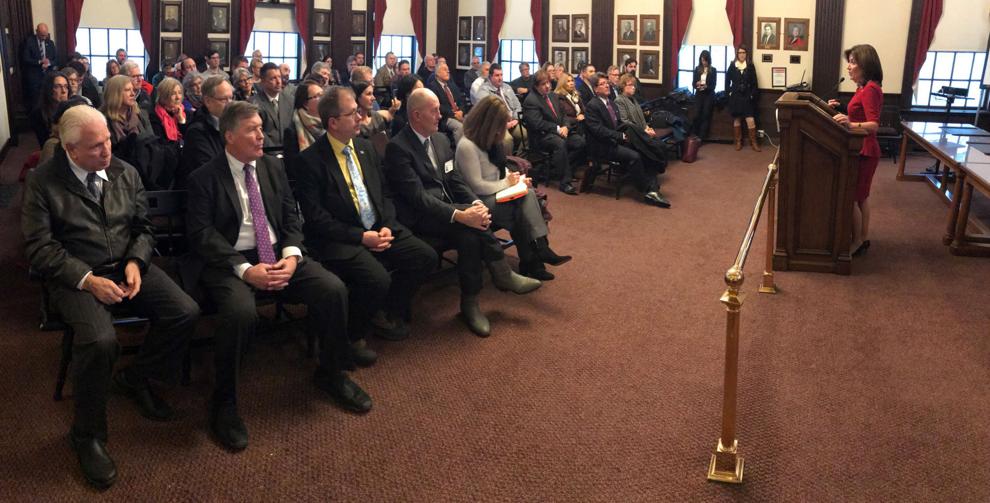 Kathy Hochul 1.JPG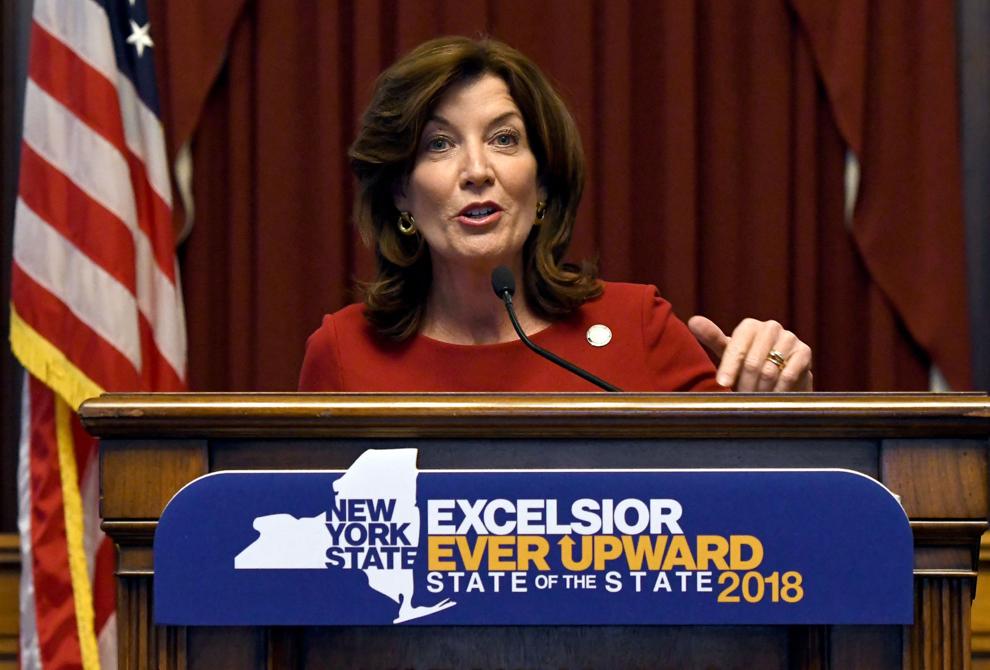 Hillary Clinton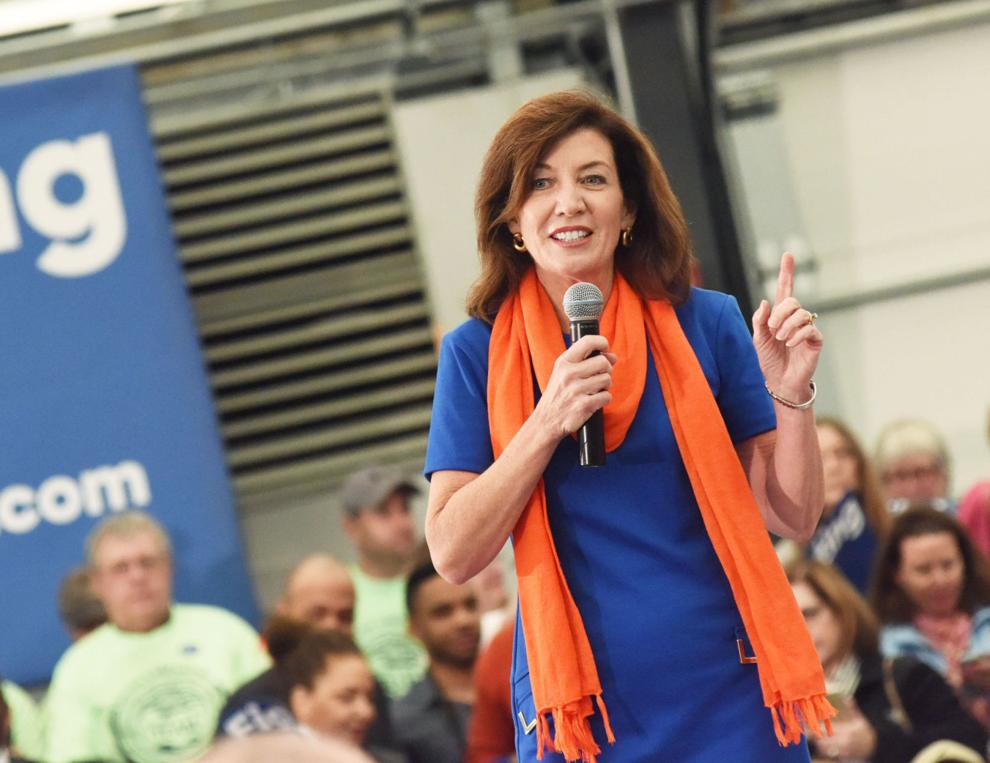 Hochul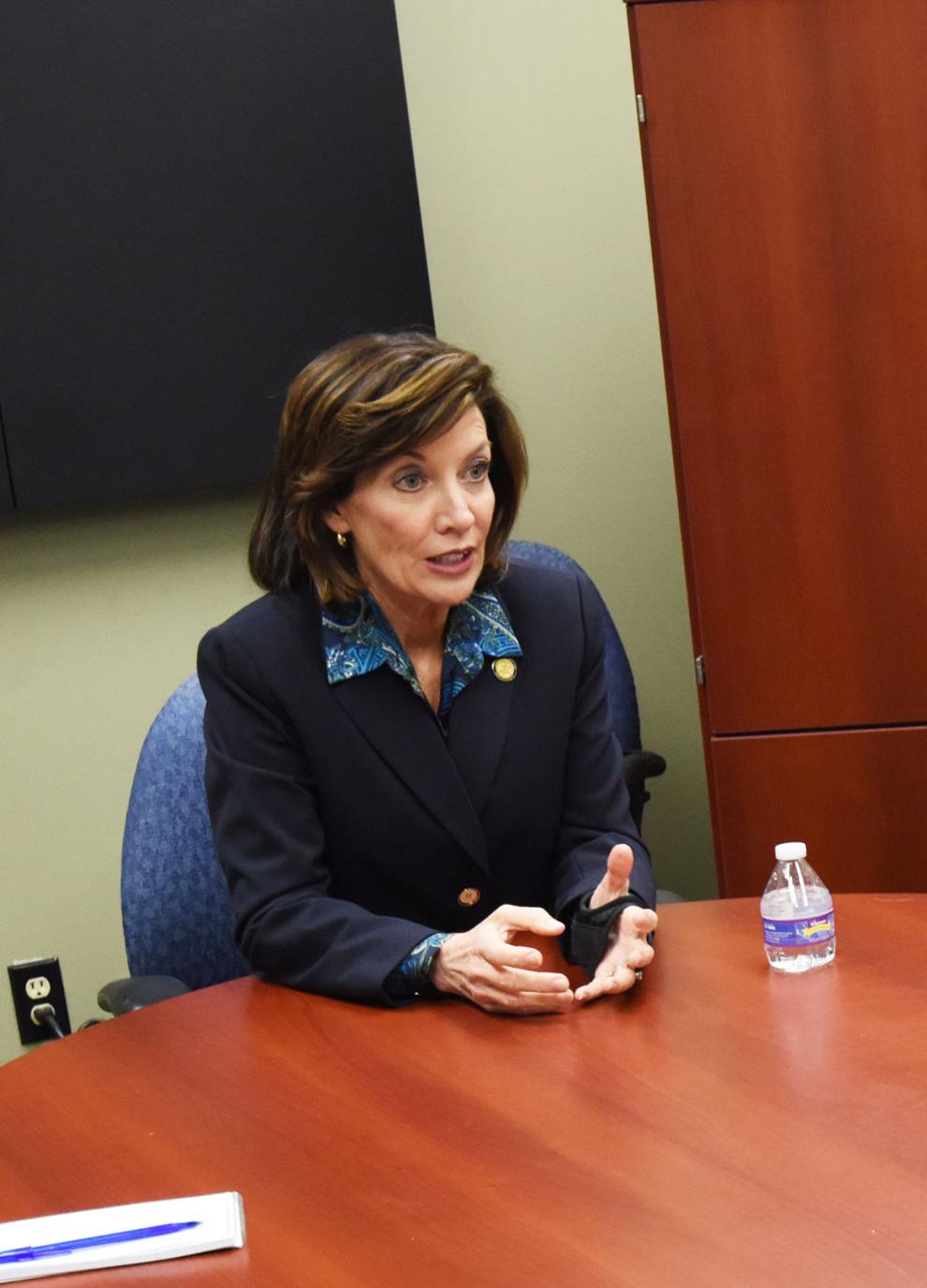 Politics reporter Robert Harding can be reached at (315) 282-2220 or robert.harding@lee.net. Follow him on Twitter @robertharding.