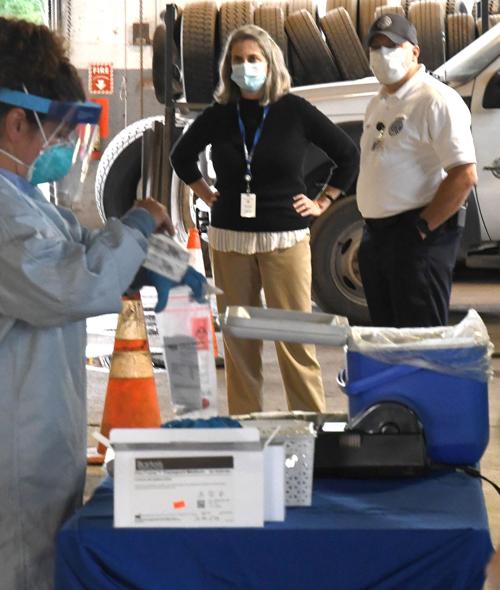 The Cayuga County Legislature this week will vote on a pair of resolutions that would give temporary raises to three senior managers in the county's health department.
The Legislature's Ways and Means Committee unanimously approved both resolutions at its meeting last week. One of them, a local law that would change the salary for the appointed public health director, is also subject to a public hearing that will take place ahead of the full Legislature's vote. The meeting this week, being held via videoconference, starts at 6 p.m. Tuesday.
Kathleen Cuddy, the current public health director, was reappointed to her position last summer with a yearly salary of $92,053. If approved, the new law would increase the annualized pay rate to $105,000 through Aug. 25. It would then go down to $102,000 for the following 12 months and return to the $95,053 rate starting Aug. 26, 2022.
"In order to manage this public health emergency, the New York State Governor has issued a series of Executive Orders, which have imposed duties and responsibilities upon local public health officials, including the incumbent Director of Public Health, which could not have been foreseen at the time of the incumbent's appointment," the proposed local law states. "These added duties and responsibilities include without limitation, directing and managing mandated quarantines, contact tracing, investigations, enforcement proceedings, public testing, immunizations, as well as other related activities."
Similar wording is included in the resolution for pay increases for the county's director of community health services, Nancy Purdy, and the senior public health engineer, Eileen O'Connor. The resolution would take Purdy's annual pay rate from $78,500 to $83,500. O'Connor's yearly rate would go from $79,445 to $84,445.
Both salaries would go back to their current rates on Jan. 1, 2022.
Because Cuddy's pay change needs to be done through a local law, it's also subject to a 45-day permissive referendum if approved. That means Cayuga County residents could force the measure onto a public ballot. Residents would have 45 days to collect 2,680 signatures asking that the measure be put before all county voters as a ballot proposition; otherwise, it officially goes into effect after the 45-day waiting period.