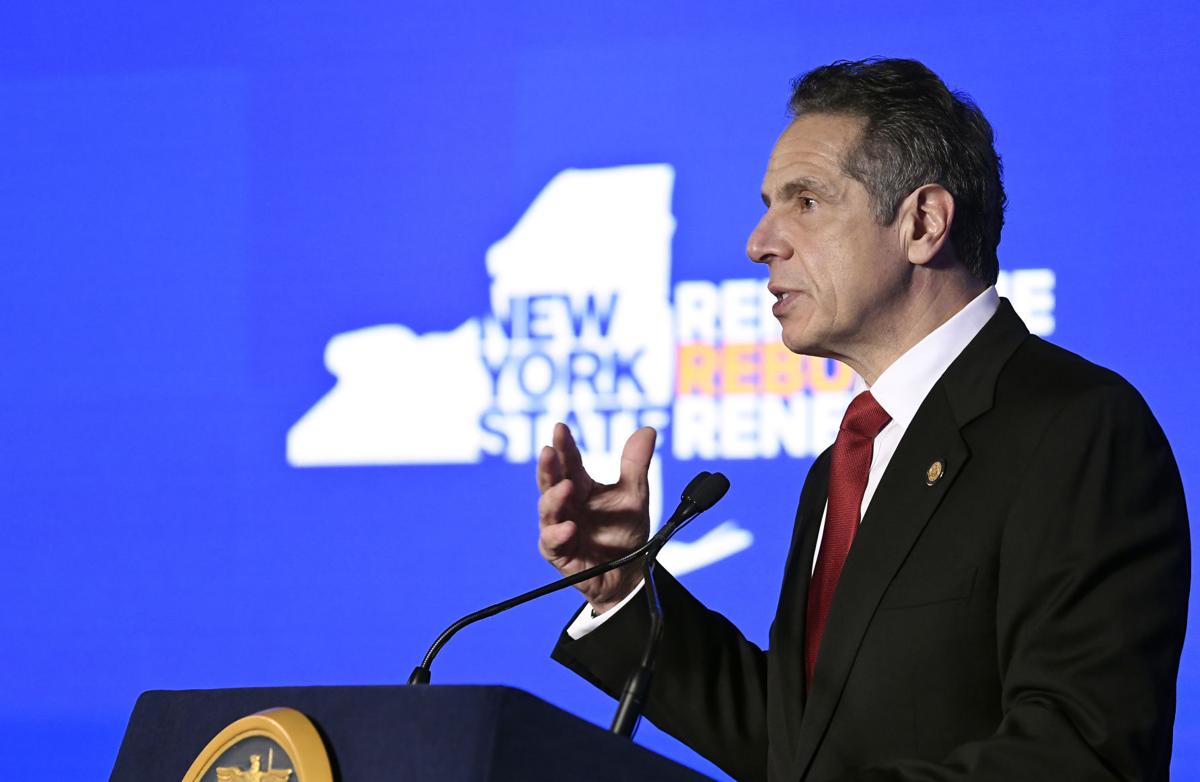 Members of Cayuga County's state legislative delegation offered mixed reviews of Gov. Andrew Cuomo's executive budget presentation, which largely focused on the need for federal aid amid the COVID-19 pandemic. 
Cuomo unveiled his 2021-22 spending plan on Tuesday, but there is uncertainty because it depends on how much in federal funding the state would receive if Congress approves another COVID-19 relief package. 
Incoming President Joe Biden has proposed a $1.9 trillion relief plan that would provide $350 billion to state and local governments. If Congress passes the president-elect's relief proposal, Cuomo hopes New York will receive $15 billion in direct aid — enough to close a two-year, $15 billion budget gap and prevent cuts to education and other critical services. 
If New York doesn't receive $15 billion, Cuomo threatened to sue the federal government.
Assemblyman Brian Manktelow, who represents northern Cayuga County, expressed his disappointment after Cuomo's budget address. He believes that the governor is shifting blame for the state's nearly $15 billion deficit. 
"[W]hile the pandemic did affect it more this year, he should be taking a decent amount of the blame for all the ridiculous programs and funding he doles out time and again," Manktelow, R-Lyons, said. "We also heard little on what the backup plan should be if New York receives only $6 billion in aid or what budget cuts would specifically be made, which is scary.
"New Yorkers have a right to know where he plans to make these cuts to help close the gap in the deficit. We need to come up with a realistic backup plan should we not get the full aid that will best help New York's financial situation get back on track." 
Assemblyman John Lemondes, who represents the city of Auburn and several towns in central and southern Cayuga County, questioned the lack of details in Cuomo's presentation about how to address New York's structural financial problems. 
One change Lemondes, R-LaFayette, is advocating for is the repeal of the Scaffold Law, which levies an absolute liability penalty against companies when employees suffer gravity-related injuries. New York is the only state that has such a penalty. 
Lemondes has previously said that the law contributes to the high costs of doing business in New York. 
"We need to try to work on that," he said. "I'm personally going to try to work with the Democratic representatives to solve this problem." 
State Sen. Peter Oberacker, whose district includes the Cayuga County towns of Locke, Moravia, Niles, Owasco, Sempronius and Summerhill, doesn't think there is enough information from the budget address to assess Cuomo's proposal. But he does say that blaming the federal government and threatening to sue "is not the best path forward." 
Oberacker, R-Schenevus, lauded Cuomo for including broadband expansion and tax credits for businesses in his budget. 
"Infrastructure improvements are also sorely needed and upstate New York needs to receive a fair share of funding to improve our roads and bridges," he said. "I look forward to taking part in the upcoming budget hearings to fully review the governor's proposal and help develop a final plan that meets the needs of those I represent and establishes a strong foundation for our future." 
There is agreement that the state needs federal help. State Sen. John Mannion, who represents most of Auburn and the towns of Brutus, Cato, Ira and Sennett in Cayuga County, hopes that the federal government will deliver direct aid to state and local governments. 
Mannion, D-Geddes is concerned that schools and service providers that rely on state aid will lose funding if New York doesn't receive support from the federal government. 
"Without that federal aid, it's a very tough budget that is going to create draconian cuts and we can't have that," he said. "We can't put that on the services people need at this time and of course, in the education of our youth." 
Cuomo and state lawmakers will aim to have the 2021-22 budget finalized by April 1, the first day of the new fiscal year. 
Politics reporter Robert Harding can be reached at (315) 282-2220 or robert.harding@lee.net. Follow him on Twitter @robertharding.