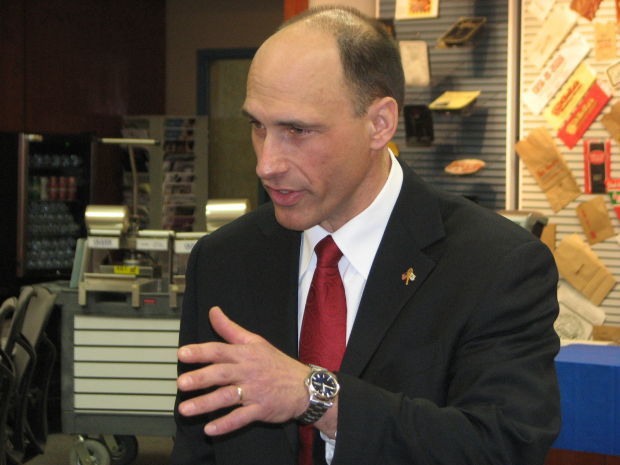 John Lemondes, a retired Army colonel who operates a sheep farm in Onondaga County, is the new Republican-endorsed candidate in the 126th Assembly District race. 
After Kenneth Bush III abruptly ended his campaign, the committee to fill a vacancy consisting of GOP leaders in Cayuga, Chenango, Cortland and Onondaga counties held a conference call Wednesday to consider three candidates: Lemondes, LaFayette Supervisor Danny Fitzpatrick and former Onondaga County Legislator Michael Plochocki. 
The committee decided that Lemondes will replace Bush on the Republican primary ballot. 
"In my opinion, his experience just outdoes the other candidates and I think he would be a good representative for the 126th," Cayuga County Republican Chairwoman Roberta Massarini said. 
The Conservative Party already selected Lemondes to replace Bush on their ballot line. He will also take Bush's spot on the Independence Party line. 
Lemondes isn't a newcomer to politics. He sought the Republican nomination for Congress in 2014. He was the runner-up to eventual nominee John Katko in the designation process. 
A Liverpool native, Lemondes served in the U.S. Army for 27 years. He holds a bachelor's degree in agriculture from Penn State University, master's degrees in business administration and public administration from Syracuse University and a master's degree in national resource strategy from the National Defense University in Washington, D.C. 
When he returned to central New York in 2014, he started a sheep farm. In an interview Thursday, he said the farm's main products are lamb and wool. He wants to add maple syrup soon. 
While he's also worked in the defense industry for the last five years, it's his role as a farmer that showed him how difficult it is to do business in New York. 
"The highest minimum wage in the country. The highest taxes in the country. The second-highest utility costs in the country. Those are three things that impact all businesses, but disproportionately so in agriculture in many ways," Lemondes said. 
Lemondes is one of two Republicans on the June 23 primary ballot. Fitzpatrick, who finished behind Bush in the GOP designation process, filed petitions to force a primary. 
"After Tom Dadey failed to end my candidacy with a completely unqualified candidate, for reasons he knew all about, he is now trying a new approach — a candidate who said he wants to be a congressman and does not want to hold state office," Fitzpatrick said in a statement. "A personal vendetta is no way to select candidates. That is why I went through the process, was completely vetted by the committees, and am excited to win this race. I am the candidate that knows the issues, the district and the needs of CNY." 
Former Auburn City Councilor Dia Carabajal is the Democratic candidate in the race for the seat held by longtime incumbent Republican Assemblyman Gary Finch, who decided against seeking reelection. Jermaine Bagnall-Graham, who previously ran for state Senate, is planning to run as an independent. 
"Given the opportunity to make a difference, it takes somebody with experience," Lemondes said. "I'll put my record and resume up against anybody." 
Politics reporter Robert Harding can be reached at (315) 282-2220 or robert.harding@lee.net. Follow him on Twitter @robertharding.
Get Government & Politics updates in your inbox!
Stay up-to-date on the latest in local and national government and political topics with our newsletter.