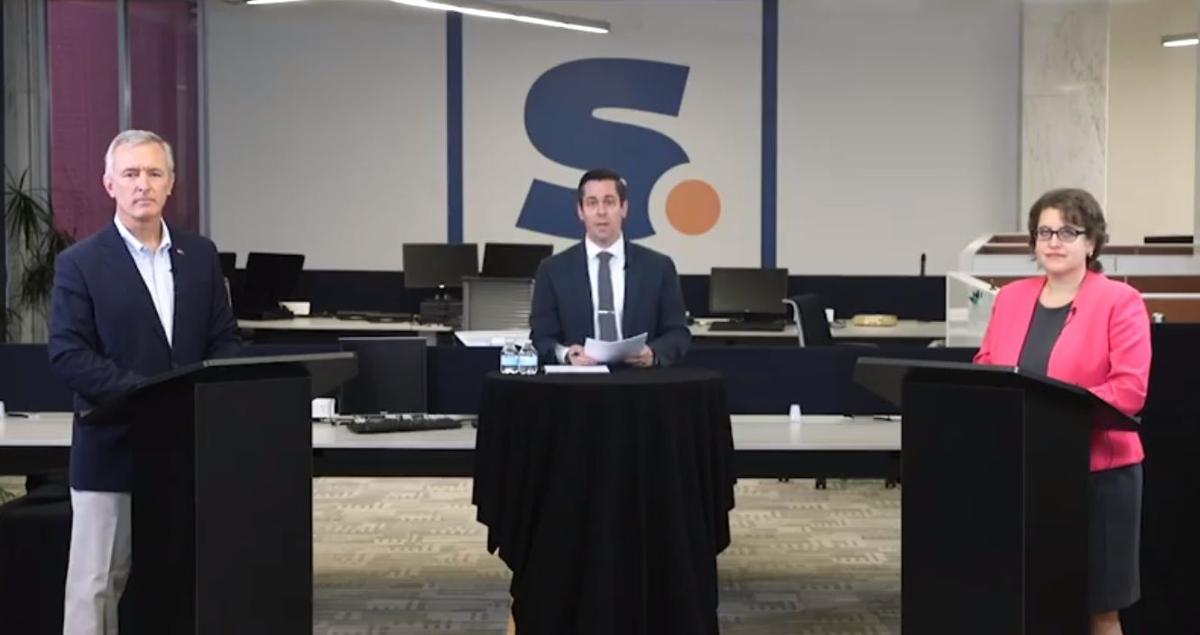 After months of campaigning and two dozen television commercials, Republican U.S. Rep. John Katko and Democratic challenger Dana Balter sparred Monday during the first debate in the 24th Congressional District race. 
Their differences were evident early in the debate, which was hosted by Syracuse.com. In response to a question about his support of President Donald Trump, Katko, R-Camillus, defended his endorsement and explained that his vote is mostly based on the direction of the country, not Trump's shortcomings.
Katko highlighted Trump's accomplishments, including signing the 2017 tax law — which the GOP congressman supported — his efforts on trade and the fall of the Islamic State terrorist group's "caliphate" in the Middle East. 
"There's a lot of things he did," Katko said of Trump. "The problem is his rhetoric gets in the way and I've called him on it time and again and I will continue to call him out on it. Going forward, that's what I'll do." 
But Balter, D-Syracuse, said the issue with Trump is more than his rhetoric. She accused Katko of dismissing the "real danger that Donald Trump poses to this country and to many groups of people within it." 
"It's not just that he's undisciplined and that he doesn't know how to use Twitter," she added. "He has made us less safe with every passing week." 
Balter cited Trump's response to the COVID-19 pandemic as an example of him taking the country in the wrong direction. As of Monday, more than 8 million Americans have contracted the virus and over 220,000 people have died. 
There were many more disagreements during the one-hour debate, but one was on the biggest issue in the campaign: Health care. 
Katko accused Balter of supporting a tax increase to pay for Medicare for All, a reference to statements the Syracuse Democrat made in 2018 that adopting the universal health care system would require a new health care tax or increasing the Medicare payroll tax. She argues, though, that most Americans would save money because they wouldn't have out-of-pocket medical expenses. 
Balter fired back by claiming that Katko supports gutting the Affordable Care Act, a 2010 health care law. She pointed to his vote for the tax law, which eliminated the Affordable Care Act's individual mandate penalty. With the mandate effectively eliminated, Republican attorneys general filed a lawsuit in an attempt to overturn the law. 
But Katko countered with an extraordinary charge. 
"The only person in this debate who is looking to get rid of (the Affordable Care Act) is my opponent," he said. He contends that Balter would eliminate the health care law with her support of a Medicare for All plan. 
Katko supports the repeal of the Affordable Care Act if there is a suitable replacement. While he has opposed efforts to repeal the law because Republicans haven't developed an alternative, his stance has long been that he thinks the law should be thrown out. 
In her rebuttal, Balter labeled Katko's claim "one of the most remarkable things I have ever heard in a debate."
"Congressman Katko is trying to make you believe that between the two of us, he's the person who stands with the ACA," she said. "I have been consistent from the beginning of my last campaign in saying that we need to protect and defend and strengthen the ACA while we work towards a system where everyone has access to Medicare." 
Balter and Katko will participate in two more debates. CNY Central will host the first televised debate at 7 p.m. Tuesday. It will air on channels 3, 5 and 6. The final debate is scheduled for 7 p.m. Sunday. It will air on NewsChannel 9. 
Politics reporter Robert Harding can be reached at (315) 282-2220 or robert.harding@lee.net. Follow him on Twitter @robertharding.