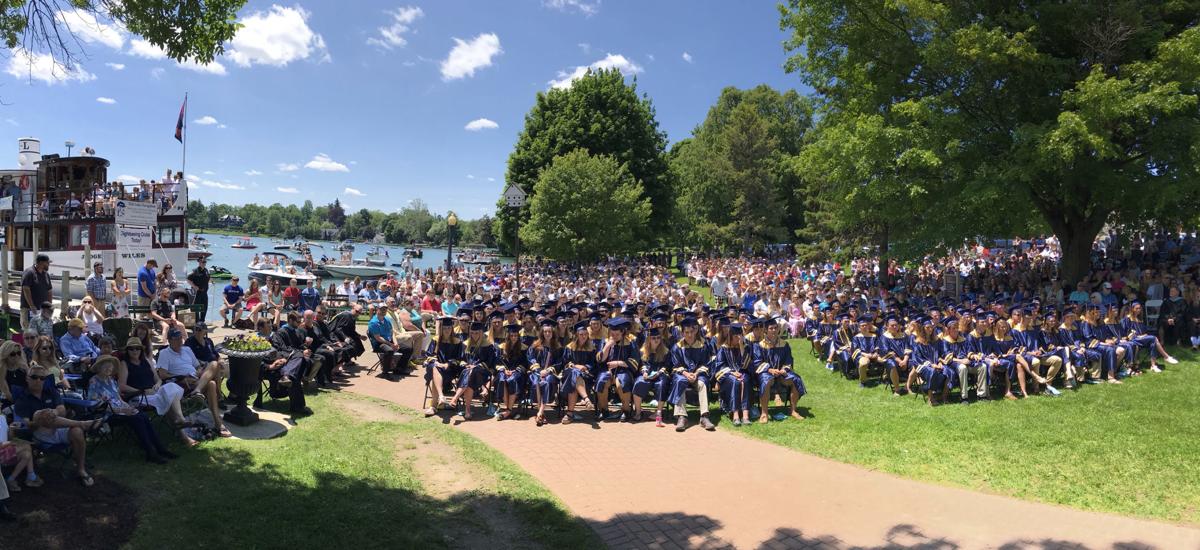 New York high schools will have another option to honor their seniors: Outdoor graduation ceremonies. 
Gov. Andrew Cuomo said Sunday that schools will be allowed to hold commencement ceremonies outdoors beginning June 26. The events will be limited to no more than 150 people and social distancing is required. 
The date of the graduations would be close to when several regions, including central New York, may enter the fourth and final phase of the reopening process.
"It gives us a couple of weeks between now and then," Cuomo said. "God forbid the numbers change, but schools need to plan. With the progress we've made so far and if we continue this trajectory, we'll be able to do that." 
Schools have been closed since mid-March due to the COVID-19 pandemic. Classes shifted online as many schools used distance learning to help students finish their studies for the academic year. 
But with COVID-19 hospitalizations and deaths continuing to decline statewide, schools want to honor seniors with live ceremonies. Jeff Pirozzolo, superintendent of the Auburn Enlarged City School District, told The Citizen on Thursday that he and two other administrators — Eric Francisco, facilities director, and Auburn High School Principal Brian Morgan — measured the bleachers and turf at Holland Stadium to develop a plan for an in-person graduation ceremony. 
On Monday, Pirozzolo said, that assessment concluded that the stadium could provide for social distancing for the entire class of 287 students and immediate family and still be under 25% capacity.
Auburn's graduation is scheduled for June 26 — the first day Cuomo said outdoor ceremonies can be held in New York. Pirozzolo said the district would be willing to hold separate ceremonies to comply with any state requirements, but he's hoping the state will allow for a single ceremony because of the size of Holland Stadium.
"We just want to make sure we do something special for our seniors because they've missed out on so much already," Pirozzolo said. 
• The Cayuga County Health Department reported no newly confirmed coronavirus cases on Monday, the second straight day without any positive test results.
As of Monday afternoon, the county had 11 active cases, which require a person stay in mandatory isolation. There were also 51 people in mandatory quarantine, required of people identified through contact tracing to have been in contact with someone who has a confirmed case. Three of the 11 residents with active COVID-19 cases were hospitalized. The year-to-date total of Cayuga County coronavirus cases remained at 104.
• Statewide, New York had 702 additional cases of novel coronavirus, bringing the statewide total to 378,799, Cuomo reported at his Monday briefing.
Politics reporter Robert Harding can be reached at (315) 282-2220 or robert.harding@lee.net. Follow him on Twitter @robertharding.
Concerned about COVID-19?
Sign up now to get the most recent coronavirus headlines and other important local and national news sent to your email inbox daily.