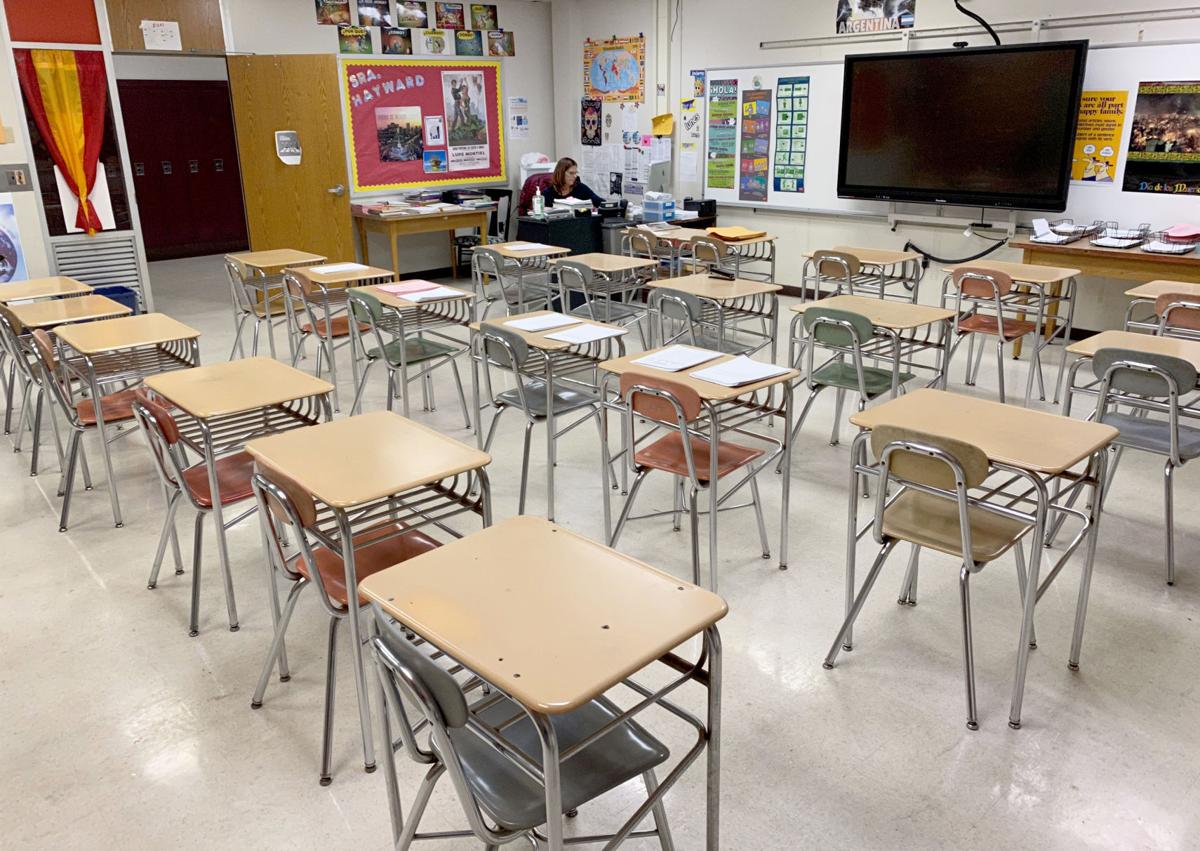 With a low infection rate statewide, Gov. Andrew Cuomo said Friday that New York schools can reopen for classes in September. 
Cuomo announced in mid-July that school districts in regions that are in the fourth reopening phase and have a daily infection rate below 5% over a two-week period may reopen. Every region of the state is in phase four and the regional infection rates are hovering around 1%, according to the latest data from the governor's office. 
If the regional infection rate rises to above 9% between now and the start of classes in September, then schools will be closed.
"If there's a spike in the infection rate, if there's a matter of concern in the infection rate, then we can revisit it," Cuomo said. "But for planning purposes, they can reopen." 
The highly anticipated announcement gives school districts clearance to implement their reopening plans, which were submitted to the state at the end of July. It will be a local decision about whether schools hold in-person classes, online learning or a combination of the two. 
Cuomo does want more information from school districts before they reopen in September. He said he's received many questions from parents and teachers about remote learning, contact tracing if there is a positive COVID-19 case and testing. He's asking districts to compile their plans addressing those issues and post them online by the end of next week. 
Prior to reopening, Cuomo is also directing schools to hold informational sessions with parents. There should be no fewer than three discussions with parents about the reopening plans before Aug. 21. 
If schools do choose to reopen for in-person classes, there will be strict rules in place. Jim Malatras, a Cuomo adviser, said that students must wear a mask if they can't maintain social distancing. If the student doesn't have a mask or face covering, then the school must provide one. 
Schools must have daily COVID-19 screening protocols for staff and students. The screenings could vary from school to school, but must include, at minimum, a temperature check. 
So far, interscholastic sports haven't been approved. The New York State Public High School Athletic Association formed a COVID-19 task force to examine how sports could be played in the 2020-21 academic year. 
Cuomo also addressed whether students and teachers will be forced to return to schools if districts opt to have in-person instruction. He said "you can't force back" students and that it will be a parental decision. He reiterated the need for districts to communicate their reopening plan to parents so they have the necessary information to make that determination. 
With teachers, he wants to avoid a similar situation. 
"Teachers have to feel safe," he said. "They can't teach if they don't feel safe. You're not going to order a teacher into a classroom. The teachers have to agree to go back." 
New York State United Teachers, which represents more than 600,000 members, said Friday that health and safety are the most important factors in reopening schools. The union released a poll Thursday that found teachers and school employees are split on whether they want in-person classes to resume amid the pandemic. 
NYSUT President Andy Pallotta said there are many parents and teaches who "have anxiety" about the school reopening plans that have been submitted. He also noted that 127 districts didn't submit them to the state by the July 31 deadline and 50 are considered incomplete. 
"Right now, there may be some areas where parents and educators are confident in their district's plan, but in many others, we know they aren't," Pallotta said. "No district should consider themselves ready to reopen buildings until their plans are safe and everything in that plan meant to keep the school community safe is implemented." 
Cuomo's announcement Friday comes nearly five months after the state directed schools to close due to the COVID-19 pandemic. Many districts already closed school buildings before the statewide shutdown was ordered. 
Schools remained closed for the rest of the 2019-20 academic year. Classes shifted online with a distance learning model. Sports and other extracurricular activities were canceled. However, schools could hold outdoor graduation ceremonies for seniors. 
Now, New York's COVID-19 infection rate is low. Statewide, it was 1% on Thursday. Total hospitalizations continue to decline and the daily death toll is in the single digits. 
Other states with high infection rates have reopened schools, but encountered problems. A school in Georgia that reopened had a student test positive for COVID-19 after the first day of classes. 
Despite the experience in other states, Cuomo is confident about New York's ability to reopen schools, especially now that the infection rate is about 1%. 
"If any state can do this, we can do this," Cuomo said. 
Politics reporter Robert Harding can be reached at (315) 282-2220 or robert.harding@lee.net. Follow him on Twitter @robertharding.
Concerned about COVID-19?
Sign up now to get the most recent coronavirus headlines and other important local and national news sent to your email inbox daily.