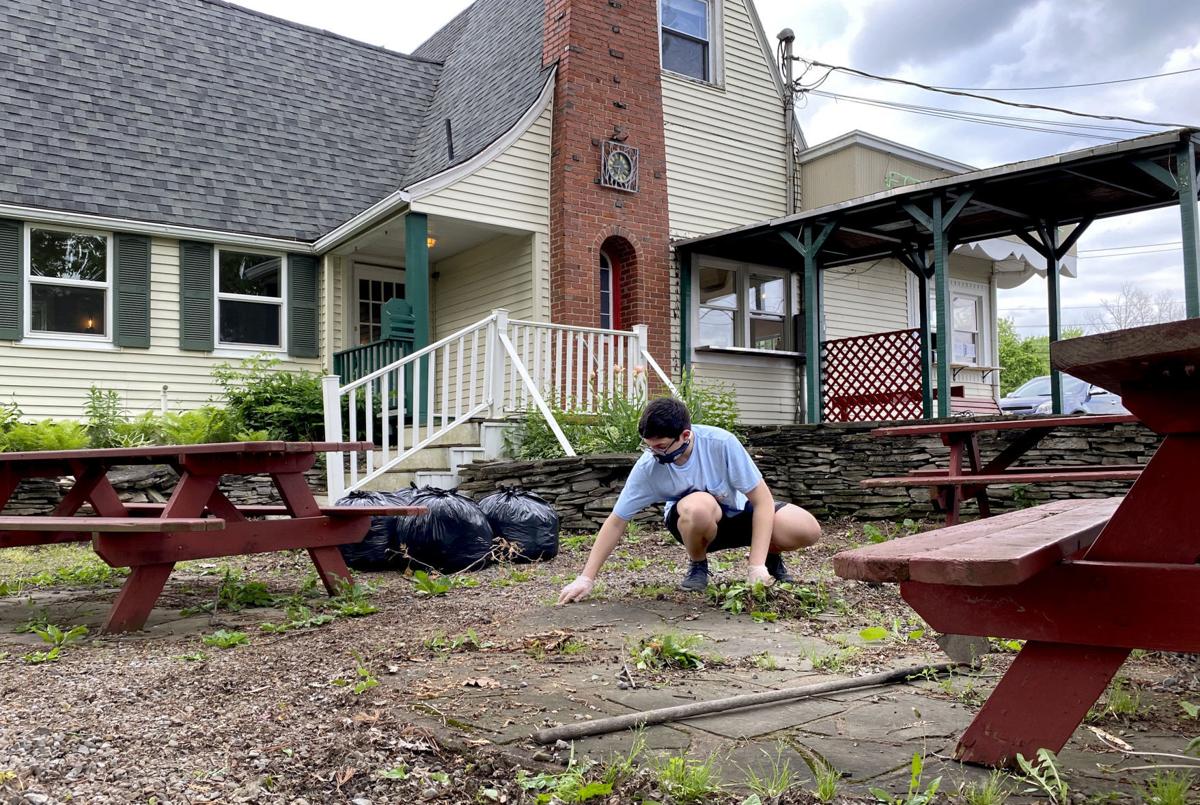 Several New York restaurants that have been limited to delivery or takeout service for more than two months can open outdoor dining areas, Gov. Andrew Cuomo said Wednesday. 
Restaurants that are in seven regions that are in the second phase of the reopening process will be allowed to open for outdoor dining beginning Thursday. The eligible regions include central New York, which is comprised of Cayuga, Cortland, Madison, Onondaga and Oswego counties. 
The state issued guidance for outdoor dining. Restaurants must keep outdoor tables six feet apart, which is in accordance with COVID-19 social distancing guidelines. Customers must wear face coverings when they aren't seated, and restaurant servers and staff must wear face coverings. 
Cuomo made the announcement two hours after his daily briefing. He revealed that COVID-19 hospitalizations and deaths continue to trend downward. 
"We are continuously evaluating activities that can be safely reopened, and today we are adding outdoor seating at restaurants to phase two," Cuomo said. 
Some state lawmakers and industry groups, such as the New York State Restaurant Association, urged Cuomo to allow restaurants to open for outdoor dining. State Sen. Pam Helming, who represents part of Auburn and several towns in Cayuga County, joined that call this week. 
In a statement, Helming expressed her belief that restaurants could open outdoor areas while abiding by safety guidelines. 
"Mandated to close their doors to diners and visitors back in March, some of our locally owned restaurants and craft beverage tasting rooms adapted by offering takeout service," Helming said. "But for many restaurant owners and craft beverage producers, especially those located in our rural communities, offering takeout service was not a viable option."
When the state ordered non-essential businesses to close in March, it limited bars and restaurants to delivery or takeout service. While some restaurants adapted and offered these services, others either tried before temporarily closing or permanently closed. 
In Auburn, Hunter Dinerant — a longtime diner in downtown — closed indefinitely after attempting to offer takeout service. 
Now, restaurants with outdoor dining areas can reopen, albeit on a limited basis. The guidance released by the state covers many aspects of the restaurant's operation, including the kitchen area, protective equipment and hygiene. 
Restaurants must adopt health screening for its employees. The screening could be done remotely before employees arrive for work or when they show up for their shift. If a worker tests positive for COVID-19, the restaurant must notify the state and local health departments. 
Melissa Fleischut, president and CEO of the New York State Restaurant Association, highlighted the importance of Cuomo's decisions. The restaurant industry, she said, is "on the brink of collapse." Allowing restaurants to open outdoor dining areas, she added, is a lifeline that "will undoubtedly be a huge help."
"We're also promising to hold up our end of the bargain," Fleischut said. "NYSRA, our members and all restaurants in the state will follow stringent sanitation practices and social distancing to make our patrons feel comfortable and keep our diners and employees safe." 
Politics reporter Robert Harding can be reached at (315) 282-2220 or robert.harding@lee.net. Follow him on Twitter @robertharding.