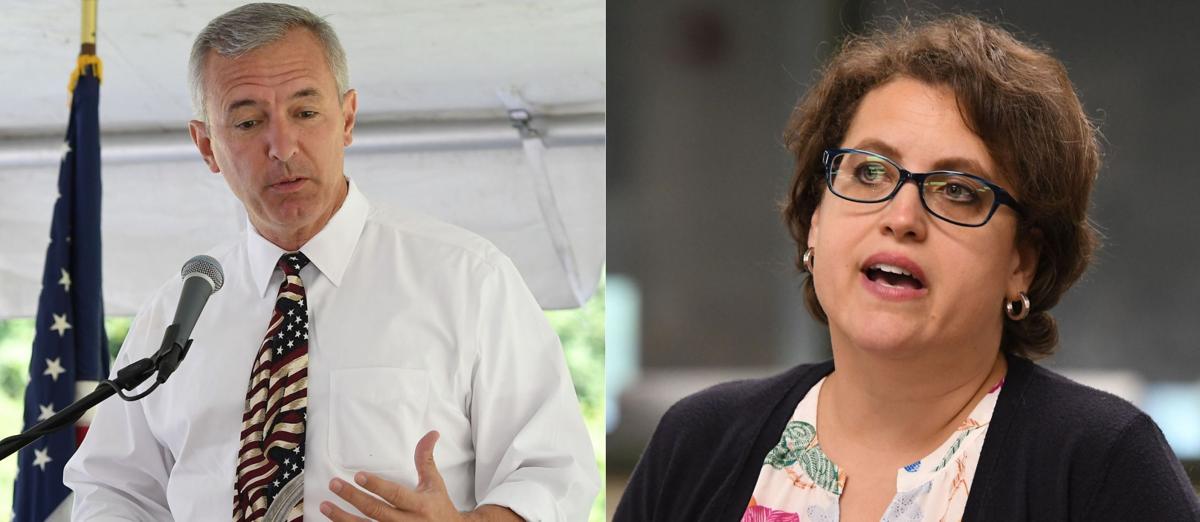 The two candidates in the 24th Congressional District race, Republican U.S. Rep. John Katko and Democratic challenger Dana Balter, agree they differ on abortion rights. 
That's where the agreement ends. 
It's arguably the most divisive issue in politics, but it's received renewed attention because of the potential conservative shift of the Supreme Court. After the death of Justice Ruth Bader Ginsburg, President Donald Trump nominated Amy Coney Barrett to fill the seat. 
If there is a sixth conservative justice confirmed, abortion rights advocates worry that Roe v. Wade, the landmark Supreme Court decision that allowed abortions, could be overturned. 
Before Ginsburg's death, abortion rights and access to reproductive health services were raised as an issue in the 24th Congressional District race. Balter's campaign paid for a digital ad that highlighted Katko's legislative record, including his votes on five occasions to defund Planned Parenthood, a provider of reproductive health services with clinics across the country. 
JOHN KATKO
Katko, R-Camillus, said in 2014 — the first year he ran for Congress — that he opposes abortion except in cases of rape, incest and when the life of the mother is at risk. He also said that if he could vote to overturn Roe v. Wade, he would. (The only way Katko would get a vote is if there is a constitutional amendment considered in the House.) 
Six years later, Katko's position hasn't changed. 
"I respect that individuals are pro-choice," he told The Citizen. "They should respect the fact that I'm pro-life except in incidences of rape, incest and where the life of the mother is in danger." 
For Katko, abortion is an issue he tends to shy away from because, he said, "there's no room for compromise." 
"I don't make this an issue for me because there's no common ground and I want to find common ground," he added. 
He touted his work on other women's issues, including his support for the Pregnant Workers Fairness Act — a bill that creates a right to accommodation for pregnant employees and considers it an unlawful employment practice or an employer to not make "reasonable accommodations" for pregnant workers. He was the lead Republican cosponsor of the legislation. 
Katko has also been a proponent of reauthorizing the Violence Against Women Act. He noted that he's been in the minority of his party when supporting efforts to extend the law, which aims to assist and protect survivors of domestic and sexual violence. 
He acknowledged that he voted to strip federal funding from Planned Parenthood but also said he hasn't voted to cut funding or jeopardized women's health care. The funding that was shifted away from Planned Parenthood, he said, went to community-based health clinics, including sites in the 24th district. 
"I'm not here to divide people," he said. "I'm here to unite people. The fact that they're focused on this issue just shows you where they are. I've never changed my position. It's the same, and it will be the same." 
DANA BALTER
Calling abortion rights "an area of significant difference between us," Balter reiterated her support for abortion and a woman's right to choose. 
"As with all health care decisions, decisions about abortion should be between the woman and her doctor," she said. "That is how health care works. It's personal, it's private, it's important and it's between the patient and the doctor and whoever the patient brings into that decision ... That's how medical decisions should be made. There is no place for government in the middle of that conversation." 
Balter said that a vast majority of Americans support access to legal, safe abortion. Gallup, which has surveyed Americans on whether they support or oppose abortion rights, found that 79% think abortion should either be legal under any circumstances or certain circumstances. One-fifth of respondents oppose abortion in all cases. 
Katko, Balter contends, has an extreme agenda on abortion. She repeated the comments he made in 2014 about, if given the chance, voting to overturn Roe v. Wade. 
"Right now, it is very important for us to have people in Congress who will work to codify women's rights, women's access to reproductive health care, including safe, legal abortion," Balter said. 
On the votes to defund Planned Parenthood, Balter said it's "unconscionable" because the organization is an important health care provider for women, including residents of the 24th district. The clinic in Syracuse offers a range of services, she noted, and provides women, especially those in low-income households, with access to health care. 
The other aspect of Katko's votes to defund Planned Parenthood that bothers Balter is his earlier pledge to not strip funding from the organization. He said in 2015 that he changed his stance after a series of controversial videos were released about the purported sale of fetal tissue for profit, which would be illegal. 
Investigations by congressional committees and state-level officials found Planned Parenthood didn't profit off the sale of fetal tissue. 
Balter made a pledge of her own: That she will safeguard abortion and reproductive health rights for women if elected to Congress. 
"Roe v. Wade has been longstanding settled law in this country," she said. "Donald Trump and the Republican Party have made it abundantly clear that their goal is to overturn Roe and that's part of what this Supreme Court fight is about ... It's about gutting access to health care more broadly and the American people know that. That's why we have to do whatever we can to stop the confirmation from happening before the voters have their say in this election." 
Politics reporter Robert Harding can be reached at (315) 282-2220 or robert.harding@lee.net. Follow him on Twitter @robertharding.