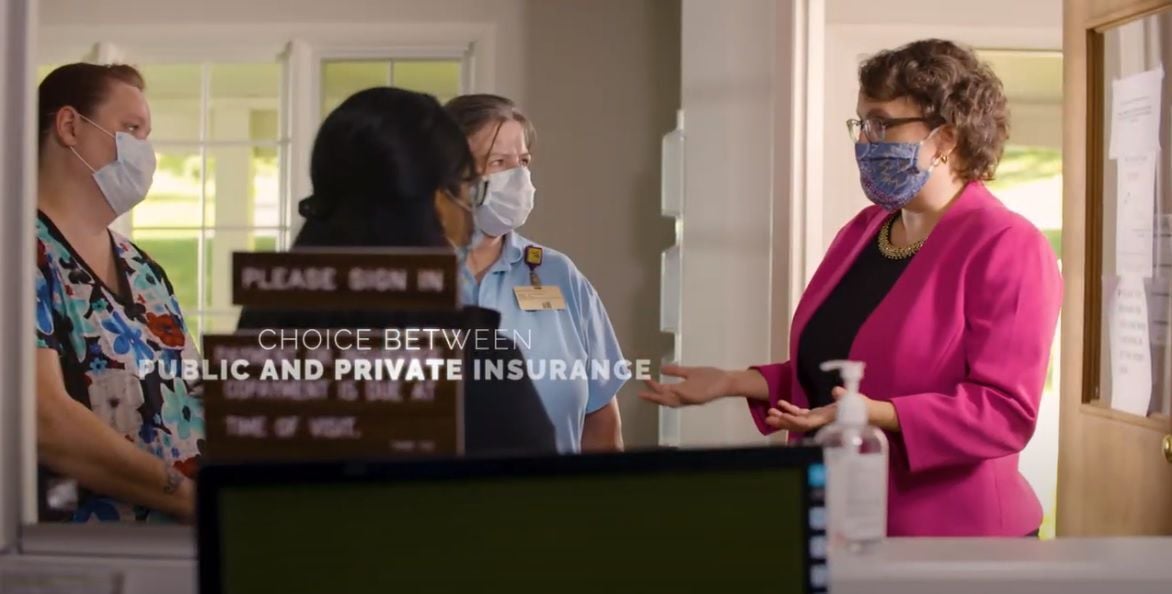 Dana Balter once again summarizes her health care plan and criticized President Donald Trump's handling of the COVID-19 pandemic in a new TV ad released by her campaign on Wednesday. 
The latest ad, which is paid for by Balter's campaign and the Democratic Congressional Campaign Committee, opens with a narrator stating that Trump "lied and left us unprepared" during the COVID-19 pandemic which has killed more than 200,000 Americans. 
Despite the ongoing health crisis, Balter accuses Trump of trying to repeal the protections in the Affordable Care Act for people with preexisting conditions. The 2010 health care law prevents insurers from denying coverage to people with preexisting medical conditions. 
The basis of this claim is Trump signing the 2017 tax law, which effectively eliminated the Affordable Care Act's individual mandate requiring people to buy health insurance or face a fine. With the individual mandate's repeal, a group of Republican attorneys general sued in an attempt to have the law overturned. The Trump administration is supporting the lawsuit. 
Trump maintains that he supports protections for people with preexisting conditions, but those protections would no longer be in effect if the law is thrown out. 
Balter, D-Syracuse, then outlines her health care plan in the ad. She pledges to work with Democratic presidential nominee Joe Biden, if he's elected president, to ensure there is a choice between private and public health insurance. She also wants to protect the Affordable Care Act and preserve provisions related to people with preexisting conditions. 
"I won't stop fighting until everyone has good health care," Balter says in the ad. 
While Balter supports Medicare for All and Biden does not, they do agree on several of the same principles related to health care. Biden's plan would preserve and build on the Affordable Care Act by creating a public option for those who lack health insurance coverage. 
Balter's Medicare for All stance has been criticized by her opponent, Republican U.S. Rep. John Katko, and compared to the proposal authored by U.S. Sen. Bernie Sanders. But Balter says her plan differs from the Sanders' proposal because she doesn't support the elimination of private insurance. 
Balter and Katko are in a competitive contest in the 24th Congressional District. Most polls have shown that it's a close race, with the candidates within a few points of each other. 
Katko is seeking a fourth term in Congress. This is Balter's second bid for this seat. She lost to Katko in 2018, when he won reelection by five percentage points. 
Politics reporter Robert Harding can be reached at (315) 282-2220 or robert.harding@lee.net. Follow him on Twitter @robertharding.
Concerned about COVID-19?
Sign up now to get the most recent coronavirus headlines and other important local and national news sent to your email inbox daily.