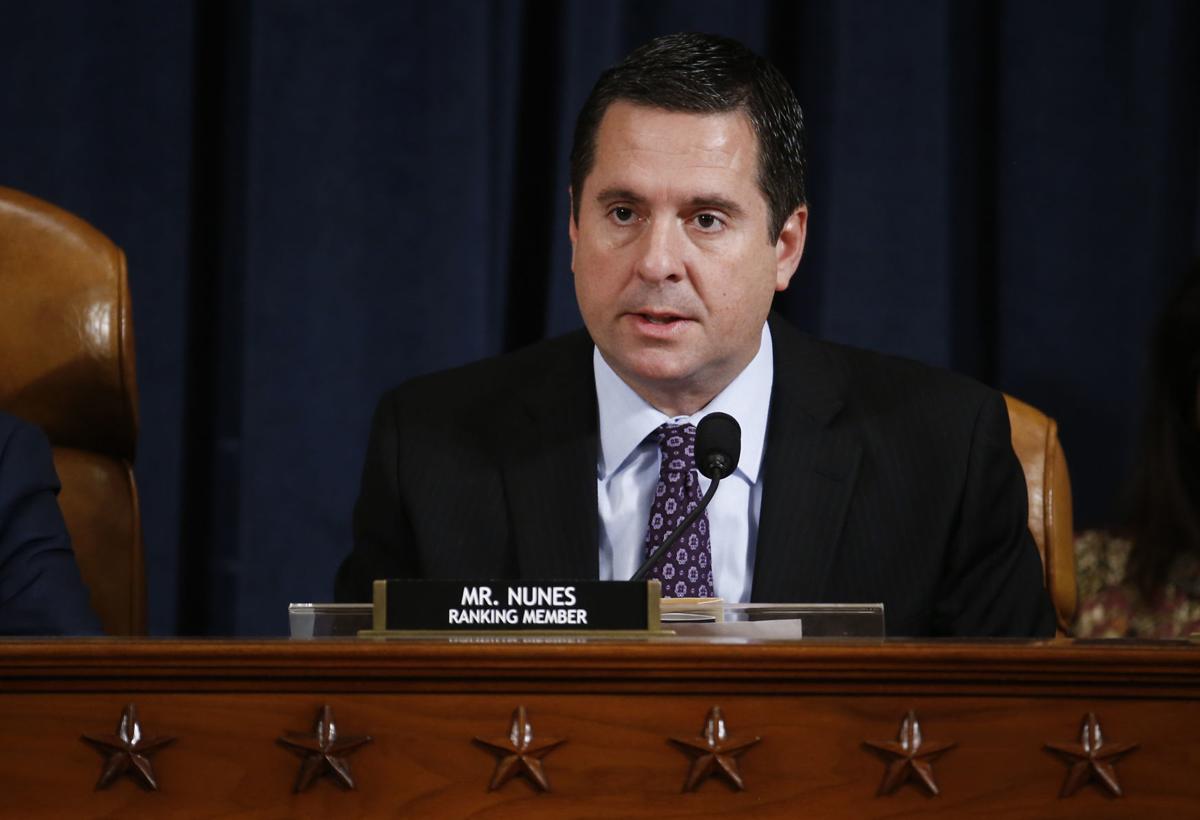 U.S. Rep. Devin Nunes, one of President Donald Trump's top allies in Congress, will visit central New York next month to support U.S. Rep. John Katko's reelection campaign. 
Partners at Barclay Damon, a Syracuse-based law firm, are inviting guests to attend a $1,000-per-person breakfast fundraiser featuring Katko, R-Camillus, and Nunes, a California Republican. The event is scheduled for 8 to 9 a.m. Saturday, March 7. The location isn't revealed on the invitation. 
Nunes was a leading Republican opponent of the House Democrats' impeachment proceedings against Trump. He is the ranking member of the House Intelligence Committee, which held several hearings during the Trump impeachment inquiry.
From 2015 to 2019, Nunes chaired the House Intelligence Committee. He oversaw the committee's investigation into Russian interference during the 2016 presidential campaign and authored a memo that accused the FBI of abusing the Foreign Intelligence Surveillance Act, which was used to obtain warrants against Carter Page, a former Trump campaign adviser. 
Nunes was a member of Trump's transition team before the president was sworn into office in 2017. 
Federal campaign finance records show Nunes' political action committee, New PAC, donated $2,000 to Katko's campaign in June 2019. 
Katko hasn't been as close to Trump as Nunes. In 2016, Katko declined to support Trump. When he voted in the presidential election that year, he cast a write-in vote for former South Carolina Gov. Nikki Haley. 
Members of the Trump administration have made official or campaign appearances with Katko over the last few years. In 2018, Vice President Mike Pence visited central New York to headline a fundraiser for Katko. After the event, Katko and Pence toured Nucor Steel in Auburn. 
Ivanka Trump, the president's eldest daughter and senior adviser, joined Katko for an education roundtable in Syracuse. Former Energy Secretary Rick Perry made a trip to Oswego County in July 2018 for a tour of FitzPatrick Nuclear Power Plant. 
Last year, Housing and Urban Development Secretary Ben Carson accepted Katko's invitation to visit Syracuse. Carson participated in a discussion about lead removal. 
"As much as I am sometimes frustrated by the president's approach, I believe our country is in a better place today than it was four years ago," Katko said. "We cannot afford the extreme policies being championed by the left, which would result in higher taxes for every American and a guaranteed debt crisis for our country. Given this choice, I will support President Trump this November." 
Katko's endorsement comes at the same time he's running for reelection. He is seeking a fourth term representing the 24th Congressional District, which includes the western part of Oswego County and all of Cayuga, Onondaga and Wayne counties. 
The fundraiser with Nunes will aid Katko in his reelection campaign. He's one of the Democratic Party's top targets this year. Three Syracuse Democrats — Dana Balter, Francis Conole and Roger Misso — are vying for their party's nomination to challenge him in November. 
The $1,000-a-person event will add to Katko's seven-figure campaign war chest. He entered 2020 with more than $1 million in the bank after raising $1.5 million last year. 
Online producer Robert Harding can be reached at (315) 282-2220 or robert.harding@lee.net. Follow him on Twitter @robertharding.
Get Government & Politics updates in your inbox!
Stay up-to-date on the latest in local and national government and political topics with our newsletter.