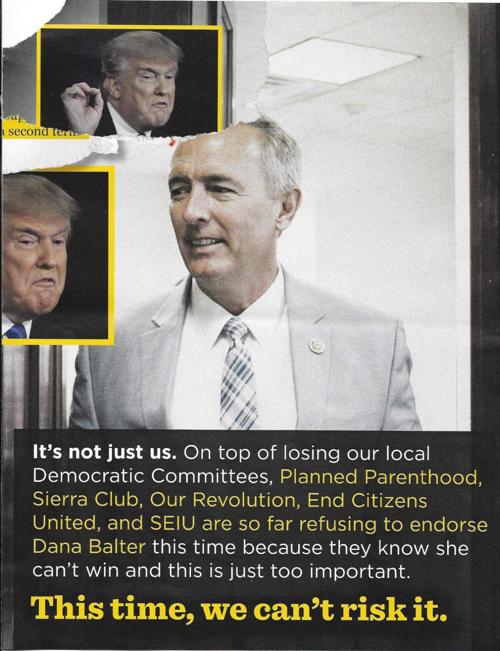 With more than a month to go until the June 23 primary election, Democratic candidate Francis Conole is taking aim at his primary opponent, Dana Balter, who was the party's nominee two years ago in the 24th Congressional District. 
Conole's campaign recently sent a mailer to select Democrats in the 24th district. The mailer, which was obtained by The Citizen, contains multiple criticisms of Balter, who lost to Republican U.S. Rep. John Katko by five percentage points in the 2018 race. 
On one page of the mailer, Conole's campaign claims that five national organizations — End Citizens United, Our Revolution, Planned Parenthood, SEIU and the Sierra Club — are refusing to endorse Balter "because they know she can't win and this is just too important." 
The theme of the mailer, which also references Balter's margin of defeat and identifies Conole as "the Democratic Party's endorsed candidate" in the 24th district, suggests that the party and these national groups don't believe Balter can win. 
The Citizen reviewed the contents of the mailer and decided to fact-check the specific claim that five national organizations are "refusing" to endorse Balter. 
Findings
One of the organizations mentioned in Conole's mailer, Planned Parenthood, endorsed Balter on Wednesday. In a news release announcing the endorsement, the Planned Parenthood Action Fund — the advocacy arm of the reproductive health organization — praised Balter as a "champion for people's access to full, equitable and comprehensive health care." 
Alexis McGill Johnson, acting president of the Planned Parenthood Action Fund, told The Citizen in a separate statement that they have been preparing to endorse Balter "for some time." McGill Johnson's statement contradicts Conole's claim that Planned Parenthood and other groups are refusing to endorse Balter. 
"We know that not only will Dana be a pro-choice champion in Congress, but that she also is by far the strongest candidate to unseat John Katko," McGill Johnson said. 
Another group named in the mailer, Sierra Club, doesn't endorse in primary elections. Dr. Rhea Jezer, who was an environmental adviser for former U.S. Sen. Hillary Clinton, is a member of the Sierra Club's Iroquois Group, which covers central and northern New York. Jezer told The Citizen that the Iroquois Group doesn't get involved in primaries. 
Jezer did note that the environmental positions held by Balter and Conole are "very similar." If there was a candidate with a poor environmental record, they may consider an early endorsement. But that's not the case with the 24th district. 
Our Revolution, which was founded by U.S. Sen. Bernie Sanders, hasn't endorsed in the 24th district race. But one local affiliate, Our Revolution Cayuga County, is supporting Balter for Congress. 
End Citizens United is in the midst of its endorsement process, according to Bawadden Sayed, the campaign finance reform group's spokesperson. To receive its endorsement, End Citizens United asks candidates to fill out a questionnaire. The group will meet with the candidates and determine who will receive its support. 
"When we do make an endorsement, that candidate will be best positioned to beat Congressman Katko and root out corruption in Washington," Sayed said. 
SEIU, a labor union, has members — including health care workers — in central New York. Mark Spadafore, upstate New York political director for 1199SEIU, told The Citizen that the candidates haven't been interviewed for endorsements. 
During the COVID-19 pandemic, the union has been more focused on securing personal protective equipment and hazard pay for health care workers. Spadafore explained that the union hasn't refused to endorse Balter or Conole. 
SEIU will commence its endorsement process after the June 23 primary. 
Conclusion
Conole's campaign claimed that five national organizations refused to endorse Balter in the 24th district race. But it's clear from most groups that it's false to claim they are refusing to support the Syracuse Democrat. 
Planned Parenthood is the most glaring example. Days after Conole's campaign circulated a mailer stating that the pro-choice organization is refusing to endorse Balter, they endorsed Balter. Other groups either won't endorse before the primary or haven't made any decisions about whether to support Balter or Conole for Congress. 
Politics reporter Robert Harding can be reached at (315) 282-2220 or robert.harding@lee.net. Follow him on Twitter @robertharding.
Get Government & Politics updates in your inbox!
Stay up-to-date on the latest in local and national government and political topics with our newsletter.