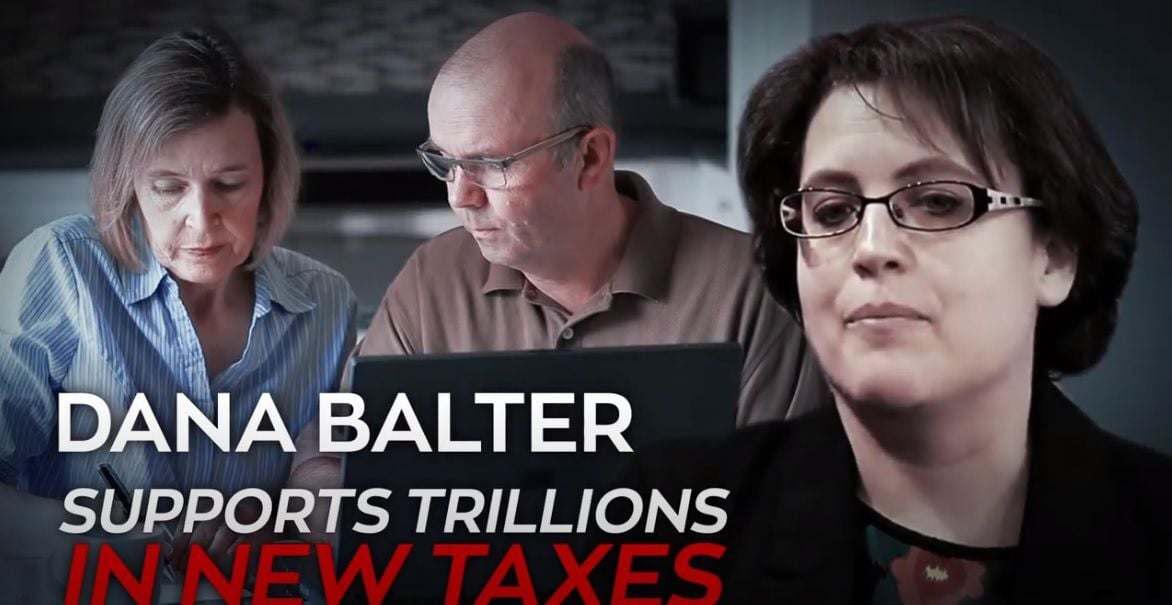 After Democratic candidate Dana Balter questioned Republican U.S. Rep. John Katko's record in her first television commercial of the general election, Katko responded with an ad that repeats some attack lines from 2018 and raises new ones in the 24th Congressional District race. 
The ad, titled "Dangerous, Dishonest Dana," is airing on broadcast and cable TV stations in the Syracuse area. It's Katko's opening salvo in what's expected to be a competitive race over the next 3 1/2 months. 
The Citizen reviewed the claims made in Katko's ad to provide additional information for readers and viewers of the commercial. 
'Visiting professor' 
The ad opens with the line, "Remember Dana Balter, the visiting professor from Connecticut?" This was one of the major themes of Katko's campaign against Balter in 2018. The goal is to portray Balter as a carpetbagger who doesn't have central New York roots. 
Balter is a Connecticut native. She told The Citizen in past interviews that she moved to the region in 2003 to begin graduate studies at Syracuse University. There was a period over the last 17 years that she didn't live in New York, which she said were due to her recovery from an injury. In 2018, her campaign provided a timeline that indicated she returned to Syracuse in 2012. 
The "visiting professor" title refers to a position Balter held at Syracuse University. She was a visiting assistant teaching professor at the Maxwell School. According to Balter, she held that position from 2017 until the summer of 2018. She is no longer in a teaching position at the university. 
Taxes
The ad's narrator continues, referring to Balter as "the one who wants to raise taxes here but didn't pay her own in Florida." 
While it's not mentioned in the ad, Katko's campaign says in a news release that the claim is based on Balter's support of Medicare for All. 
Balter believes a phased-in Medicare for All system is the best way to achieve universal health care. In past interviews and statements, she's acknowledged that such a system could be paid for by increasing the Medicare payroll tax. However, she's added that while Americans would pay more in taxes, they wouldn't have out-of-pocket medical expenses. 
Balter started a small business, Dana Balter Designs, that sold restored furniture. In 2013, the Florida Department of Revenue issued a lien that stated Balter owed $1,832.42 in unpaid sales and use taxes. After fees, interest and penalties, the total owed increased to $2,176.30. 
Florida records indicate the debt was paid in full within two months. In 2018, Balter's campaign provided documents that showed she paid $111.08 to resolve the matter. 
'Professional candidate' 
There is a subtle reference in the ad to Balter being paid by her campaign. The narrator calls Balter a "professional candidate." 
It's true that Balter is receiving a salary from her campaign. She also received a salary during the 2018 general election campaign, according to Federal Election Commission records. 
Balter isn't the only candidate who has accepted a salary from their campaign. It is legal as long as it's done after the state's filing deadline, which is why Balter had to return the salary payments in 2019. 
'False claims'
Katko's campaign says Balter was "caught making false claims" in her most recent TV ad. The commercial panned Katko's record, especially his votes for the 2017 tax law and opposition to the House Democrats' prescription drug price reform bill. 
In Katko's ad, The Citizen's fact check of Balter's commercial is cited. "The claim ... is false" is displayed in the video. 
Balter's ad claimed that the Katko-backed tax law "made the super-rich and corporations richer while raising taxes on working families." The basis of this argument is that because the tax cuts for individuals expire after 2025, it's possible that there will be a tax increase if Congress doesn't act. 
The Citizen initially used "false" in its fact check when assessing Balter's claim. The wording was changed after reviewing the law and other fact checks that examined claims about the tax cuts in the 2017 measure. 
Katko's campaign is correct that The Citizen published a story using those words. It's just not reflected in the final version of the story, which has yet to run in the newspaper's print edition. 
Balter and bail reform
The ad closes with a key part of Katko's new case against Balter: Her support of New York's 2019 bail reform law. 
The commercial claims the bail reform law has led to the release of "violent criminal defendants into our communities." A Wall Street Journal article titled, "New Bail Laws Leading to Release of Dangerous Criminals, Some Prosecutors Say," is cited in the ad. 
Katko's campaign also used The Citizen as a source for this claim. A Feb. 6 article on auburnpub.com features the Democratic candidates for Congress responding to a Katko campaign digital ad questioning their positions on the state's bail reform law.
The state law eliminated cash bail for most crimes, but it remained in place for many violent felony offenses. This year, the state Legislature amended the law, which took effect Jan. 1. According to the Brennan Center for Justice, which analyzed the changes, there were new crimes added to the bail-eligible list, including second-degree burglary, some sex trafficking crimes and assault-related crimes. 
Judges also have more authority to set cash bail, according to the Brennan Center's analysis. Judges can consider whether bail should be set based on the defendant's record. 
The goal of the bail reform law, though, is to ensure that defendants aren't jailed solely because they are unable to pay. That was what motivated legislators to address cash bail in 2019. 
There are arguments that the bail reform law led to the release of some individuals accused of violent crimes. However, because the law took effect in January, there is limited data available. Many of the criticisms of the law are based on anecdotal evidence and media reports about individuals who have been released after being charged with a crime. But it doesn't provide a full view of how the bail reform law has impacted the criminal justice system. 
Regarding Balter's position, she told The Citizen in February that she supports the changes. She said before the law took effect, it wasn't about the difference in the crime a person committed. It was about their economic status. 
"That's not right," she said. "I did not hear Congressman Katko complaining about all the wealthy people who were being let out of jail then." 
Balter added that the goal of bail isn't to keep criminals off the street, but rather to ensure that defendants would show up for their trials. Before the reforms, she believes bail was being abused as a tool to punish defendants before their case was decided. 
"I think it is a shame to promote fear, especially as a distraction from talking about a very important substantive issue which is ensuring that people aren't sitting in jail just because they're poor, which was the end result of the bail system that we had before," Balter said. 
Katko has said he thinks changes needed to be made to New York's bail system, but that the 2019 law went too far. 
Politics reporter Robert Harding can be reached at (315) 282-2220 or robert.harding@lee.net. Follow him on Twitter @robertharding.
Get Election 2020 & Politics updates in your inbox!
Keep up on the latest in national and local politics as Election 2020 comes into focus.