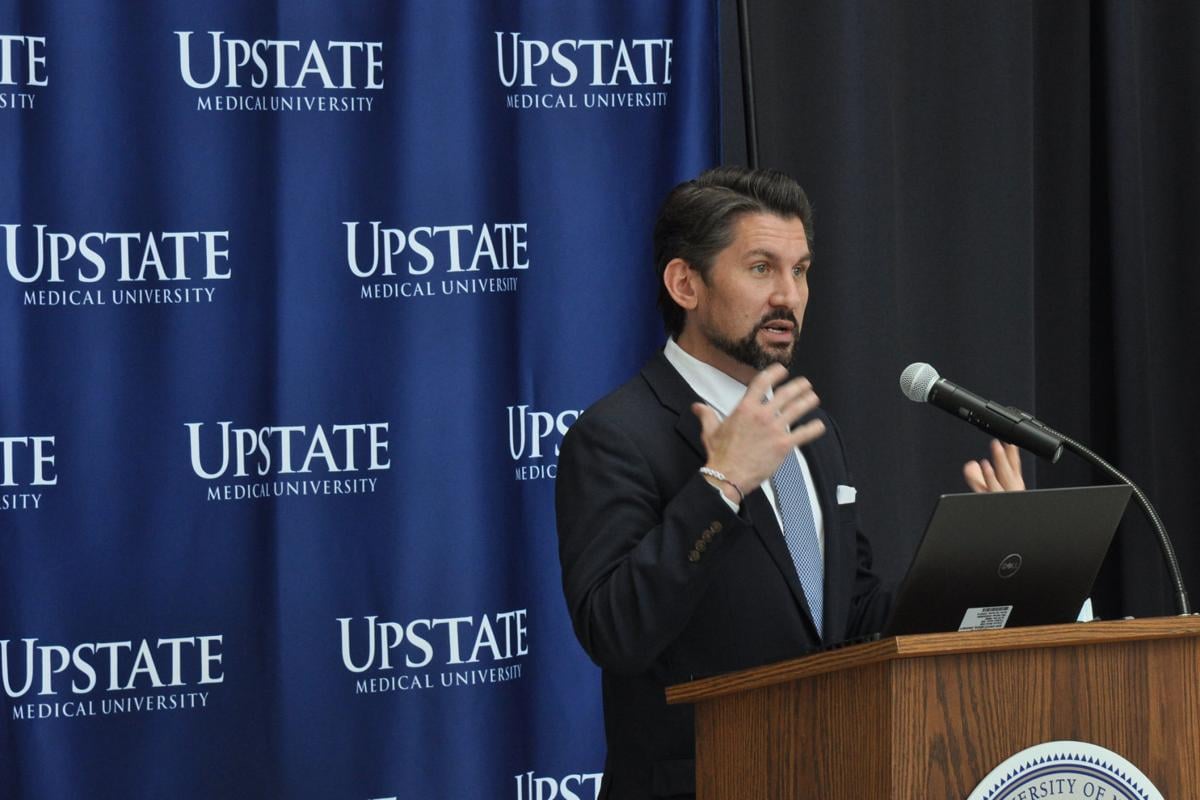 A COVID-19 test developed by SUNY Upstate Medical University in Syracuse and Quadrant Biosciences has been approved for emergency use by the federal Food and Drug Administration. 
The saliva swab diagnostic test has been used by SUNY to test students for COVID-19. With the FDA's emergency use authorization, the test can be used statewide and across the country. 
SUNY Chancellor Jim Malatras said Wednesday that the authorization of the "game-changing" COVID-19 test showcases the state university system's ingenuity. 
"With this approval, the innovation developed by Upstate Medical and Quadrant Biosciences will be leveraged on a national scale," Malatras said. "This quick, noninvasive testing protocol — which has already boosted SUNY's testing capacity to 120,000 tests per week — will now help communities across the country better pinpoint and contain COVID-19." 
Instead of the nasal swab test, which is usually administered by a health care professional, the saliva swab test is administered by the patient. They swab the inside of their mouths to collect the saliva samples, which are processed at SUNY Upstate Medical University's laboratory. 
The saliva test is part of SUNY's pooled testing approach, which involves collecting multiple samples from between 10 to 25 people and examining them for COVID-19. If the pooled sample is negative for COVID-19, then it's believed that the individuals do not have COVID-19. 
Before SUNY received federal and state approval for the test, if a pooled sample was positive, then each individual that was part of the pool had to be retested for COVID-19. Now, each sample can be checked individually to determine which individuals are positive cases. There is no need to collect new samples. 
"The coronavirus has had a devastating effect on health and welfare worldwide, so it is extremely gratifying for us to take the expertise we have gained working on RNA diagnostic tests for other health conditions, such as autism spectrum disorder and Parkinson's disease, and apply that expertise to the development of this critically important test," said Richard Uhlig, founder and CEO of Quadrant Biosciences. 
The saliva test has proven to be a key part of SUNY's response to outbreaks on some campuses, including Oneonta and Oswego in central New York. The state Department of Health approved the use of the test for surveillance purposes, which allowed SUNY to expand its testing of students at multiple campuses. 
Politics reporter Robert Harding can be reached at (315) 282-2220 or robert.harding@lee.net. Follow him on Twitter @robertharding.