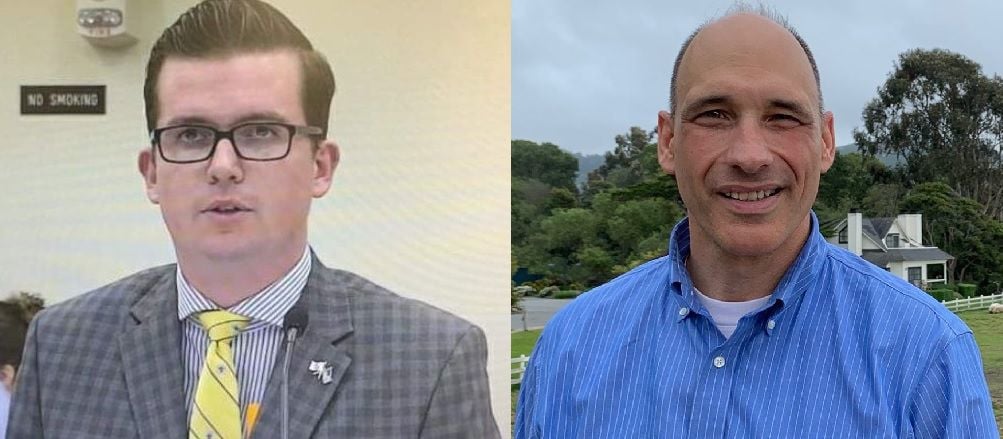 For the first time in more than two decades, a Republican not named Gary Finch will appear on the ballot in the 126th Assembly District. 
On June 23, GOP voters in the four-county district will decide whether Danny Fitzpatrick or John Lemondes will succeed Finch, R-Springport, as the party's nominee. The primary election will cap off a four-month process that had its share of twists. 
Finch surprised local Republicans by announcing in early February that he will not seek reelection this year. There were several GOP candidates interested in being Finch's successor. Kenneth Bush III emerged as the front-runner and won the GOP designation, along with the endorsements of the Conservative and Independence parties. 
Fitzpatrick, who sought the Republican Party's endorsement, was the only GOP candidate who didn't bow out after Bush won the designation. He opted to force a primary. 
In late March, Bush abruptly dropped out of the race. Republican, Conservative and Independence party leaders selected Lemondes to replace Bush on the primary election ballot. 
While both are Republicans, there are differences between Fitzpatrick and Lemondes. Fitzpatrick, who serves as LaFayette town supervisor and is the son of Onondaga County District Attorney William Fitzpatrick, has worked in politics his entire professional career. He's been a GOP political consultant and now works as the director of intergovernmental relations for the Onondaga County Water Authority. 
"I have the combination of experience and issue-focused situations that I've been in that are really perfect for the 126th Assembly District," Fitzpatrick said. "On top of that, I think have the ability to put together the right operation to win not only a primary campaign but a general election."
Lemondes is a retired Army colonel. He served 27 years in the military, which included deployments to Afghanistan and Iraq. After retiring from the Army, he returned to central New York and settled on a 488-acre farm in LaFayette. He's been an active member of various agricultural groups, including the American Sheep Industry Association and New York Farm Bureau. 
"When you talk about life experience, war grounded me," Lemondes said. "I was in my first combat operation at 25. I grew up fast and that made me cherish and respect life as well as our way of life in ways that many people probably won't understand ... Leadership is a daunting task and there's no better place to be immersed in it, to understand how difficult it is, than in the military." 
Both candidates believe they have attributes that can help them connect with constituents and leaders across the district, which includes parts of Cayuga, Chenango, Cortland and Onondaga counties. As a farmer, Lemondes says he understands what it's like to operate during the COVID-19 pandemic and the economic downturn. Like dairy farms that can't find markets for their milk, he said his farm can't find markets for their wool. 
He recently spoke to a farmer who has been affected by the late spring and several workers testing positive for COVID-19. Through his own experiences, he said he can relate with farmers who have to deal with factors out of their control. 
"It's a lot easier to be able to understand that when you have actually lived it," Lemondes said. 
Fitzpatrick views his local government experience as an asset. As a town official, he considers it a "training ground" for being in the state Legislature. 
One reason it's helpful is the need to work with others. 
"I know exactly what the state is doing wrong and I know what they're doing right," Fitzpatrick said. "I know how to tackle those issues and there's not going to be any learning curve for me because I know exactly what the problems are." 
The two Republicans offered differing lists of what's the most important issues in the race. Fitzpatrick focused more on the future if he's elected to the state Assembly. He wants to advocate for changes to the bail reform law that was adopted in 2019 and amended this year. He also believes that smaller hospitals, including Auburn Community Hospital, need assistance and policies that will help keep them in operation. And he supports awarding New York contracts to New York companies. 
Lemondes opted to highlight the present. He said the number one issue for Republicans is being able to defeat the Democratic candidate, Dia Carabajal, in the 126th district race. Losing the seat, he explained, would hurt Republicans' ability to be a check on the Democratic-controlled state Legislature. He thinks voters should choose someone "that's not beholden to anyone" and has "demonstrated a life of integrity." 
The issues Lemondes wants to address if he's elected to the state Assembly include taxation, high utility rates, the minimum wage — he believes the state's minimum wage is too high — and the loss of population in New York, especially in upstate counties. 
Both argue they are the best Republican to succeed Finch in the state Legislature. Fitzpatrick touted his lifelong ties to the GOP. 
"I hold Republican values," he said. "There's very little that you're going to find in me that doesn't match with the average Republican voter in the 126th Assembly District." 
For Lemondes, it goes back to his experience. He's served in the military, owned a farm and worked in the defense industry. He says he's been honest, professional and respectful throughout his career. 
"I will always do the right thing," he said. 
Republican voters will decide whether Fitzpatrick or Lemondes will be the party's nominee, but it's possible that this won't be the last time these candidates appear on the same ballot.
If Fitzpatrick wins the primary, Lemondes still has the Conservative and Independence lines. If he remains in the race, there will be a three-way general election contest between Carabajal, Fitzpatrick and Lemondes for the 126th district seat. If Lemondes wins, it will be a head-to-head campaign against Carabajal. 
Politics reporter Robert Harding can be reached at (315) 282-2220 or robert.harding@lee.net. Follow him on Twitter @robertharding.
Get Government & Politics updates in your inbox!
Stay up-to-date on the latest in local and national government and political topics with our newsletter.