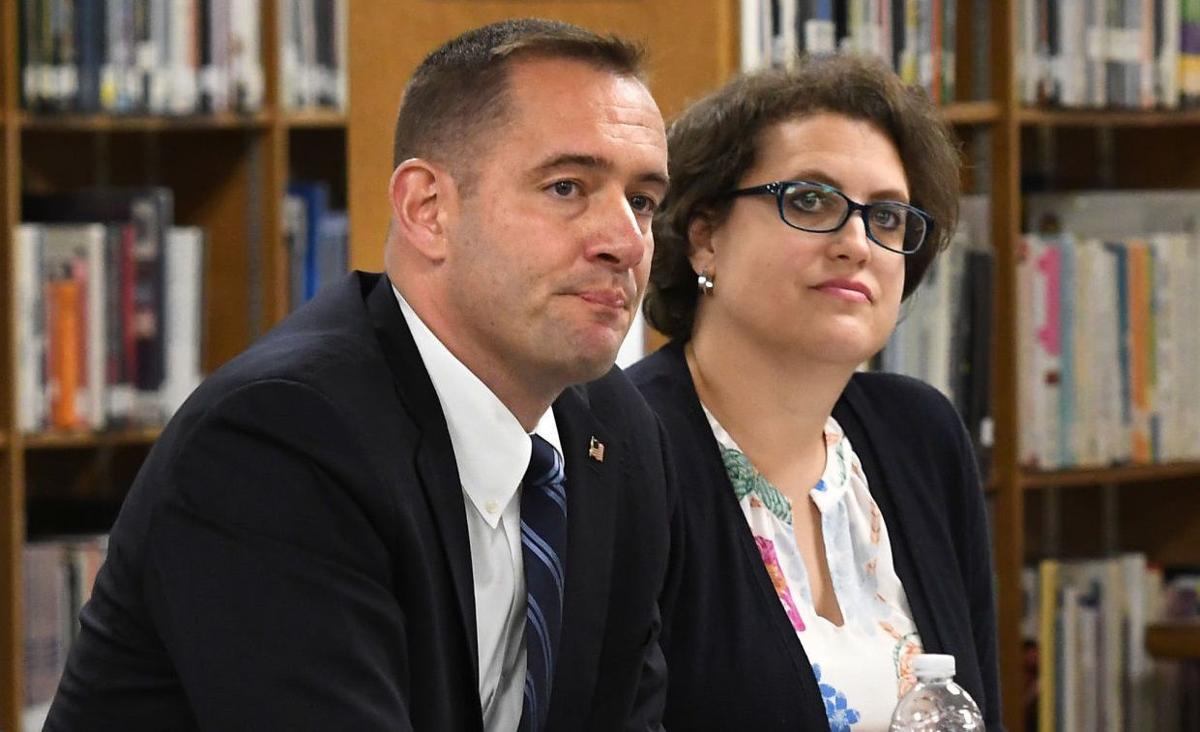 Before absentee ballots are counted in four central New York counties, Francis Conole has conceded to Dana Balter in the 24th Congressional District Democratic primary election. 
Balter, D-Syracuse, has a nearly 30-point lead after the early votes and election night ballots were counted. She received 10,566 votes, while Conole, D-Syracuse, netted 5,813. 
There were at least 30,000 absentees returned to the election boards in the district's four counties. But it's unlikely that Conole would've overcome the election night margin. 
Conole said in a statement that he called Balter Thursday to congratulate her on winning the primary election. He thanked his supporters and said he's proud of the campaign he ran, but added that the "mission is not done."
"Central New York and our country face great challenges ahead and yet great opportunities. We need a leader who will fight for us. That leader is Dana Balter," Conole said. "I have come to know Dana's tenacious spirit, her keen intellect and understanding of the issues we face, and her compassionate way that is so much of what we need in our government right now." 
Conole continued, "Now is the time for our party and our community to come together and unite behind Dana Balter. Only together can we defeat Congressman John Katko and Donald Trump in November and bring the true change we need to central New York." 
The concession ends a 14-month campaign for the Democratic nomination. Balter, Conole and Roger Misso announced their candidacies in April 2019. Conole won the support of the Democratic committees in Cayuga and Onondaga counties, while Balter was endorsed by the Oswego County Democratic Committee. 
After Misso ended his campaign in mid-March, it became a two-way race for the nomination. Balter released an internal poll in late March that showed her leading the primary contest by 43 points. Another internal poll released in early June found that she was up 29 points over Conole. 
Despite those poll numbers, Conole felt confident about his chances in the closing days of the primary race. He touted his experience in the U.S. Navy and his ability to defeat Republican U.S. Rep. John Katko in November. But most Democratic voters, as they did two years ago, sided with Balter in the primary election. 
Balter on Thursday issued a statement congratulating Conole on his campaign and thanking him for his service. 
"The incredible turnout in this election — by mail and in-person — is a sign that voters are ready for change this November," Balter said. "The people of the 24th district are ready to move past Donald Trump's failed leadership and replace his enablers in Congress like John Katko. We need a champion in Congress who will fight for good health care, a fair economy and to get big money out of politics. I will be that champion. It's time to give central and western New York the representation we deserve." 
The primary win sets up a rematch between Balter and Katko in the general election. In 2018, Katko defeated Balter by five percentage points to win a third term in Congress. 
Katko has been successful in a district that has more Democratic than Republican voters. He won his first two elections by at least 20 points before winning reelection in 2018, which was a difficult year for GOP House candidates. But Balter believes that she is in a strong position to build on her 2018 performance and defeat Katko this year. 
The 24th district contest will be closely watched by both major parties. For Republicans hoping to reclaim the majority, it's a crucial seat to retain. Democrats want to win the seat to pad their majority in the House. 
The general election is Tuesday, Nov. 3. 
Politics reporter Robert Harding can be reached at (315) 282-2220 or robert.harding@lee.net. Follow him on Twitter @robertharding.
Get Government & Politics updates in your inbox!
Stay up-to-date on the latest in local and national government and political topics with our newsletter.