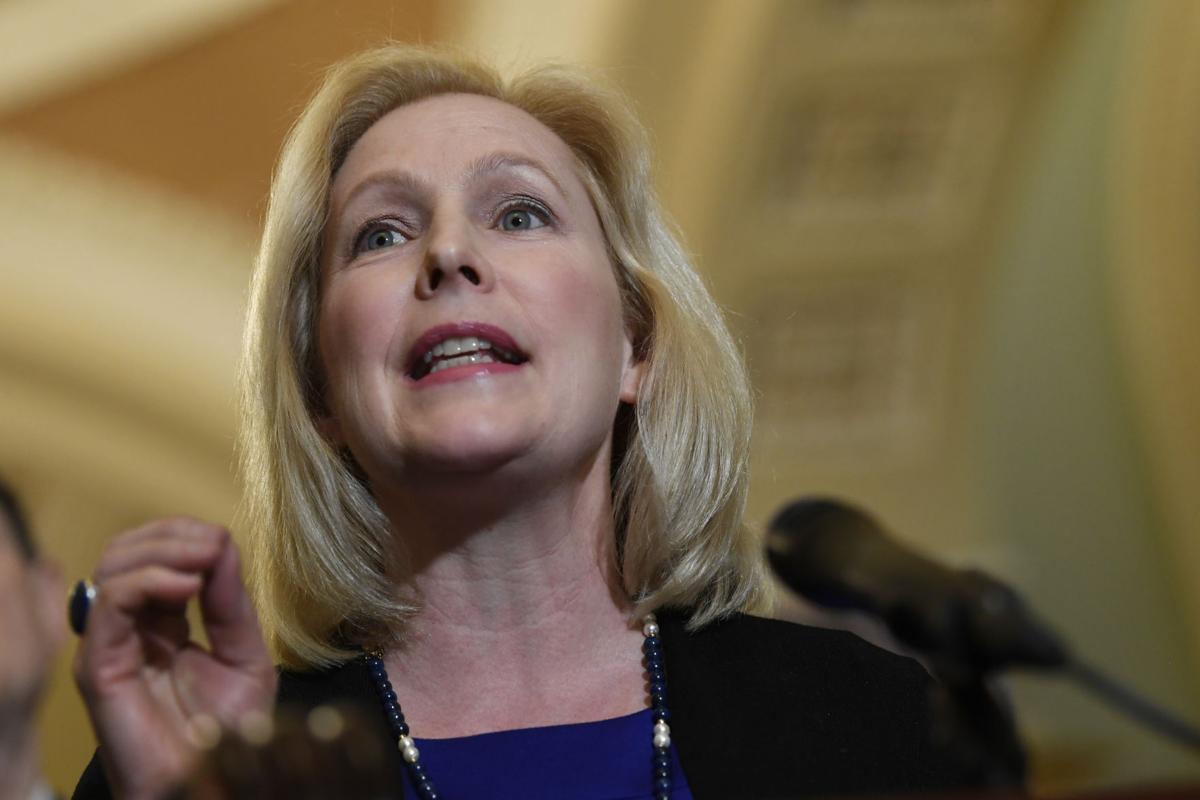 U.S. Sen. Kirsten Gillibrand spoke out against Senate Republicans' latest COVID-19 relief proposal, which is expected to be voted on Thursday. 
The $500 billion package includes more than $250 billion more for the Paycheck Protection Program, an initiative to help businesses affected by the COVID-19 pandemic. It would also provide billions more for a vaccine and testing, and set up a new enhanced jobless benefit that would give unemployed Americans $300 each week. 
It also establishes liability protections for businesses reopening amid the pandemic and writes off $10 billion in debt at the U.S. Postal Service. But there won't be another round of $1,200 payments for millions of Americans and it lacks assistance to state and local governments. 
Gillibrand, D-N.Y., told reporters Wednesday that the proposal is "woefully inadequate" and "prioritizes the needs of major corporations over regular people." She also criticized Senate Majority Leader Mitch McConnell, a Republican, for not proposing a "workable alternative" to the House Democrats' plan that passed in May. That bill was a much larger relief package — over $3 trillion. McConnell and other Republicans are reluctant to pass another package with a trillion-dollar price tag. 
During a videoconference, Gillibrand outlined why she opposes the GOP proposal. She panned the provision that would protect businesses from lawsuits as they reopen amid the pandemic. 
"The fact that this bill prioritizes blanket liability for corporations over the health and safety of working people who are keeping this country running is insulting," she said. 
The GOP plan, according to Gillibrand, also lacks an extension of emergency paid leave proposals that would allow workers to stay home when they're sick or if they need to care for a family member who is ill. She also believes that the measure underfunds child care assistance. She supports a bill that would provide $50 billion. McConnell's proposal sets aside $15 billion for child care. 
Gillibrand also emphasized the need for $600 weekly enhanced unemployment benefits and extending a ban on evictions through March 2021. She wants additional funding for homeowners and renters who lost their jobs or wages due to the pandemic, and more money for COVID-19 testing, telehealth services, community-based care, mental health services and substance abuse treatment. 
In the next COVID-19 relief package, Gillibrand wants to ensure that there is funding to address food insecurity, including an expansion of Supplemental and Nutrition Assistance Program benefits and extending the pandemic EBT program that was created to help families affected by the health crisis. 
She is also pushing for aid to state and local governments. The GOP bill doesn't include any funding for state and local governments. The House Democrats' plan had nearly $1 trillion for state and local governments. 
Congressional leaders and President Donald Trump's administration have been attempting to negotiate a new COVID-19 relief package, but those talks so far haven't produced an agreement. One obstacle is the price tag. Democrats want a higher dollar amount than Republicans. But there are also some disagreements on what should be in the bill. Aid for state and local governments is among the differences. 
"The next relief package needs to be based in reality," Gillibrand said. "It needs to be comprehensive and it needs to be passed as soon as possible. People's lives and livelihoods are on the line." 
Politics reporter Robert Harding can be reached at (315) 282-2220 or robert.harding@lee.net. Follow him on Twitter @robertharding.
Concerned about COVID-19?
Sign up now to get the most recent coronavirus headlines and other important local and national news sent to your email inbox daily.