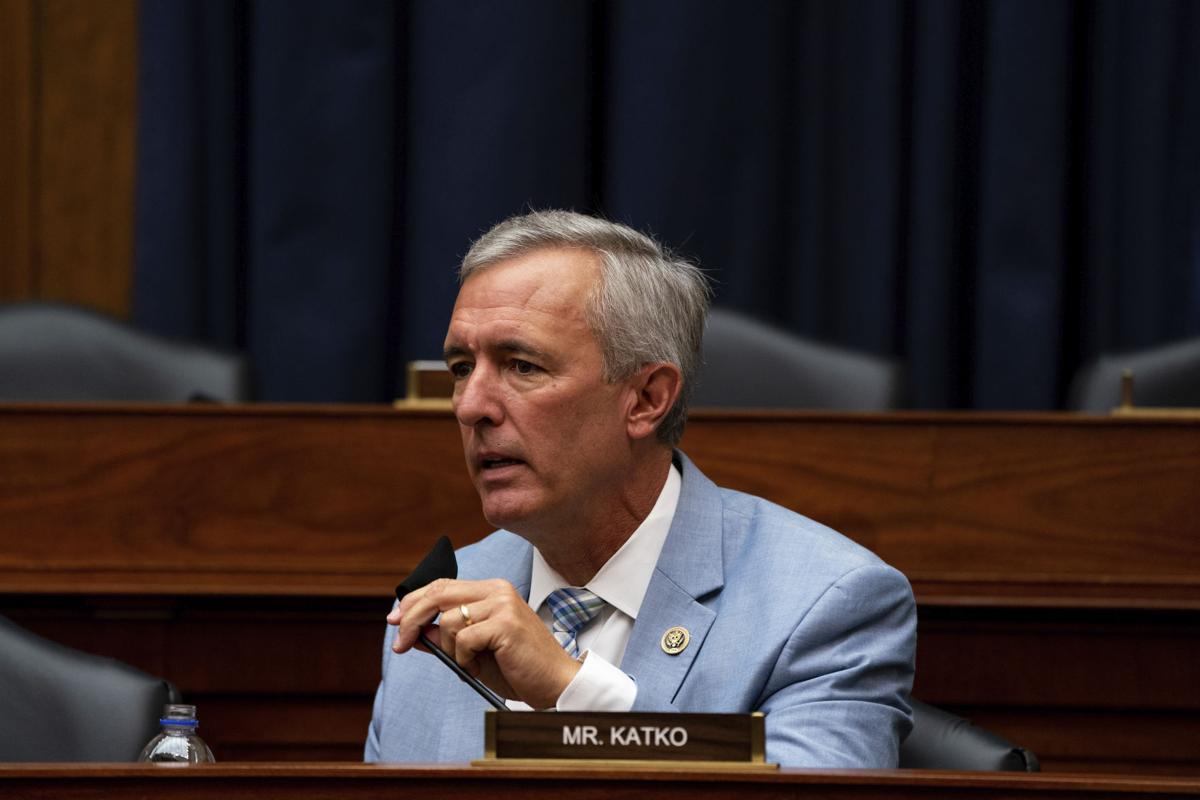 U.S. Rep. John Katko, a Republican who endorsed President Donald Trump for reelection in 2020, said Tuesday that he will vote to impeach Trump for inciting last week's attack on the Capitol. 
Katko, R-Camillus, is the first House Republican who has announced that they will vote to impeach the president. The House's impeachment vote is scheduled for Wednesday. 
In a lengthy statement, Katko explained why he believes Trump's conduct constitutes an impeachable offense. He outlined the facts, including the attack on the Capitol that sought to disrupt the certification of the Electoral College results. Five people died as the pro-Trump mob stormed the Capitol. One of the deaths was a Capitol Police officer who was attacked by the insurrectionists. Other officers were assaulted and injured. 
Before the crowd rushed the Capitol, Trump spoke about the need to "show strength." His supporters and individuals aligned with far-right groups headed for the Capitol, where clashes with police began and the mob advanced into the building. 
The Jan. 6 attack capped off months of Trump making false claims about the election results — he was defeated by Democratic challenger Joe Biden, who is now president-elect — and his campaign unsuccessfully made dozens of legal attempts to overturn the election. 
"It cannot be ignored that President Trump encouraged this insurrection — both on social media ahead of January 6, and in his speech that day," Katko said. "By deliberately promoting baseless theories suggesting the election was somehow stolen, the president created a combustible environment of misinformation, disenfranchisement and division. When this manifested in violent acts on January 6, he refused to promptly and forcefully call it off, putting countless lives in danger." 
No members of Congress were injured in the attack, but there have been reports of insurrectionists threatening to kill Vice President Mike Pence, who presided over the Electoral College certification, and House Speaker Nancy Pelosi. Pelosi and Pence were evacuated from the House and Senate chambers as the mob breached the Capitol. 
"We take oaths to defend the Constitution because at times, it needs to be defended," Katko said. "Without the peaceful transfer of power and the acknowledgment of election results, we can't sustain our political system. Congress is tasked with holding the executive accountable. As the ranking member of the House Homeland Security Committee, country always comes first. 
"To allow the president of the United States to incite this attack without consequence is a direct threat to the future of our democracy. For that reason, I cannot sit by without taking action. I will vote to impeach this president." 
Katko added that he agrees with his Republican colleagues who argue that impeachment "only further divides our country at a time when we must move forward." He thinks there should be "a continuance of government and a peaceful transition of power." But, he continued, "I also believe firmly that I must follow the law and the facts and hold this president accountable for his actions."
It's possible other Republicans will join Katko in supporting the article of impeachment against Trump. Many, if not all, Democrats will vote to impeach Trump on Wednesday. 
If the House has enough votes, Trump will become the first president in U.S. history to be impeached twice. He was impeached in 2019 for seeking assistance from Ukraine to interfere in the 2020 presidential election. While Katko criticized some of the president's conduct, he did not support impeachment. 
There could be other actions taken against Trump for his role in inciting the insurrection. The House will consider a resolution on Wednesday asking Pence to invoke the 25th Amendment to remove Trump from office. Because Pence has signaled he will not invoke the 25th, Katko said he will not support the resolution. 
But his vote for impeachment is significant. Katko endorsed Trump for reelection last year after not supporting his first bid in 2016. Over the years, he has been critical of some of Trump's actions and comments. 
After the election, Katko was one of the first Republicans who said Biden was the president-elect. He repeatedly said there was no evidence to back up Trump's claim of election fraud in states he lost. 
In the days after the attack on the Capitol, Katko initially said that removing Trump from office was a "moot point" because of the timing. Trump leaves office on Jan. 20 after Biden is sworn in as the 46th president. But he also blasted Trump's conduct and his role in inciting the riot. 
If Trump runs again in 2024, Katko has already said that he won't support him for president. 
"He cannot be the standard-bearer of our party going forward," Katko told reporters last week. "I think that people are recognizing that and I think he needs to recognize that as well." 
Politics reporter Robert Harding can be reached at (315) 282-2220 or robert.harding@lee.net. Follow him on Twitter @robertharding.