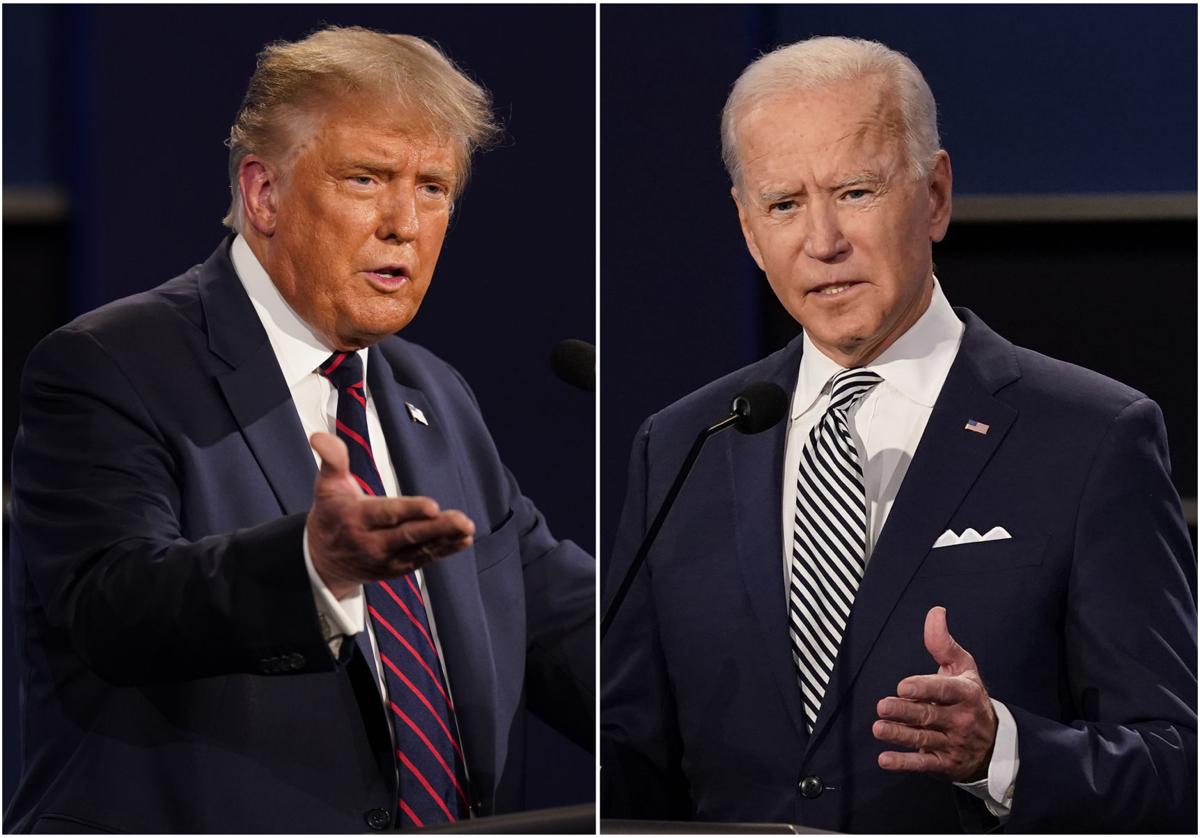 A clear indication of Democratic presidential candidate Joe Biden's popularity in the 24th Congressional District came in August. 
Republican U.S. Rep. John Katko, who is in a tough reelection campaign against Democratic challenger Dana Balter, used Biden's opposition to Medicare for All against Balter, who supports the health care proposal. Katko's campaign and GOP groups employed the tactic in other TV ads. 
A new Siena College/Syracuse.com poll shows why Katko and Republicans highlighted Biden's remarks in those ads. Biden is popular in the 24th district. He is viewed favorably by 53% of voters, including 83% of Democrats, one-quarter of Republicans and half of independent voters. Biden leads Republican President Donald Trump by 19 points, 53 to 34%, in the district. 
Biden is outperforming Balter, who leads Katko by three points, 45 to 42%, according to the Siena College poll. But Siena pollster Steve Greenberg thinks the support for Biden in the district is benefiting Balter in her bid to unseat Katko. 
"While 0% of Balter voters are supporting Trump, 13% of Katko supporters say they're voting for Biden," Greenberg said. "These are voters that Katko needs to hold onto and likely increase if he wants to win reelection. And it is a group that Balter likely needs to try and woo back to her side if she wants to hold or increase her narrow lead." 
The Siena College poll wasn't the first to show Biden's advantage in the 24th. Internal polls released by Democratic groups after Balter's primary election win in June found that Biden had a double-digit lead. 
After Republicans used Biden's words against Balter, the Democratic standard-bearer responded with a rare endorsement in a House race: He backed Balter's campaign for Congress. He believes that Balter will be a better advocate for increasing access to health care and a better representative for the district. 
It was a major development for Balter's campaign. Days after the endorsement, the Syracuse Democrat highlighted it in a TV ad. Three weeks after that, Balter pledged to work with Biden on health care if she's elected to Congress and if he's elected president. 
As Democrats hope Biden can provide a boost to Balter's chances in the 24th district, Katko is being affected by Trump's low numbers in the district. The president is viewed unfavorably by 60% of voters, according to the Siena poll. That includes 30% of Republicans. An example of GOP dissatisfaction with Trump came in late August when former Republican Congressman Jim Walsh endorsed Biden for president. 
Grant Reeher, a political science professor at Syracuse University, thinks the main factor in how the presidential race affects the 24th district campaign is the negative view of Trump and how that hurts Katko. 
"Trump has become a millstone around Katko's neck," Reeher wrote in an email to The Citizen. "Clearly the main campaign strategy of the Balter campaign is to associate Katko with Trump as much as possible. In this regard, the president's performance in the first debate probably hurt Katko by proxy. That might have been the last straw for some independent and even Democrat voters who were previously willing to split their ticket in order to vote for Katko. Katko will need a large chunk of split tickets in order to win, and those might be harder to come by now." 
In 2016, Katko didn't endorse Trump. He chose to write in former South Carolina Gov. Nikki Haley for president instead of casting a vote for Trump, the GOP nominee. 
Four years later, Katko opted to endorse Trump for reelection. The endorsement was announced in January — before the COVID-19 pandemic that killed more than 210,000 Americans and sparked an economic crisis. Katko maintains his support for Trump, despite the likely effect it's having on his own campaign. 
"I imagine that if Katko could have seen into the future back when he said Trump was the better choice, in comparison with Biden, he might have decided differently," Reeher wrote. "But he's in a tough spot. Trump is the de facto leader of his party, and Katko has been effective in getting money for his district by not alienating him too much." 
Democrats are hoping that the results will be similar to 2012 when the party last won this congressional seat. That year, Democratic candidate Dan Maffei won the election and Barack Obama won reelection as president with 57% of the vote. The polls, including the Siena College survey, suggest that Biden could come close to matching Obama's 2012 total. 
Republicans, though, believe Katko can repeat what he did in 2016: Win reelection by outperforming the GOP presidential candidate in the district. Katko finished 16 points better than Trump in the 24th district four years ago.
The difference for Katko in 2020: He's facing a tough reelection fight. It's likely that he will outperform Trump in the district, but he may lose his bid for a fourth term in Congress. 
Politics reporter Robert Harding can be reached at (315) 282-2220 or robert.harding@lee.net. Follow him on Twitter @robertharding.
Get Election 2020 & Politics updates in your inbox!
Keep up on the latest in national and local politics as Election 2020 comes into focus.