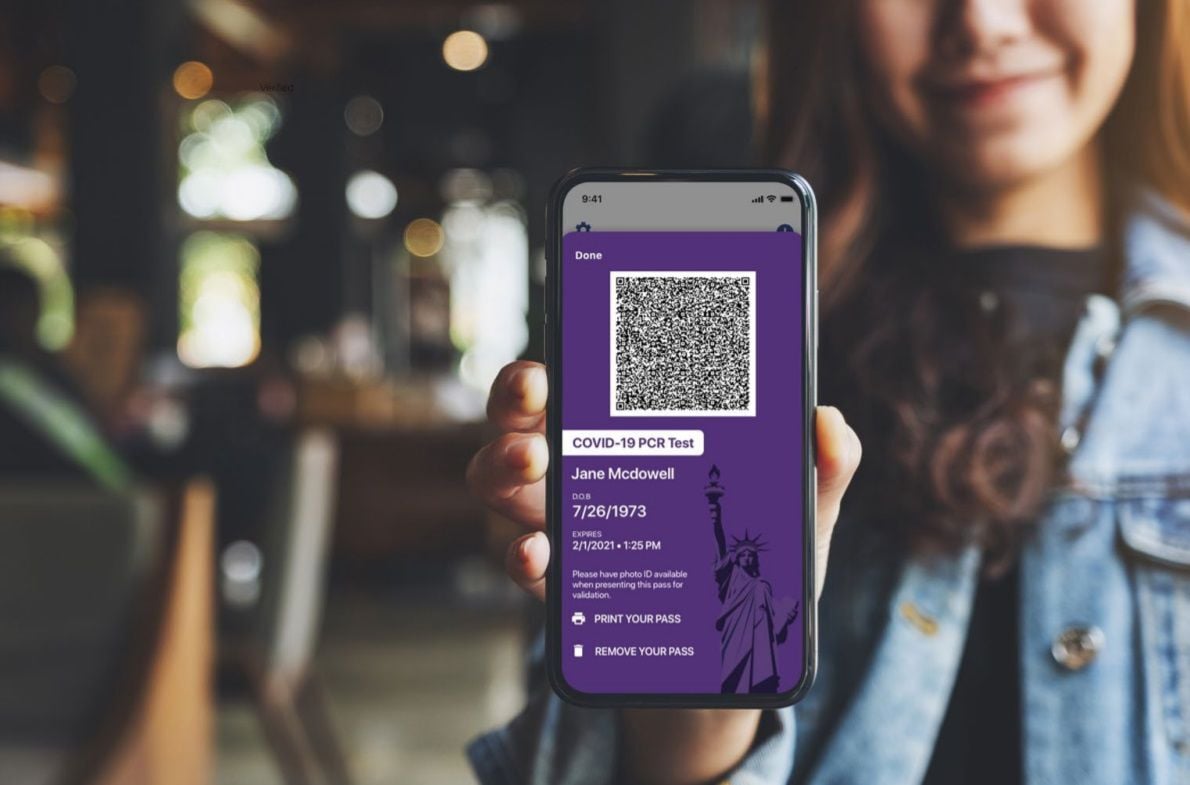 A pilot program in New York could make it easier for customers to enter businesses or fans to attend sporting events by confirming whether they have either received the COVID-19 vaccine or a recent negative test for the virus. 
The state worked with IBM to develop the Excelsior Pass, which functions similar to a mobile boarding pass for air travel. Individuals can use an app or print out the pass to present at a venue. The pass is equipped with a secure QR code that is scanned to confirm whether the individual has been vaccinated or had a recent COVID-negative test. 
Through the pilot program, participants voluntarily share their health status that's protected by encrypted technology. No other personal information or medical data is shared, according to Gov. Andrew Cuomo's office. The program is being used before the app is submitted to Apple and Google. 
The first test of the Excelsior Pass was at a Feb. 27 Brooklyn Nets game at Barclays Center. It was tested again Tuesday at Madison Square Garden, where the New York Rangers played a home game. 
"The Excelsior Pass will play a critical role in getting information to venues and sites in a secure and streamlined way, allowing us to fast-track the reopening of these businesses and getting us one step closer to reaching a new normal," Cuomo said. 
In February, the state Department of Health issued new guidance allowing arenas and stadiums to reopen to fans. The guidance requires that any employees and spectators allowed entry must have a negative COVID-19 test within 72 hours of the event. 
Prior to the development of the Excelsior Pass, New York allowed nearly 7,000 fans to attend Buffalo Bills playoff games if they had a negative COVID test. 
Beyond sports, Cuomo views testing as a way to expedite the reopening of other venues, such as theaters. Broadway productions have been shut down since the COVID-19 pandemic began in March 2020. 
The rollout of the Excelsior Pass coincides with more New Yorkers getting vaccinated. According to the state's COVID-19 vaccine tracker, more than 3 million New Yorkers have received at least one dose of the Moderna or Pfizer vaccine. The Moderna and Pfizer vaccines require two doses, with the second administered a few weeks after the first. 
So far, over 1.6 million residents have received both doses of the vaccine. 
New York also expects to receive more than 164,000 doses of the new Johnson & Johnson vaccine, which was approved by federal regulators over the weekend. The Johnson & Johnson vaccine is a single-dose inoculation that will be shipped to the state this week. 
With more people getting vaccinated and the wider availability of COVID-19 tests, the Excelsior Pass can streamline the process for admitting people into sporting events, theaters and other businesses. The pass and its app were built on IBM's Digital Health Pass solution, according to Cuomo's office. The technology can be used to set up similar programs in other states. 
There are privacy protections added to the Excelsior Pass to ensure that users can share their health information in a secure manner. The user determines how to use the pass and for what purposes, and the data is confidential. 
"This solution can provide New York, and other states, a simple, secure and voluntary method for showing proof of a negative COVID-19 test result or certification of vaccination," said Steve LaFleche, general manager of IBM Public and Federal Market. "IBM is proud to support the state of New York with its efforts to apply innovative technologies to help residents and communities respond to COVID-19."
Politics reporter Robert Harding can be reached at (315) 282-2220 or robert.harding@lee.net. Follow him on Twitter @robertharding.