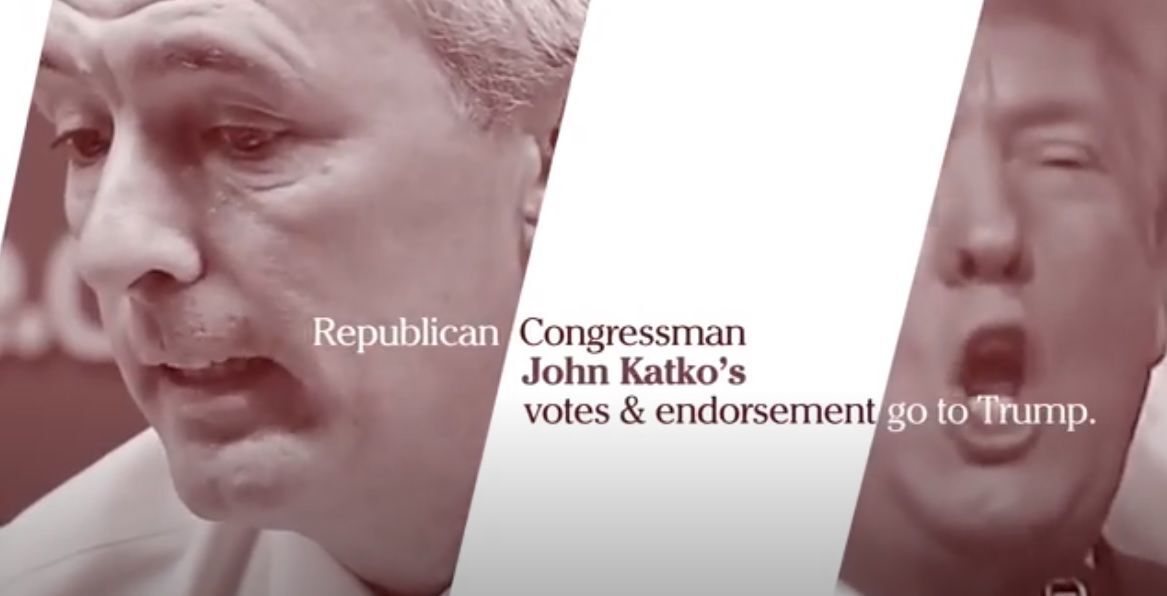 A Democratic super political action committee launched a $700,000 ad campaign in the 24th Congressional District race with two new commercials criticizing Republican U.S. Rep. John Katko's position on abortion and his voting record. 
One ad released by House Majority PAC pans Katko's votes in agreement with President Donald Trump on major legislation. FiveThirtyEight's tracker found Katko, R-Camillus, voted in line with Trump's position 90.5% of the time in the last Congress, from 2017 through 2018. While most GOP members had higher scores than Katko's, there were 50 Republicans with lower marks. 
Katko's overall score is 75.3%, which includes votes in the current Congress. Among Republicans who have been in office for all four years of Trump's term as president, Katko has the fourth-lowest score. 
But the Democratic group makes a connection between his voting record when Republicans were in the majority and the congressman's endorsement of Trump earlier this year. Katko says he's supporting Trump for reelection after not voting for him four years ago. 
"Katko's Trump endorsement overlooks the chaos. The corruption. The coronavirus failures," House Majority PAC states in the ad. No wonder Joe Biden has endorsed Dana Balter for Congress. John Katko's votes and endorsement go to Trump. So ask yourself why you'd ever give Katko yours." 
Balter, D-Syracuse, who does have Biden's support in the 24th district race, is challenging Katko for the central New York House seat. Most polling has shown it's a tight race and most political forecasters consider it a "lean Republican" or "tilt Republican" race. One forecaster, Politico, rates it a toss up. 
In House Majority PAC's second ad, the group targets Katko over his stance on abortion and votes to defund Planned Parenthood, an organization that provides reproductive health services. 
Katko said in 2014, the year he was first elected to Congress, that he would support the reversal of the Supreme Court's landmark Roe v. Wade decision. The ad notes that overturning the 1973 ruling could lead to a denial of abortion services, even to sexual assault survivors and women facing life-threatening pregnancies. 
"Not only is John Katko out of step with the voters in his district, but his reversal on Donald Trump shows that he can't be trusted to do what he says," said Abby Curran Horrell, executive director of House Majority PAC. "Whether it's voting 90% of the time for Donald Trump's agenda last Congress or working to defund Planned Parenthood and overturn Roe v. Wade, which could ban abortion even for rape survivors or women facing life-threatening pregnancies, John Katko spends more time representing an unpopular and dangerous president than he does representing his constituents." 
The new ads will air in the Syracuse media market and are among the latest TV commercials released in the 24th district. Outside groups have paid for several ads on the airwaves and the candidates' campaigns have released at least 15 commercials that have aired in central New York. 
Politics reporter Robert Harding can be reached at (315) 282-2220 or robert.harding@lee.net. Follow him on Twitter @robertharding.
Get Election 2020 & Politics updates in your inbox!
Keep up on the latest in national and local politics as Election 2020 comes into focus.