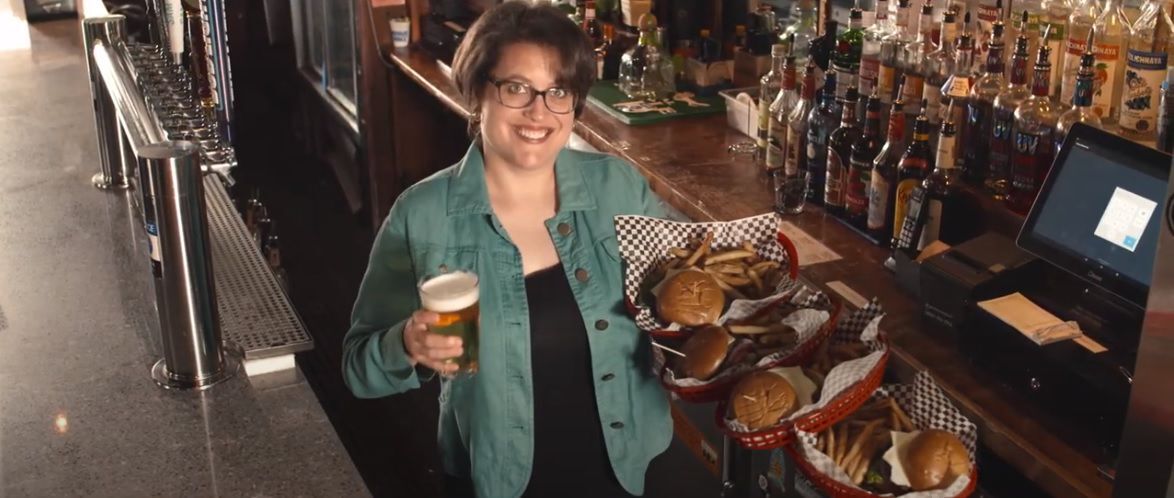 During college, Democratic congressional candidate Dana Balter worked as a server at a local bar and restaurant. Now, instead of serving tables, she wants to serve as the 24th Congressional District's representative. 
In a new TV ad released Monday, Balter, D-Syracuse, shared more about her background while pledging to advocate for working families in Congress. The ad is airing on broadcast and cable TV stations in the Syracuse area. 
The opening of the ad features an image of Yesterday's, a now-shuttered restaurant in Evanston, Illinois. Balter attended Northwestern University, which is located in Evanston. 
In the ad, Balter is shown balancing four baskets of burgers and french fries and pouring a beer. Balter's campaign confirmed that the ad was filmed at a Syracuse-area restaurant. 
While a portion of the ad is Balter reflecting on her time as a server, its message centers on her current situation. She recalls living paycheck to paycheck and "how scary it was when I got sick and almost went bankrupt because of health care costs." 
Balter is referring to a head injury she suffered that required an extended recovery period. She was a graduate student at Syracuse University at the time of the injury and delayed her studies due to the lasting effects of the concussion. 
She has often mentioned her injury while making her argument for health care reform, specifically a Medicare for All system that would provide coverage to every American. Her support of Medicare for All dates back to the 2018 campaign, but she's renewed calls for universal health care, especially during the COVID-19 pandemic. 
The pandemic's effects aren't limited to public health and the health care system. Balter acknowledges in the ad that COVID-19 has ravaged the economy. She said she'll "fight for an economic recovery that lifts up people who work hard for a living and makes health care more affordable." 
"I approve this message because you deserve a congresswoman who understands why these things matter," she added. 
In a recent interview with The Citizen, Balter outlined her economic recovery plan. She highlighted the need for short-term relief to help businesses, individuals and organizations cope with the devastating impact of the COVID-19 crisis. She supports direct aid for state and local governments and additional aid for individuals and families. 
Her proposals for long-term fixes include an infrastructure jobs program modeled after the New Deal's Works Progress Administration. The emphasis on infrastructure would not only help create jobs, but she says it would help address the need for new bridges, roads and water systems. 
No matter what programs the federal government implements in the future, Balter believes that working families should be the main focus. 
"We should not go back to an economy where somebody who works full-time can't pay their rent," Balter said. "And there are far too many people right here in our community who face those kinds of challenges.
"When we come out on the other side of this, we need to be rebuilding an economy that works for everyone, where everyone has a fair shot at success, where everyone can earn living wages and where the is growth potential for people to build a better future for themselves and for their kids. That's got to be our guiding principle." 
Balter has released three ads in the general election campaign against Katko, a three-term Republican. The 24th district includes all of Cayuga, Onondaga and Wayne counties, plus the western part of Oswego County. 
Politics reporter Robert Harding can be reached at (315) 282-2220 or robert.harding@lee.net. Follow him on Twitter @robertharding.