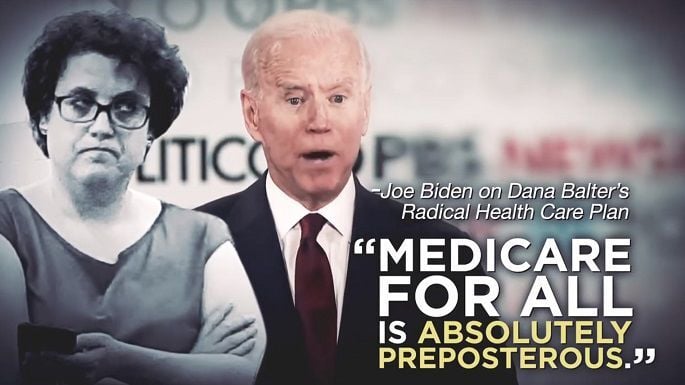 Republican U.S. Rep. John Katko turned to an unlikely source to continue making the argument that Democratic candidate Dana Balter's support of Medicare for All is wrong for the 24th Congressional District: Joe Biden, the presumptive Democratic nominee for president. 
In his latest TV ad, Katko, R-Camillus, uses Biden's comments about Medicare for All from a Democratic presidential debate in December 2019. At that debate, Biden and Bernie Sanders clashed over Medicare for All, which has been proposed by Sanders in the U.S. Senate. 
The TV ad shows Biden saying that Medicare for All is "absolutely preposterous" before adding that "You shouldn't have Washington dictating to you you cannot keep the plan you have." 
Biden's health care plan includes preserving the Affordable Care Act, one of the signature legislative achievements of President Barack Obama's administration, and the creation of a Medicare-style public option for health insurance coverage. He doesn't think Medicare for All is attainable. 
Katko's ad also uses Biden's comments about the cost of implementing Medicare for All. The plan proposed by Sanders has an estimated cost of more than $30 trillion over 10 years. 
"Dana Balter's radical government takeover of health care is too dangerous for even Joe Biden," said Tom Haag, Katko's campaign manager. 
Balter's support of Medicare for All has been highlighted in most of the four ads released by Katko's campaign since early July. But Balter's idea for Medicare for All differs from the Sanders proposal in a few key areas. 
Under the Sanders plan, private health insurance would be largely eliminated. Balter believes that private insurance should continue to have a role in supplementing coverage. If people want additional coverage beyond Medicare for All, Balter has said that they should be able to buy into a private plan. 
Balter also prefers a transition to a Medicare for All system. She would start by lowering the eligibility age for Medicare from 65 to 55, then allowing Americans of all ages to buy into the program. Newborns would be automatically enrolled in the program after birth. 
In a statement, Balter responded to Katko's new ad. 
"Congressman John Katko is knowingly lying about my health care plan in a desperate attempt to distract from his own record of supporting Donald Trump and Republican efforts to strip health care from millions of Americans," Balter said. "Katko has already sided with Trump to cut Medicare and Social Security, block lower prescription drug prices and undermine health care coverage for those with preexisting conditions." 
Medicare for All and health care will remain top issues in the 24th district race. Balter has discussed the need for health care reform, especially after millions of Americans lost their jobs and health insurance coverage because of the pandemic. Katko, though, believes Medicare for All would be too costly and opposes tax hikes that would be used to pay for expanding the program. 
Katko is seeking a fourth term representing the 24th district. Balter is challenging Katko for the second time. Early polls showed that Balter is either ahead or running even with Katko. Political forecasters rate the race as "leans Republican." 
Politics reporter Robert Harding can be reached at (315) 282-2220 or robert.harding@lee.net. Follow him on Twitter @robertharding.