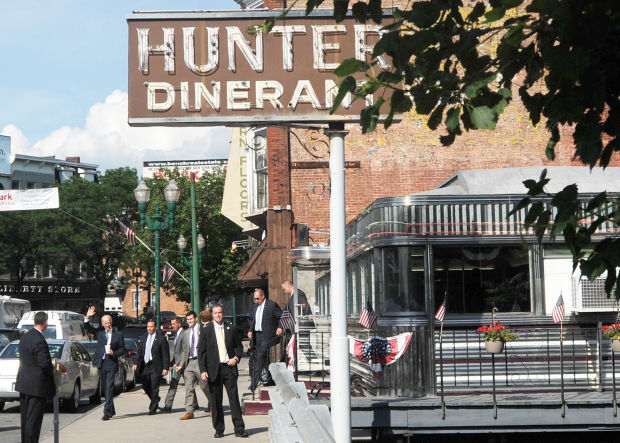 Instead of becoming a U.S. senator, vice president and now president, Joe Biden could've been an Auburn restaurateur. 
Biden shared the story during his appearance at a CNN town hall meeting in Cincinnati on Wednesday.
"My father-in-law ... had a restaurant that was in a town called Auburn, about 20,000 people, which was at a flagship 24-hour-a-day restaurant ... and he offered it to me, which I would have been making five times what I would in law school to try to keep me in Syracuse," Biden said. 
Biden was referring to Robert Hunter, who owned Hunter Dinerant on Genesee Street in Auburn. Biden, who attended Syracuse University law school, married Hunter's daughter, Neilia. Neilia Hunter Biden was killed in a car crash in 1972. 
What discouraged Biden from entering the restaurant business was spending time in the Hunters' home when they received phone calls about an employee not showing up for work. 
While he opted for a political career, Biden has made return trips to central New York and the diner that was once owned by his late father-in-law. In 2014, he attended his niece's wedding at St. Mary's Church in Auburn. After the ceremony, he stopped at Hunter Dinerant for a chocolate milkshake and posed for photos with customers and staff. 
The anecdote was part of Biden's response to a question from John Lanni, who co-owns the Thunderdome Restaurant Group. Lanni described his business's struggles in hiring more workers — a problem that's affecting many in the restaurant industry. 
Lanni asked Biden if his administration plans to provide incentives to those who haven't returned to work. The president noted that billions were spent to provide assistance to restaurants through either the Paycheck Protection Program or the Restaurant Revitalization Fund. But he also addressed another factor that could be contributing to the shortage — that people who once worked in food service may have decided that they no longer want to work in the industry and are pursuing other opportunities. 
"People are looking to make more money and to bargain," Biden said. "And so I think your business and the tourist business is really going to be in a bind for a little while." 
There are proposals to provide more assistance to restaurants struggling to recover amid the COVID-19 pandemic. One plan would add $60 billion to the Restaurant Revitalization Fund. That bill has bipartisan support in Congress. 
The legislation would give financial help to restaurants, but it wouldn't address the labor shortage. Some business owners argue that certain benefits, namely enhanced unemployment payments, are allowing individuals capable of working to stay at home and earn more money. 
Biden doesn't think the unemployment benefits had that effect, but even if it did, he noted that they are ending soon. The additional payments will expire in September. 
Politics reporter Robert Harding can be reached at (315) 282-2220 or robert.harding@lee.net. Follow him on Twitter @robertharding.