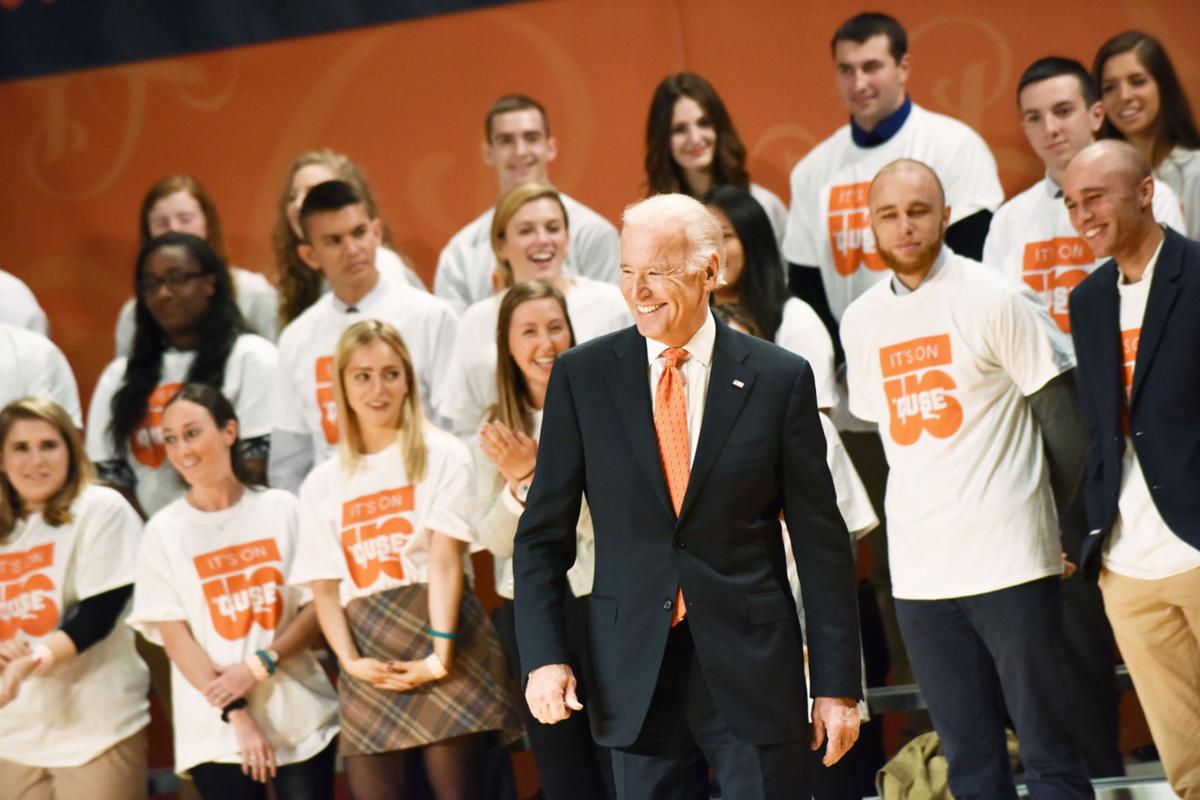 As central New York voters decide who they will support in the 24th Congressional District, former Vice President Joe Biden — the Democratic nominee for president — has made his endorsement.
Biden is supporting Democratic congressional candidate Dana Balter. The endorsement was announced by Balter's campaign on Wednesday.
"New Yorkers face a choice between Balter — an advocate for working families — and Rep. John Katko, who supports President Trump's attempts to overturn the Affordable Care Act," Biden said in a statement. "Working families deserve leaders who will work in Congress for them — to make child care more affordable, quality health care more accessible and good jobs more available."
Health care is one of the major issues in the 24th district race between Balter and Katko. Balter supports a Medicare for All plan that would be phased in, beginning with lowering the age of eligibility from 65 to 55. Newborns would be automatically enrolled and all Americans would eventually be allowed to receive coverage. 
Balter's Medicare for All stance has been the focus of television commercials released by Katko's campaign. The ads have largely centered on how Medicare for All would be funded. During her first campaign for Congress in 2018, Balter said it would be funded by either increasing the Medicare payroll tax or a new health care tax. 
Katko's campaign has criticized the tax hikes attached to the proposal and used Biden's words about Medicare for All against Balter. A new ad released by the National Republican Congressional Committee includes clips of Biden panning Medicare for All at a Democratic primary debate in 2019. It also contains footage of Balter describing how Medicare for All would be financed. 
But Medicare for All isn't the sole subject of the health care debate in the 24th district. Balter's campaign and national Democrats have linked Katko to attempts to dismantle the Affordable Care Act, a 2010 health care law. Democratic ads have mentioned that Katko's vote for the 2017 tax law cleared the way for Republican state attorneys general to file a lawsuit challenging the constitutionality of the Affordable Care Act. 
The tax law includes the repeal of the Affordable Care Act's individual mandate penalty. The individual mandate required Americans to have health insurance coverage. The GOP attorneys general argue that without the individual mandate, the health care law should be struck down. 
"Congressman Katko has voted against his party's efforts to repeal the Affordable Care Act without a replacement," said Tom Haag, Katko's campaign manager. "Dana Balter is clearly on record supporting a government takeover of health care and has been endorsed by far-left groups like the progressive caucus which fully endorse Bernie's plan. This is what Dana Balter does: She lies to voters because she knows they don't support her dangerous agenda." 
Biden's endorsement could provide a boost to Balter. While early polling showed a close race between Balter and Katko, one poll released by Democrats found Biden leading President Donald Trump by 18 points in the 24th district. 
Biden has longstanding ties to central New York. He is a Syracuse University law school graduate. His late wife, Neilia Hunter Biden, was a Skaneateles native. Her parents, Robert and Louise Hunter, owned Hunter Dinerant in Auburn. 
During his time as a U.S. senator and two terms as vice president, Joe Biden returned to central New York to deliver commencement addresses at Syracuse University, attend friends' funerals and even made a surprise appearance at his niece's wedding. 
For Balter, Biden's endorsement is a major development in her campaign. 
"Vice President Biden has always been on the side of working families, and the impact of his accomplishments cannot be understated," Balter said. "Because of the vice president's role in passing the Affordable Care Act, 20 more million Americans have health insurance, and people with pre-existing conditions — like myself — can no longer be denied coverage. 
"I look forward to fighting alongside him to continue expanding health coverage to every American. Vice President Biden understands what it takes to lead, and the vision he's put forth for our country is one of economic strength, justice and opportunity." 
Politics reporter Robert Harding can be reached at (315) 282-2220 or robert.harding@lee.net. Follow him on Twitter @robertharding.