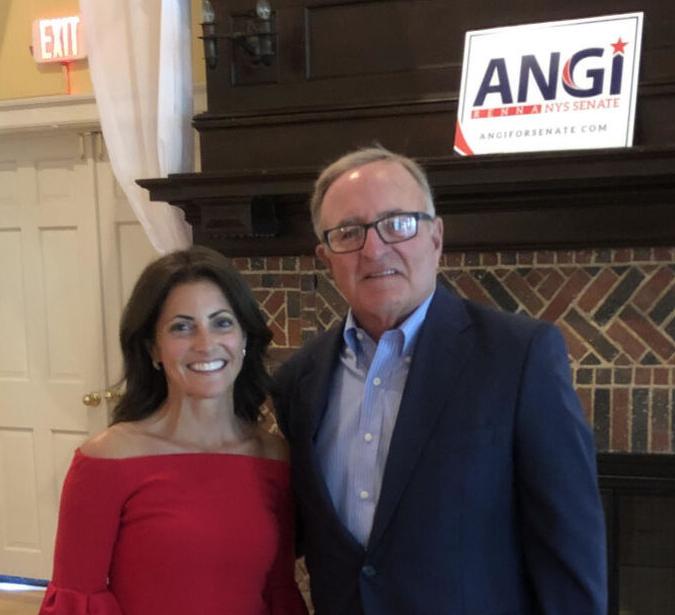 John DeFrancisco, who represented the Syracuse area in the state Senate for a quarter-century, offers plenty of criticisms of the Democratic-led state government. But he also weighed in on the race for his old seat — and endorsed his potential successor. 
DeFrancisco wrote a letter supporting Angi Renna in the 50th Senate District race. Renna, R-Manlius, is running to fill the seat vacated by Bob Antonacci, who served one year in the Senate before resigning to become a state Supreme Court judge. 
In his letter, DeFrancisco panned the Democratic-controlled Senate, which he says has contributed to "catastrophic new laws and policy changes," including the bail reform law in 2019. 
Renna has criticized the law and believes it should be repealed. 
"Bail reform has let dangerous criminals back onto the streets to prey on vulnerable residents, and now the radicals controlling state government are pushing an insane 'defund the police' agenda," DeFrancisco wrote. "Angi Renna, from day one of her campaign, has advocated for a repeal of bail reform and has spoken out repeatedly against defunding the police. In fact, she is the only candidate running for Senate in this district that has the full support of local and state law enforcement."
Aside from slamming one-party rule in Albany, DeFrancisco thinks that Renna is the best choice because of her background and the need to rebuild the economy after the COVID-19 pandemic decimated businesses and left thousands unemployed. 
Renna is president of Sterling Financial Group, a financial management firm in Liverpool. 
"Angi is a small business owner," DeFrancisco wrote. "She is the only candidate with a proven record of job creation and has firsthand experience with the costs, regulations and difficulties central New York business owners face. We can count on her to put those experiences to work on our behalf and bring about the change we need if we are going to get people back to work." 
The endorsement could give Renna a significant boost in the 50th district race. DeFrancisco was first elected in 1992 and represented the Syracuse area until 2018, when he decided to retire after 25 years as a state lawmaker. 
DeFrancisco was one of most influential members of the Senate Republican Conference. He served as Senate Finance Committee chair and later became deputy Senate majority leader. 
This is Renna's first run for political office. Her opponent is John Mannion, a Democrat who ran for this seat two years. He narrowly lost to Antonacci. 
Early voting begins Saturday. Election Day is Tuesday, Nov. 3. 
Politics reporter Robert Harding can be reached at (315) 282-2220 or robert.harding@lee.net. Follow him on Twitter @robertharding.
Get Government & Politics updates in your inbox!
Stay up-to-date on the latest in local and national government and political topics with our newsletter.