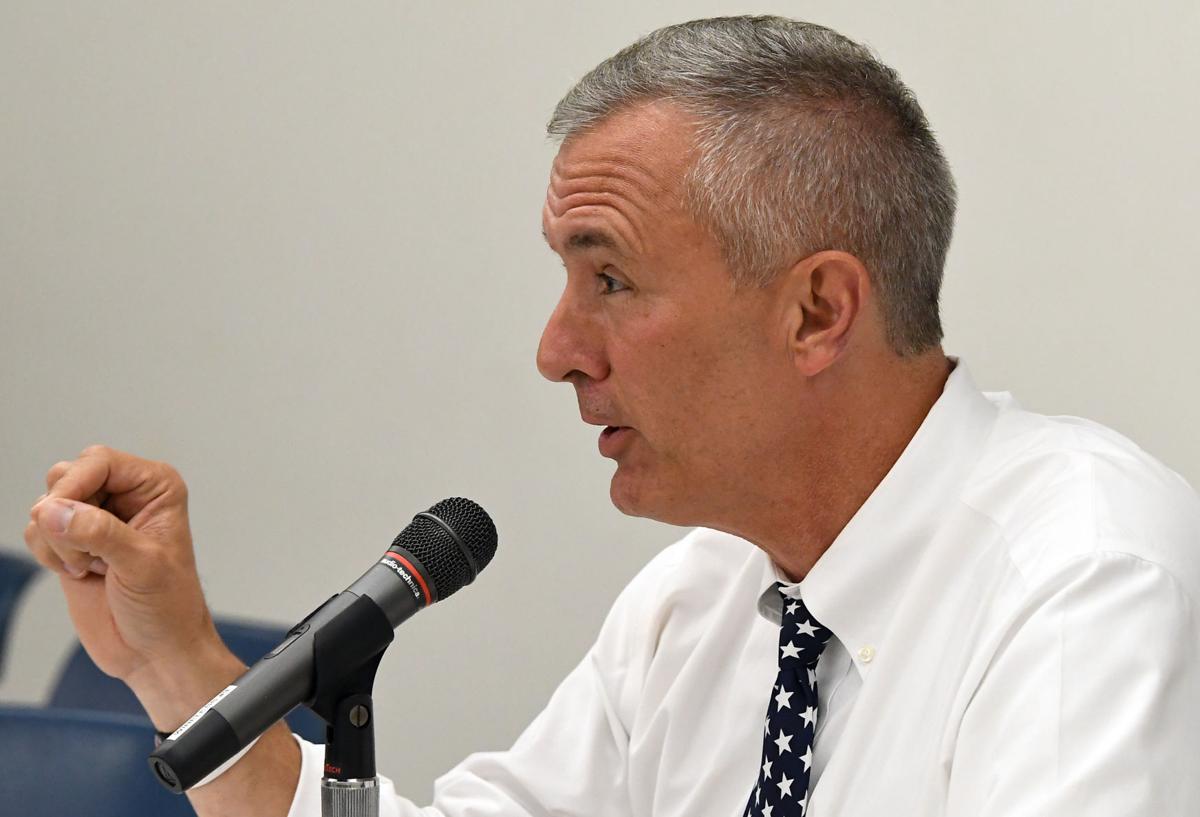 One month after voting to impeach President Donald Trump, the potential political consequences for U.S. Rep. John Katko are coming into focus. 
About 40 people — some rank-and-file Republicans, including donors to Katko's campaign, and Conservative Party leaders — met recently at a Syracuse restaurant. The meeting centered on one topic: Their dissatisfaction with Katko, a fourth-term Republican congressman who was one of 10 GOP House members who voted to impeach Trump. 
That disappointment isn't surprising. Immediately after the vote, central New York Republican and Conservative leaders panned Katko's decision. But the frustrations expressed at the meeting, especially among the Conservative Party leadership in attendance, raise doubts about whether Katko will receive the party's support in the 2022 election. And that could cost him the Republican Party's endorsement, too. 
The meeting was held at Strada Mia, a Syracuse restaurant. The restaurant is owned by Jim Ranalli, who is also the CEO of United Auto Supply, an automotive parts distributor. Ranalli donated $6,000 to Katko's 2020 reelection campaign, according to Federal Election Commission records. 
Tom Dadey, a former Onondaga County Republican chairman who was one of the first GOP leaders in New York to endorse Trump in 2016, was at the meeting. The attendees also included Jim Quinn, a state Conservative Party vice chairman. 
Dadey told The Citizen that it was an "organic meeting for people to vent their frustrations about Katko." He said there was also a discussion about "an alternative (candidate) that both the Republicans and Conservatives can agree on, much like we did with Katko in 2014." 
Quinn, who lives in Wayne County, said that everybody at the meeting was "pretty upset" with Katko. 
"Nobody defended him. Nobody said anything nice about him," Quinn said. "There might have been people there that did like him and just wanted to hear what other people had to say." 
When asked if he thought it was a real possibility that the party doesn't endorse Katko next year, Quinn responded: "I think it's not likely that he's going to get it." 
But Quinn thinks the disappointment with Katko stems from more than his impeachment vote. Katko was one of 10 House Republicans who voted to impeach Trump for inciting an insurrection after the Jan. 6 attack on the U.S. Capitol. 
Quinn cited Katko's support of the Equality Act, a bill introduced in Congress that would prohibit discrimination based on gender identity, sex and sexual orientation. Katko is one of three Republicans who co-sponsored the legislation, which is opposed by the Conservative Party. 
Katko's backing of that bill and other actions nearly cost him the Conservative Party's endorsement in 2020. But only the Cayuga County Conservative Party chose not to recommend Katko for the endorsement in the 24th Congressional District. The state party, which had the final say, endorsed the congressman's reelection bid. 
While the party's endorsement process for the 2022 elections won't happen for several months, state Conservative Party Jerry Kassar acknowledged that Katko is "in trouble." Kassar wasn't at the Syracuse meeting, but he talked to the Conservative Party leaders who were in attendance. 
"While he is an endorsed official of the party, we will continue to talk with him about votes and his activities," Kassar said. "But I am getting nothing but serious negative feedback from the party leaders in the district." 
Kassar has conversations with Katko, the Conservative Party chairman confirmed. He said that Katko is upset with the reaction of the party's leadership. 
Katko's campaign declined to comment for this story. 
The loss of the Conservative Party's endorsement could be a major blow to Katko's reelection hopes in 2022. He received 21,062 votes on the Conservative line in 2020. He has been endorsed by the party in each of his congressional elections. 
But there is another factor GOP and Conservative party leaders will consider: redistricting. With New York expected to lose at least one congressional seat in 2022, it's possible that Katko's district could look dramatically different. 
That may change which county committees consider whether to endorse him, but it won't alter opinions of his votes within the Conservative Party. Kassar said that he's heard from members of the party's executive committee in other parts of the state who are disappointed with Katko's vote. Katko was the only New York Republican — and the only member backed by the state Conservative Party — to vote for impeachment. 
"He is in trouble, but I do intend to keep on talking with him," Kassar said. "I don't know how he really makes amends on this vote, but I do feel that since he is endorsed by the party he continues to be someone that should take what the party's views are, continue to take them seriously and hopefully act on them simply because he continues to carry that endorsement." 
Katko has already lost one local endorsement. Three days after he voted to impeach Trump, the Wayne County Conservative Party adopted a resolution stating that it "shall never in the future endorse said John Katko for any selected office." 
In the weeks since his vote, Katko hasn't wavered. Despite criticism from within his own party and the Conservative Party, he told The Citizen, "I know I did the right thing." 
Politics reporter Robert Harding can be reached at (315) 282-2220 or robert.harding@lee.net. Follow him on Twitter @robertharding.