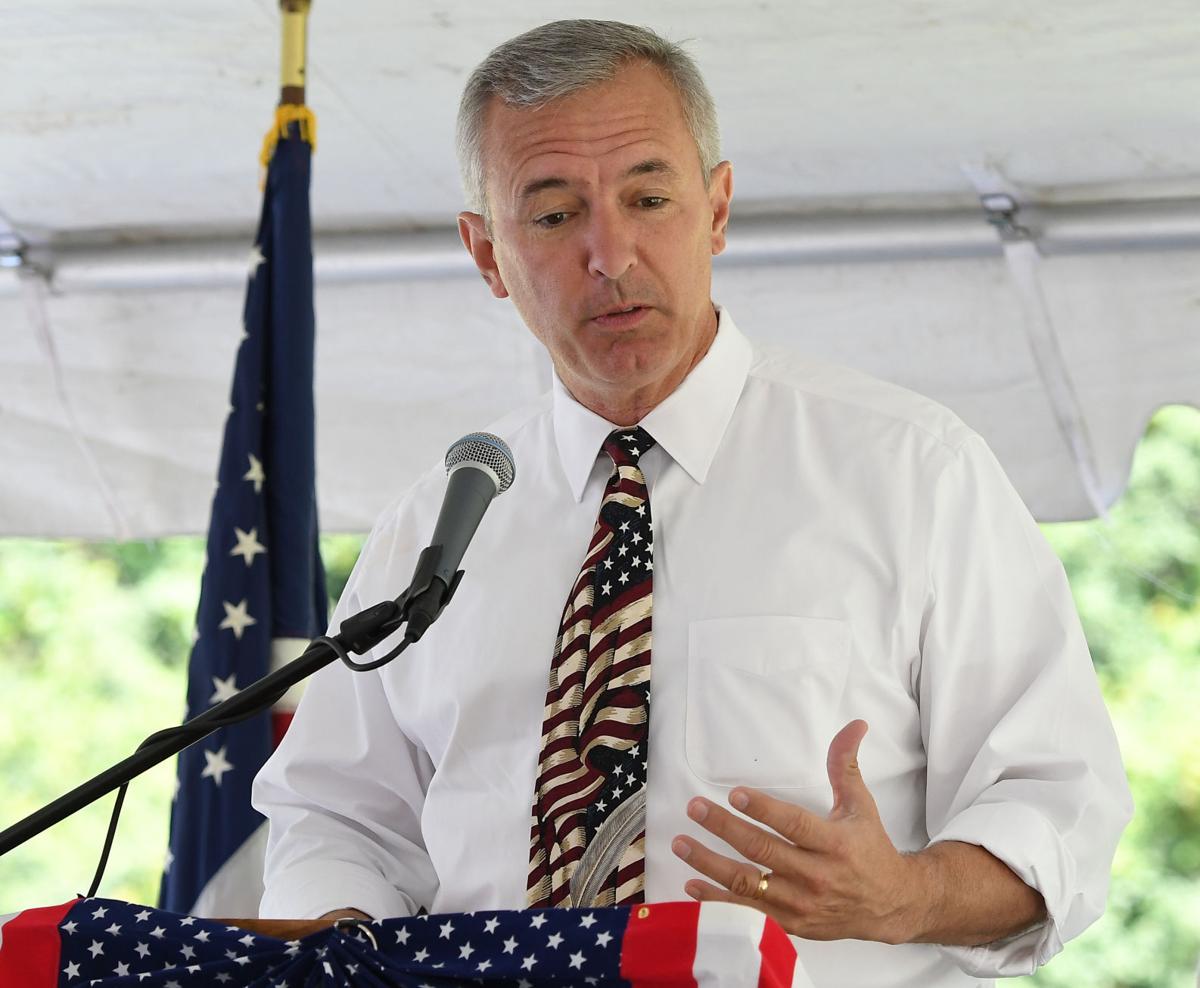 As Donald Trump emerged as the front-runner for the Republican nomination in 2016, U.S. Rep. John Katko wouldn't commit to supporting him for president. 
Katko, R-Camillus, had his concerns about Trump's rhetoric. But there were also political considerations. Unlike other Republican members of Congress, Katko represents a district with more registered Democrats than GOP voters. Jumping on the MAGA bandwagon, while in the midst of his first reelection bid, may have been risky. 
But the release of the infamous "Access Hollywood" video made it an easy decision for Katko. The video, which features Trump making crude comments, generated plenty of outrage. It was the last straw for Katko. He announced that he would not vote for Trump and called on the GOP nominee to drop out of the presidential race. 
In a Facebook post weeks before the 2016 election, Katko wrote that Trump "has not and will never earn my vote."
And then Trump won that election. 
For the first few years of Trump's term, Katko kept his distance from the president. But he built good relationships with some members of the administration. Vice President Mike Pence joined him for a tour of Nucor Steel in Auburn. Ivanka Trump, a senior adviser and the president's daughter, participated in an education roundtable in Syracuse. Dr. Ben Carson, the secretary of Housing and Urban Development, visited Syracuse to discuss lead poisoning. 
Even as Katko faced a reelection bid in 2018, though, he avoided any direct connection to the president. Trump visited central New York to campaign for another Republican, Claudia Tenney, but didn't swing over to Syracuse. 
When the 2020 election cycle arrived, Katko faced a choice: Does he decline to endorse Trump for a second time, or does he support the president's reelection? 
There was pressure from the right to back the president, and Katko obliged. One year ago, he endorsed Trump. 
The endorsement was praised by Republicans and panned by Democrats. The summary of Katko's explanation was that he liked Trump's policy record compared to the Democrats' "far-left" proposals. He acknowledged his occasional frustration with Trump's approach but argued that the country was better than it was four years ago. 
However, he made clear in his statement that it wasn't a blanket endorsement of Trump. He pledged to be a "vocal check" on the president. He maintained his support through the election. 
After Trump lost the presidential election, Katko said Joe Biden — the Democratic presidential nominee and Trump's opponent in the election — is the president-elect. Despite Trump's allegations of election fraud involving states he lost to Biden, Katko said he hadn't seen any evidence of wrongdoing. He repeated that as Jan. 6 approached and Congress prepared to certify the Electoral College results. 
On Jan. 6, Trump urged his supporters to show strength. His speech, along with his endless claims of voter fraud leading up to that date, have been blamed for inciting an insurrection at the Capitol. Katko watched the attack unfold from his office. In his initial statement, he condemned the "shameful" attack. He demanded Trump to "take a more forceful stand to end this, now." 
Two days after the riot, Katko blasted Trump for inciting an "unpatriotic" attack. The GOP congressman didn't stop there. He said that Trump could no longer be the standard-bearer of the Republican Party. If Trump ran for president in 2024, Katko won't support him. 
But Katko fell short of supporting impeachment or any other action against Trump. At the time, he felt that there wouldn't be enough time. Trump leaves on Jan. 20, so there were less than two weeks to go in the president's term before Biden took office. 
The House impeachment vote brings Katko full circle. When Trump became his party's leader, he didn't embrace him at first. That changed ahead of the 2020 election. He told reporters last week that if he saw the insurrection before the election, he wouldn't have supported Trump for reelection. 
When Katko voted for impeachment on Wednesday, he was done with Trump. Now, the question for his party is if they will do the same. 
Politics reporter Robert Harding can be reached at (315) 282-2220 or robert.harding@lee.net. Follow him on Twitter @robertharding.