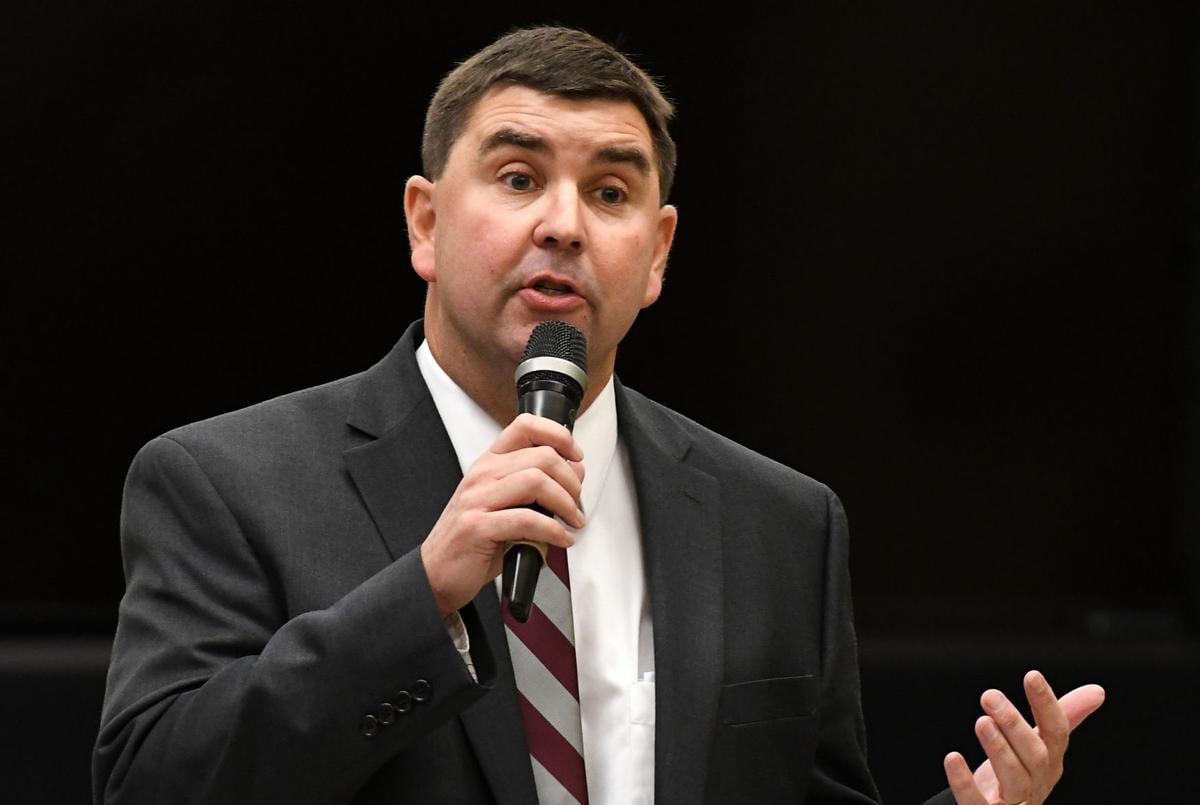 John Mannion is once again the Democratic candidate for the open 50th state Senate District seat. And after a narrow loss two years ago, he's back with a similar message. 
Mannion, D-Geddes, is a teacher at West Genesee High School in Camillus. He's also served as president of the West Genesee Teachers' Association, the labor union representing the district's educators. 
Mannion's opponent in the 50th district race is Angi Renna, a Republican who is president of Sterling Financial Group, a financial management firm in Liverpool. 
The 50th district seat has been vacant since the start of this year. Bob Antonacci, who defeated Mannion in 2018, resigned from the Senate after being elected to serve as a state Supreme Court justice. 
For Mannion, one of the main motivations for running again is to bring representation back to the district, which he says is especially important amid the COVID-19 health crisis. 
"This pandemic has only highlighted the disparity within multiple systems," he told The Citizen. "I go with the same intent that I did in the past which was to be a strong advocate for the working people of central New York." 
As a longtime teacher, education will be one of his top priorities if he's elected to the state Senate. Dating back to his 2018 campaign, he has often discussed the need for more equitable state funding for school districts. 
While how aid is distributed remains a problem, the COVID-19 pandemic presented a new challenge. Because of a budget deficit, the state is withholding aid from districts. 
"We have to make sure that we provide an enriched and varied public education for our children," Mannion said. 
The potential solutions he supports to address any gaps in funding include increasing taxes for the wealthiest New Yorkers, legalizing and taxing marijuana and allowing mobile sports betting. The state permits sports betting, but the wagers have to be placed inside a casino. There isn't a mobile component. 
Ethics reform is also high on Mannion's to-do list. Even though there has been some progress on the issue over the years, he believes there's more that can be done to crack down on public corruption. He's supportive of efforts to revamp the Joint Commission on Public Ethics. 
Mannion's other priorities include the environment — he wants to focus on protecting drinking water supplies in the 50th district — and health care. He also wants to help businesses that have been adversely affected by the COVID-19 pandemic. 
"When it comes to the upstate economy, when it comes to the central New York economy, we've seen the ups and downs of it," he said. "I believe we are on an upswing and we have some great institutions here that really have been thriving. Now, many of them have been pushed off course a little bit. We gotta make sure that they get what they need to get back on track." 
If Mannion is elected to represent the 50th state Senate District, which includes parts of Cayuga and Onondaga counties, the pandemic will remain a focus for state leaders in 2021. Part of the state's role, he says, is ensuring that hospitals and support for local health departments remain a priority. 
State and local leadership has been strong during the pandemic, Mannion said. He also believes that state and district residents have taken the health crisis seriously. 
Mannion thinks his experience as an educator can be an asset in the state Senate. But mainly he's eager to give the 50th district the representation it has lacked over the past several months. 
One advantage he has that Renna lacks is that, if he's elected, he will be in the majority. Democrats hold 40 of the 63 seats in the state Senate. It's possible the number of seats held by Democrats could increase or decrease after the election, but it's expected that they will retain the majority. 
"I'm going to bring someone who is in the majority that could advance legislation that's going to help bring back our fair share," Mannion said. "But also just make sure that the grant dollars that are there for necessary projects come back home. That's something that I'm definitely bringing along with me to Albany." 
Politics reporter Robert Harding can be reached at (315) 282-2220 or robert.harding@lee.net. Follow him on Twitter @robertharding.
Get Election 2020 & Politics updates in your inbox!
Keep up on the latest in national and local politics as Election 2020 comes into focus.