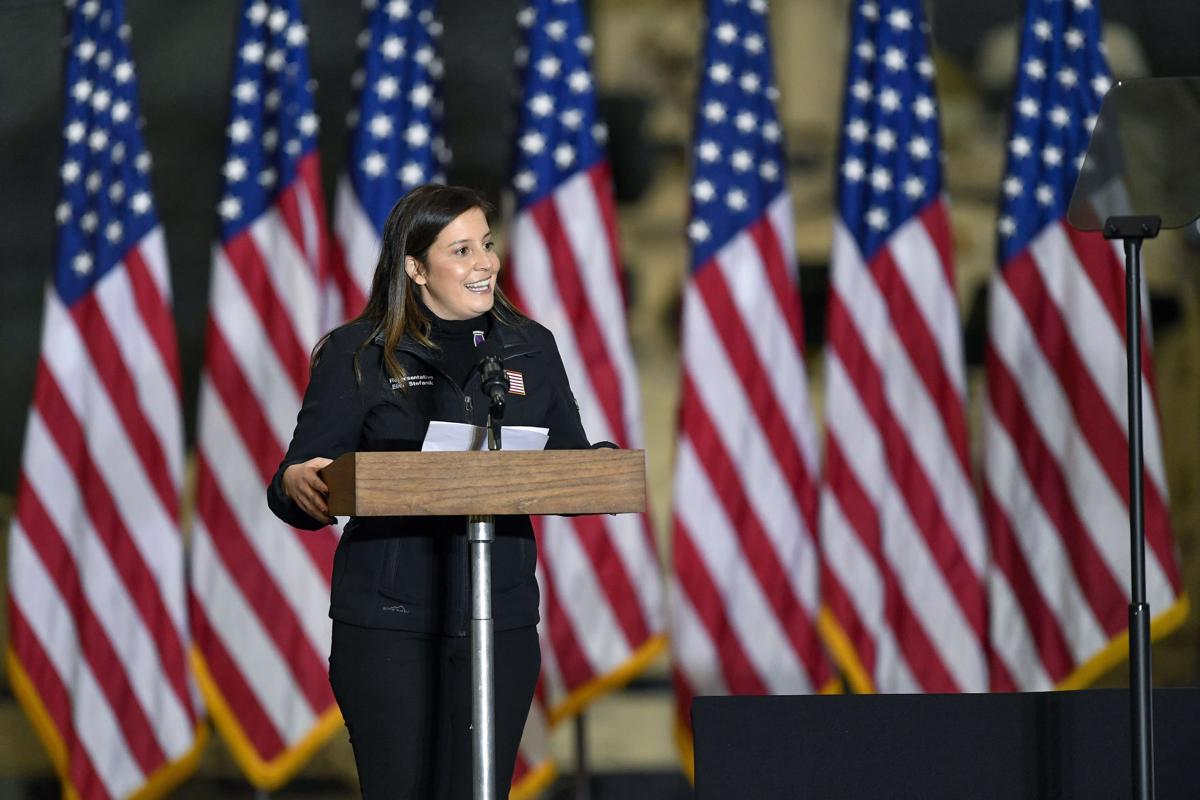 U.S. Rep. John Katko said Friday that he will support an upstate New York colleague, U.S. Rep. Elise Stefanik, for House Republican conference chair if U.S. Rep. Liz Cheney loses the leadership position. 
Katko, R-Camillus, responded to questions about the potential House GOP leadership shake-up during a video conference with reporters. Cheney, a Wyoming Republican, holds the No. 3 leadership post, but has been criticized for her vote to impeach former President Donald Trump and repeated denunciations of Trump's claims that the 2020 election was stolen. 
Katko said Cheney "is a good friend of mine" and noted that he supported her for conference chair after the impeachment. Cheney and Katko were among 10 House Republicans who voted to impeach Trump for inciting the Jan. 6 attack on the U.S. Capitol. 
But if there is a vacancy, Katko revealed that he will support Stefanik to succeed Cheney. 
"I have every confidence that Elise will be a superb leader for all of our conference, not just some," he said. "Elise and I came in together and she knows me as well as she knows conservatives. She knows that I have a different type of district than a lot of conservatives."
Katko added, "She knows that if we ever want to be back in control of Congress again, people like me have to win and we have to flourish and we have to have a big tent as the Republican Party. She understands that. She understands that that means she has to advocate for all of us." 
Katko and Stefanik, who represents the North Country, were elected to Congress in 2014. They have been friends during their four terms together in the House. 
While both were elected as moderates in upstate New York districts, Stefanik has emerged as one of Trump's biggest supporters in Congress. She was a leading critic of the first impeachment proceedings against Trump, which raised her national profile. She was one of the speakers at the 2020 Republican National Convention. 
With Cheney facing a backlash from Trump-aligned Republicans in Congress, Stefanik has support in her bid to become House Republican conference chair — if there is a vacancy. The No. 2 House Republican, U.S. Rep. Steve Scalise, wants Stefanik to fill the seat. Trump has endorsed the upstate New York congresswoman for the post. 
Katko and Stefanik differ on Trump. After the attack on the Capitol, Katko said Trump couldn't be the standard-bearer of the GOP and that he wouldn't support him if he ran for president in 2024. 
But with his pledge to support Stefanik, Katko didn't mention Trump. Instead, he focused on the relationship he has with a fellow upstate New Yorker, her knowledge of his district and the political landscape. 
House Republicans will meet Wednesday. It's expected that Cheney's status as GOP conference chair will be discussed at that meeting. She has not signaled that she will resign. 
"If something happens with Liz — and that remains to be seen — but if it does and (Stefanik) puts her name into the ring, I will absolutely support her," Katko said. 
Politics reporter Robert Harding can be reached at (315) 282-2220 or robert.harding@lee.net. Follow him on Twitter @robertharding.