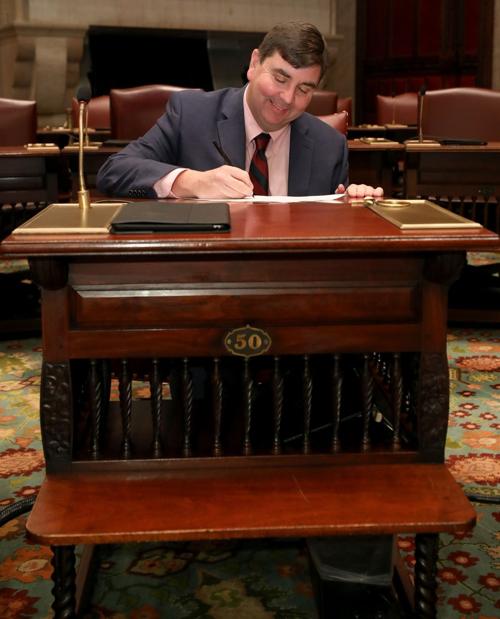 Before New York closes any facility assisting those with developmental disabilities or mental illnesses, state Sen. John Mannion wants to ensure there is enough notice for families and workers. 
The first bill introduced by Mannion, D-Geddes, would require legislative approval and notification one year before any state-run developmental disability, mental health or group home facility closes. 
The legislation falls within the jurisdiction of the Senate Developmental Disabilities Committee, which Mannion chairs. 
"It's just to make sure that we don't allow for some rapid decisions to try to save a few dollars in the budget that would greatly disrupt people who need stability and care," Mannion said. 
Mannion told The Citizen that one reason he decided to introduce the bill is the past attempt to close the state-run Hutchings Psychiatric Center in Syracuse. The state backed off and didn't close the facility, but the freshman senator believes it would've been ill-advised to shutter the facility because of the people it serves. 
Mannion's bill would require the commissioners of the state Office of Children and Family Services, Office of Mental Health and Office of People with Developmental Disabilities to submit a report detailing its plan to the state Legislature. The report must be filed at least one year before any closure. 
The state wouldn't close any facilities unless state lawmakers approve of the decision. 
"It's an issue that's been important to me for a long time," Mannion said. "I think it's necessary." 
Mannion thinks there is support for his bill in the state Senate. Some interest groups have endorsed the measure. 
Paul Joslyn, executive director of AccessCNY, a service provider for central New Yorkers with disabilities, lauded Mannion for introducing the bill. 
"We believe that people with disabilities have the right to live in the least restrictive and most appropriate residential setting possible and that any changes must be done with significant advance notice and planning to ensure that individual lives are not uprooted," Joslyn said. 
Politics reporter Robert Harding can be reached at (315) 282-2220 or robert.harding@lee.net. Follow him on Twitter @robertharding.