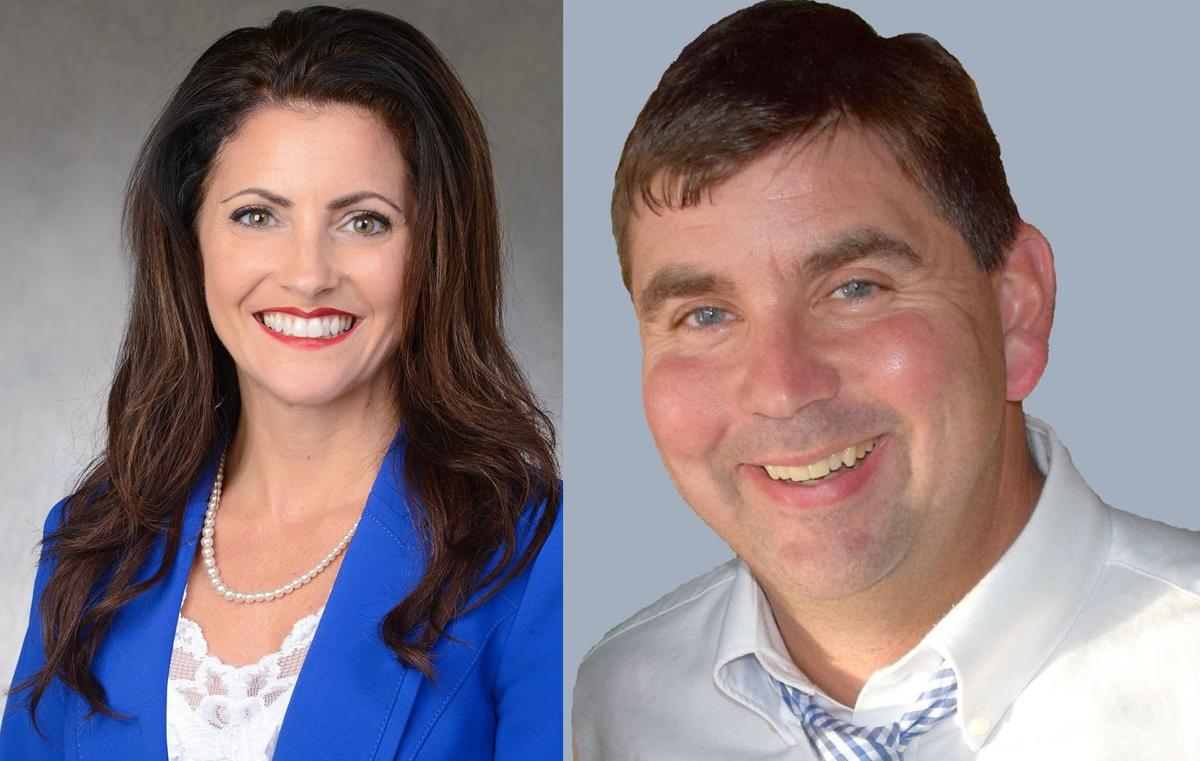 In less than two months, voters in central New York's 50th state Senate District will decide who will fill the seat that's been vacant since the end of 2019. 
John Mannion, a Democrat, and Angi Renna, a Republican, are running in a special election for the open state Senate seat. The winner will succeed former state Sen. Bob Antonacci, who resigned Dec. 31 to become a state Supreme Court judge. 
In separate interviews with The Citizen, Mannion and Renna shared their views on a few important state issues, outlined their priorities if they win the election and what their plans are for the next several weeks leading up to the April 28 election. 
Meet the candidates
Mannion, 51, filed to appear on the Democratic, Working Families and Serve America Movement party lines. He is an Advanced Placement biology teacher at West Genesee High School in Camillus. He and his wife, Jennifer, have three children. They live in Geddes. 
Renna, 45, will also have three ballot lines: Republican, Conservative and Independence. She is president of Sterling Financial Group, a Liverpool-based financial management firm. She has two adult sons and lives in Manlius. 
While this is Renna's first run for political office, Mannion is a second-time candidate for the 50th state Senate District seat. He narrowly lost to Republican Bob Antonacci in 2018. 
When is the election?
The special election is April 28 — the same day as the New York presidential primary. There will be a nine-day early voting period, from April 18-26, prior to the special election day. 
The district
The 50th district includes a portion of Syracuse and the Onondaga County towns of Camillus, Clay, DeWitt, Elbridge, Geddes, Lysander, Manlius, Marcellus, Onondaga, Otisco, Skaneateles, Spafford and Van Buren. Most of Auburn and the Cayuga County towns of Brutus, Cato, Ira and Sennett are also in the district. 
Republicans have held the Syracuse-area state Senate seat for more than 50 years. Former state Sens. Tarky Lombardi and John DeFrancisco each were in office for a quarter-century. Antonacci was a senator for one year before resigning at the end of 2019 to become a state Supreme Court judge. 
Enrollment has shifted over the last seven years. In April 2013, there were nearly 5,000 more Republicans than Democrats in the 50th district. There are now more Democrats than Republicans (65,550 to 61,879, as of Feb. 21) in the district. 
Minor party and unaffiliated voters could affect the outcome of the race. There are 10,665 active Independence Party voters, 3,632 Conservative Party voters and 50,402 unaffiliated voters. The Conservative and Independence parties are supporting Renna in the 50th district campaign. 
The issues
State budget and deficits
The most important bills considered by legislators are for the annual state budget. This year, there is a $6.1 billion deficit that Gov. Andrew Cuomo and lawmakers need to address within the spending plan. 
The budget votes will likely happen before the special election, but Mannion and Renna have thoughts on how the staff should approach the budget gap. 
For Mannion, the budget negotiations are a reminder that the 50th district lacks representation. 
"It really is impactful," he said. 
He recently visited a local health organization that had to cut nearly 10% of its workforce. He's concerned about the effects any restructuring of Medicaid could have on that organization and others in the district. 
Mannion supports eliminating abuse and waste in the Medicaid system and ending duplication of services. But there are essential services, he said, that need to be delivered. 
Renna believes she can put her financial expertise to use — if she's elected — during budget negotiations. 
With a multi-billion-dollar deficit, she thinks the state needs to look at cutting costs and increasing accountability in the budget process. 
"I don't think it's very prudent for the governor to be playing a shell game with the budget," she said. "We're seeing tactics of delaying Medicaid payments into the next fiscal year and shifting expenses from operating costs to capital funds. That makes it look like he's cutting the budget or cutting expenses, but we know that's not really helping." 
Medicaid is a focus, and Renna agrees that there's a need to examine the program. She wants to work with legislators to "try to get that under control." 
"That's not just an Albany problem. It's going to be a county problem if we don't stand up and fight the governor," she said. "We have to take a hard look at that." 
The 2019-20 state budget included a few criminal justice reforms: Ending cash bail for most offenses, requiring prosecutors to turn over discovery within 15 days after arraignments and speedy trial reform. 
The new laws, especially the elimination of cash bail for misdemeanors and nonviolent felonies, have been criticized by law enforcement officials, some elected leaders and Republican state lawmakers. 
Bail reform was one of the first issues mentioned by Renna at her campaign launch event in February. She supports repealing the criminal justice reforms. 
Renna criticized Cuomo and state legislators for using the budget to pass the reforms. 
"It's going to take time to fix it," she said. "I am interested in fixing it and rebuilding it. But I think we need an immediate repeal because I certainly don't want one more person hurt by this law. We're seeing repeat offenders being released back onto the streets and reoffending again. I don't want that on my shoulders and I'm sure there are other legislators who feel the same way." 
She suggested having open forums to discuss bail reform and other measures. She wants law enforcement officials, especially district attorneys and judges, to have a say in the process. 
Mannion, who has been endorsed by the union representing Auburn police officers, said he's had conversations with law enforcement officers in the district. He's also discussed the new laws with attorneys, corrections officers and judges. 
He believes the laws should be improved. One concern he has is the timeline for prosecutors to turn over discovery to the defense. He said the timeline is "unreasonable and it's making it difficult for the people who are there to protect us to do their jobs." 
Regarding bail reform, Mannion said poverty shouldn't be criminalized. While he supports ending cash bail, he believes judges should have greater discretion and have the power to set bail if someone poses a threat to others. 
One of the complaints from school districts across New York is that the state aid formula isn't working. The Auburn Enlarged City School District has been urging state leaders, including Cuomo, to fix the formula. 
Mannion and Renna agree that changes are needed. As a teacher, Mannion said he's seen the effects of the "antiquated" state aid formula. He wants state legislators to explore revenue options that could boost school aid while not burdening middle-class taxpayers. 
New York State United Teachers, a union supporting Mannion's campaign, is pushing for a tax on wealthy individuals that could generate $12 billion in revenue and support additional state aid for school districts. 
"It's critical that we have a representative there while we're getting this right and I believe I'm the right representative for that," Mannion said. "I'm always going to be a strong advocate for public education. Honestly, in (school districts) within the 50th Senate District, like Auburn, like Baldwinsville, they've been forgotten in this formula and we have to get it right." 
Renna panned the "unpredictable" nature of the formula which makes it difficult for school districts to plan from year to year. She would push for a simpler funding formula for school districts, but also wants to ensure that Auburn and other schools receive more equitable funding. 
Along with the state aid formula, Renna plans to advocate for vocational training programs. Cuomo's budget proposal could hurt the BOCES system, which provides vocational training opportunities to students. 
"I don't want to risk those programs," she said. "I think those programs are very important for our local communities. I work with a lot of small business owners that are having a hard time finding employees in certain trades ... Not everybody is going to go to college. Not everybody needs to go to college. We got to make sure that we've got the right funding and support for our vocational and occupational training, as well. 
Top priority
Renna said her goal is to take central New Yorkers' views to Albany. 
"This is not my race. This is our race. It's the race for the people of central New York," she said. "If elected, I have one top priority which is to be the voice for the people of this district, not the special interests or New York City." 
She highlighted her positions on other issues, such as the budget and bail reform. She also pledged to be an advocate for economic development initiatives and small businesses in the region. 
Mannion's number one priority is addressing the skilled workforce gap in some central New York industries. There are employers that have jobs available, but there aren't skilled laborers they can hire to fill the positions. 
With central New York shifting from manufacturing to other sectors, such as education and health care, Mannion wants to ensure businesses can hire skilled workers. 
"I do believe a high priority is to make sure we have an environment where these industries continue to thrive and then we can help connect our excellent educational institutions to them with highly skilled potential employees," he said. 
The campaign 
Before Renna launched her campaign, Mannion was attending events and raising money. As of January, he had $97,157 in his campaign account. 
There was a possibility that Mannion wouldn't face any opposition in the special election. Republican leaders considered not running a candidate in the April 28 election to focus on the general election in November. But they decided to back Renna for both elections. 
Even though he has an opponent for the special election, Mannion said it hasn't changed his approach. 
"We've been prepared," he said. "We have been running here for a while, going out, reaching out to the people of the 50th district and reaching out to organizations again and making sure that I have their issues down. We're ready to go. Contested elections are a good thing." 
Renna is also ready for the special election, but she also criticized the process. 
She accused Democrats of "trying to steal this seat" by holding a special election on the same day as the presidential primary. There is a competitive primary for the Democratic presidential nomination. There won't be a Republican presidential primary after the state Board of Elections ruled that three potential candidates are ineligible for the ballot. That means President Donald Trump, a Republican, won't face any opposition for the GOP nod in his former home state. 
Renna acknowledged that it will be a tough race with high Democratic turnout expected, but didn't want to let Mannion run unopposed in the special election. 
"I don't think that we should be letting the next senator be just another puppet for radical downstate liberals that are not really putting the concerns of central New York first and foremost," she said. "I'm looking at the special election as an opportunity to get my message out there, an opportunity for people to get to know who I am, an opportunity for people to know what I bring to the table and that I've got their best interests at heart." 
If the race is decided on April 28, the winner of the special election will serve the remainder of Antonacci's two-year term. The term expires Dec. 31. 
There are 15 legislative session days planned after the April 28 election. The legislative session is scheduled to end on June 2. 
Regardless of who wins the special election, Mannion and Renna will meet later in the year. Both have been endorsed by their respective parties for the November general election. 
Online producer Robert Harding can be reached at (315) 282-2220 or robert.harding@lee.net. Follow him on Twitter @robertharding.
Get Election 2020 & Politics updates in your inbox!
Keep up on the latest in national and local politics as Election 2020 comes into focus.