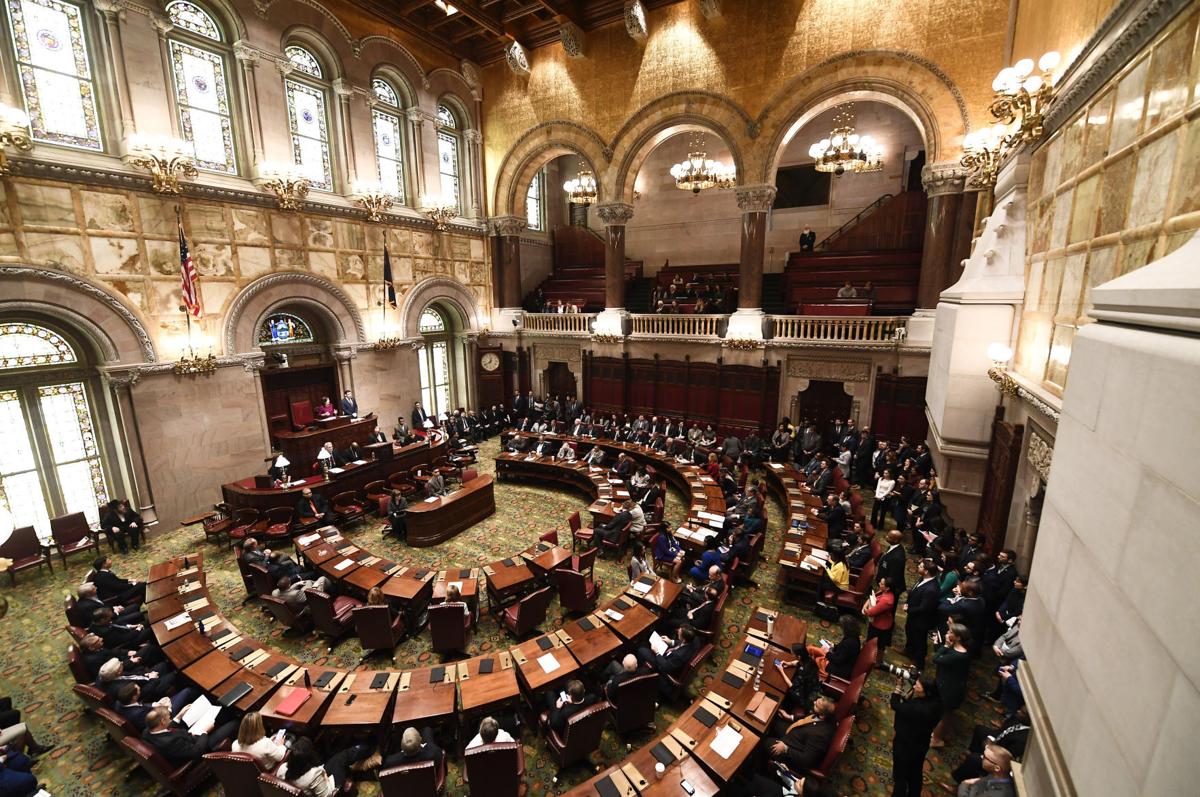 Democrats have already matched the number of New York State Senate seats they've held for the past two years. Now, they are aiming for a goal that's within reach: A veto-proof supermajority in the 63-seat chamber. 
The 50th state Senate District race between Democrat John Mannion and Republican candidate Angi Renna could decide whether Democrats have a supermajority in the chamber next year.
Renna, R-Manlius, had a 7,228-vote lead on election night. But with nearly 40,000 absentee and affidavit ballots to count in the district's two counties, Cayuga and Onondaga, it's possible that Mannion, D-Geddes, could erase that deficit and take the lead. 
When the two counties began counting absentee ballots last week, Mannion was closing in on Renna. He received 1,367 votes to Renna's 715 in Cayuga County — a county that Renna won on election night by 2,003 votes. With that support in Cayuga, which makes up a small portion of the district's electorate, Mannion began to chip away at Renna's lead. 
In Onondaga County, Mannion has garnered 5,047 votes, while Renna added 2,257 to her total. Renna's lead is now 3,786 votes in the district with about 30,000 more ballots to count. 
| | | | | |
| --- | --- | --- | --- | --- |
| SD-50 | Election night | Absentees | Total | Percent |
| Renna | 63,299 | 2,972 | 66,271 | 51.47% |
| Mannion | 56,071 | 6,414 | 62,485 | 48.53% |
While absentee ballots are being counted in other counties across the state, the process has come to a halt in Onondaga County. The absentee canvass has been suspended until Nov. 30 due to a COVID-19 outbreak at the county elections board. There have been at least eight cases at the board and other employees had to quarantine because they were exposed to the virus. 
Since observers and others who were at the elections board for the absentee ballot count may have been exposed to the virus, the county election commissioners decided to wait until Nov. 30 to resume the canvass. 
Depending on what happens in other competitive state Senate races, there could be a lot of eyes on Onondaga County when the counting continues later this month. 
In the 40th state Senate District, former Westchester County Executive and 2014 GOP gubernatorial candidate Rob Astorino had an election night lead over incumbent Democrat Peter Harckham. Astorino leads by about 5,900 votes over Harckham, but there are approximately 25,000 more ballots to count in that race. 
Mike Martucci, a Republican, led on election night in the 42nd state Senate District race against state Sen. Jen Metzger, a Democrat. There are 25,000 absentee ballots to count in the district, so it's possible that Metzger could still win the race. 
Republican Rich Amedure leads Democratic candidate Michelle Hinchey in the 46th state Senate District race. Amedure led by more than 8,000 votes on election night. There are over 25,000 absente ballots to count in that race. 
If the Democrats win one of those three races and Mannion can defeat Renna, they will have a supermajority in the state Senate beginning in January. 
Politics reporter Robert Harding can be reached at (315) 282-2220 or robert.harding@lee.net. Follow him on Twitter @robertharding.
Get Government & Politics updates in your inbox!
Stay up-to-date on the latest in local and national government and political topics with our newsletter.