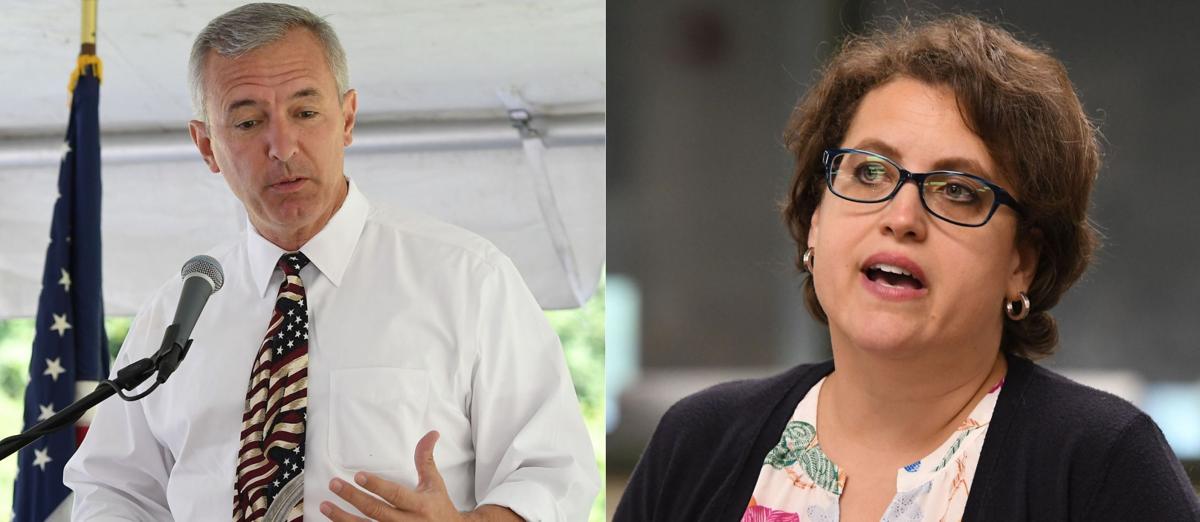 A new poll released by a Democratic super political action committee finds Democratic challenger Dana Balter has a two-point lead over Republican U.S. Rep. John Katko in the 24th Congressional District race. 
The poll conducted by Public Policy Polling on behalf of House Majority PAC shows that Balter, D-Syracuse, is up 45 to 43% in the race against Katko, a Camillus Republican. The polling firm surveyed 789 registered voters in the district on Tuesday and Wednesday. The margin of error is plus or minus 3.5%. 
Steve Williams, the Working Families Party candidate who remains on the ballot in the 24th district, wasn't included in the poll question. A state appellate court ruled this week that Williams will stay on the ballot in the congressional race. 
It's the fourth poll released by Democrats that found Balter either leading or running in a dead heat with Katko. The only public poll in the race, which was released by Siena College and Syracuse.com, showed Balter leading Katko by two points, 42 to 40%, with Williams on the ballot. In a head-to-head matchup, Balter's lead was three, 45 to 42%.
"It's clear the more voters learn about John Katko's record of supporting Donald Trump, the less they want to send him back to Congress," said Abby Curran Horrell, executive director of House Majority PAC. "Katko's repeated votes to defund Planned Parenthood and his support for overturning Roe v. Wade, along with his support for the rest of Donald Trump's failed agenda, are simply out of step with voters in his district." 
The latest poll also shows that former Vice President Joe Biden, the Democratic nominee for president, leads Trump by 13 points, 54 to 41%, in the district. That's consistent with other polling that's found Biden has a double-digit lead. 
On a generic ballot, half of the voters surveyed said they would vote for a Democratic congressional candidate. 
Neither Balter or Katko are popular among 24th district voters. Katko's favorability is higher, with 41% of voters having a positive view and 44% with a negative opinion of the GOP congressman. Balter's favorable rating is 34%, with another 40% having an unfavorable view. More than one-quarter of voters (26%) don't have an opinion of the Democratic challenger.
The 24th district race is one of the top congressional contests in the country. Political forecasters, including Cook Political Report and Larry Sabato's Crystal Ball, rate the race a toss-up. 
Money has been flowing into the district. Balter reported Wednesday that she raised more than $1.3 million in the third quarter, the second-most ever raised by a congressional candidate in the Syracuse area. Katko set a personal high by raising nearly $1 million in the quarter. He has a $1 million cash-on-hand advantage over Balter entering the final weeks of the race. 
Politics reporter Robert Harding can be reached at (315) 282-2220 or robert.harding@lee.net. Follow him on Twitter @robertharding.