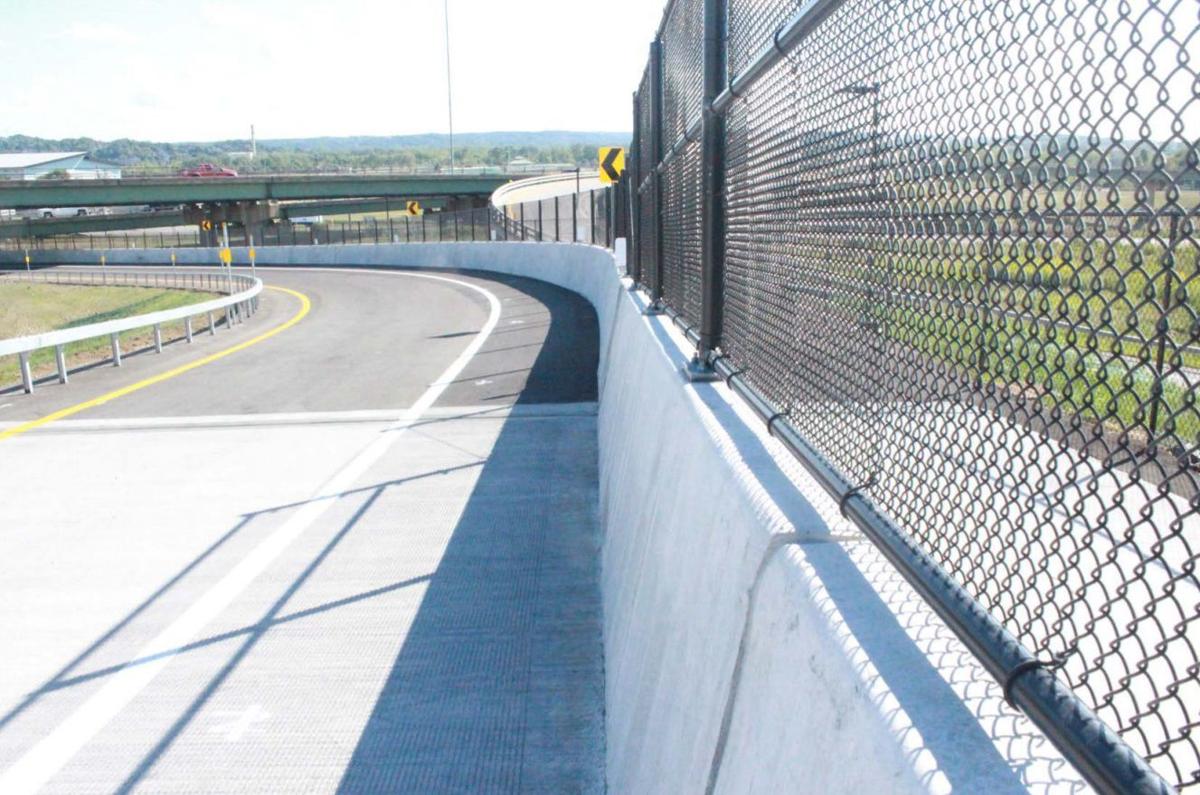 The completion of a nearly $12 million project will help motorists access Interstate 690 from the New York State Fair's Orange lot. 
The project included the construction of a new on-ramp bridge that links the Orange lot to the eastbound side of Interstate 690. Before the bridge was built, a traffic signal was temporarily installed on the highway during the fair to allow motorists to leave the Orange lot and head east on I-690. 
Now that the bridge has been constructed and there is an on-ramp from the Orange lot to I-690, the traffic signal won't be needed during the fair.
The bridge for vehicles is one part of the project. A 10-foot-wide walkway has been installed to help pedestrians walking from the Orange lot to the fairgrounds. 
The project cost $11.18 million and was the second phase of a project to improve the Orange lot. The first phase, which cost $27 million, included paving the parking lot and the installation of an entrance ramp from the lot to the westbound side of I-690. 
"The completion of this project is about more than just a parking lot — it's proof that regardless of the challenges we face, New York will continue moving forward and building back better," Gov. Andrew Cuomo said. 
The Orange lot is one of the state fair's busiest parking areas, with more than 7,000 parking spaces. It's also the main lot for the St. Joseph's Health Amphitheater at Lakeview, which has emerged as a prime concert venue in central New York. 
With the two phases of the project complete, State Fair Director Troy Waffner said it solves a challenge for the fair: The flow of traffic. During the busiest days of the fair, the Orange lot would fill up and it could be difficult for motorists leaving the lot to access I-690. 
Before the fair was canceled this year, it had a streak of four consecutive years with new all-time attendance records. That created problems for the transportation systems near the fair. 
"The fairgrounds is a year-round entertainment site that attracts millions of visitors," said Assemblyman Bill Magnarelli, a Syracuse-area state lawmaker who chairs the Assembly Transportation Committee. "Improving access to the parking lots and on-ramps to the interstates increases safety for all drivers and pedestrians." 
Politics reporter Robert Harding can be reached at (315) 282-2220 or robert.harding@lee.net. Follow him on Twitter @robertharding.
Get Election 2020 & Politics updates in your inbox!
Keep up on the latest in national and local politics as Election 2020 comes into focus.