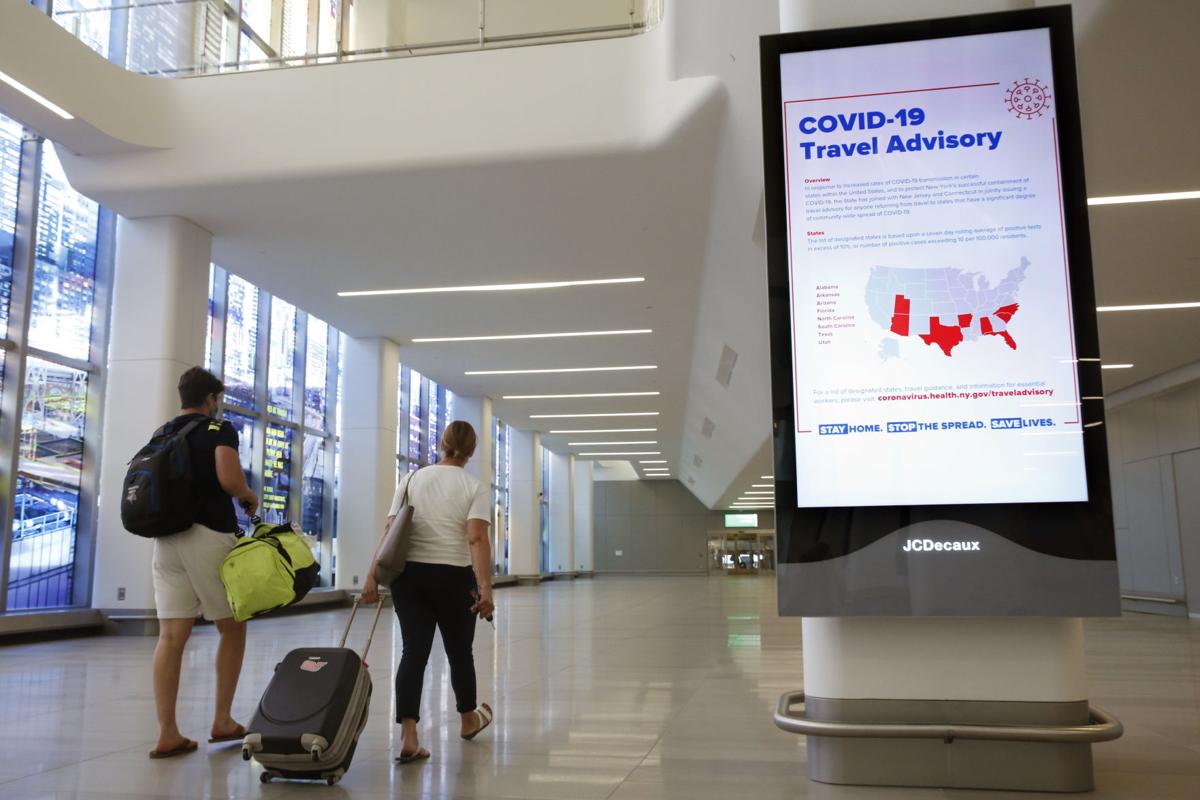 Three more states, Washington, D.C. and Puerto Rico have been added to New York's COVID-19 travel advisory, Gov. Andrew Cuomo announced Tuesday. 
People who visit New York from Illinois, Kentucky and Minnesota, along with D.C. and Puerto Rico, must quarantine for 14 days after their arrival. New York residents who travel to any state listed on the advisory must quarantine for two weeks after they return. 
There are 34 states on New York's quarantine list, which includes Alabama, Alaska, Arkansas, Arizona, California, Delaware, Florida, Georgia, Illinois, Iowa, Kansas, Kentucky, Louisiana, Maryland, Minnesota, Missouri, Mississippi, Montana, North Carolina, North Dakota, Nebraska, New Mexico, Nevada, Ohio, Oklahoma, South Carolina, Tennessee, Texas, Utah, Virginia, Washington and Wisconsin. 
The decision to add states to the travel advisory is based on a formula. If the number of positive cases is more than 10 per 100,000 residents or if the positivity rate is more than 10% over a seven-day period, then the state or territory will be added to the quarantine list. 
"Our job is to make sure we're doing everything we can to control COVID, which we are doing," Cuomo said. He added that the situation in other states is "still very bad." 
Meanwhile, New York is containing COVID-19. The infection rate on Monday was 0.93%, according to Cuomo. There were more than 57,000 tests performed statewide. 
While nine New Yorkers died of COVID-19, the number of hospitalizations is down to 648. There are 81 patients who are intubated, which is the lowest number since March 15. 
Cuomo said he watches the number of intubations because at the peak of the outbreak in New York, a high number of intubations "signaled that the number of deaths would increase." 
• Cuomo commented on reports that a concert featuring The Chainsmokers was held on Long Island. Videos reveal that attendees weren't maintaining social distancing. 
During a conference call with reporters, Cuomo called it a "gross violation of not only the public health rules, it was a gross violation of commonsense." 
"It was grossly disrespectful to fellow New Yorkers," he added. 
The state Department of Health has launched an investigation. 
Politics reporter Robert Harding can be reached at (315) 282-2220 or robert.harding@lee.net. Follow him on Twitter @robertharding.
Concerned about COVID-19?
Sign up now to get the most recent coronavirus headlines and other important local and national news sent to your email inbox daily.