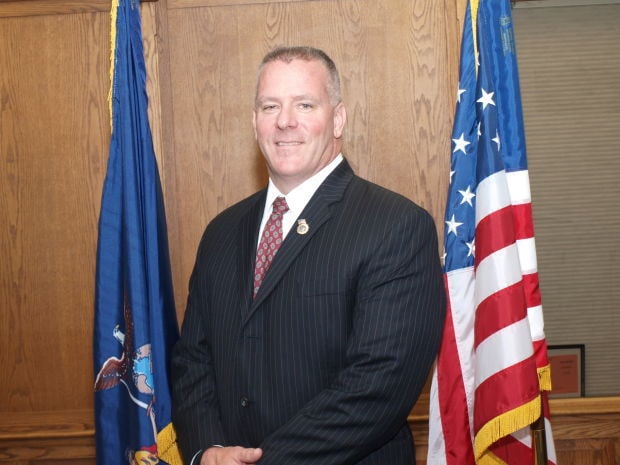 The head of the union representing correction officers at New York prisons has tested positive for the coronavirus. 
New York State Correctional Officers and Police Benevolent Association President Michael Powers said Monday that he has been self-quarantining at his home for several days. He called on the state Department of Corrections and Community Supervision, which oversees the state's 52 correctional facilities, to allow employees to use personal protective equipment, including N95 respirator masks and gloves. 
Powers revealed in a statement that there are 56 correction officers and sergeants who have tested positive for COVID-19, including an officer who is hospitalized and on a ventilator. He also said that "hundreds" of DOCCS employees are quarantined due to possible exposure to the virus. 
NYSCOPBA also has members who work for the Office of Mental Health and the Office of People With Developmental Disabilities. Six employees within those agencies have tested positive for COVID-19 and 35 workers are quarantined. 
"We can be assured that the total of positive cases will increase," Powers said. "The numbers underscore the fact that our state facilities are on the cusp of a wide outbreak. This concern must be taken seriously, and certain measures must be put in place immediately to protect staff." 
There have been concerns about the spread of the virus in the state prison system since two inmates, including convicted rapist and movie producer Harvey Weinstein, tested positive for COVID-19. The other inmate who was diagnosed with the virus had been at Auburn Correctional Facility before being transferred to Wende Correctional Facility in the Buffalo area. 
Officers at both prisons had to quarantine due to exposure to the virus. Citing security reasons, DOCCS didn't provide any information about how many officers were affected. NYSCOPBA said Monday that 26 officers and sergeants at Auburn Correctional Facility have been quarantined. 
NYSCOPBA has been urging DOCCS to allow employees to use personal protective equipment. The Citizen received reports from sources with knowledge of procedures inside the Auburn Correctional Facility that officers were being told not to wear masks. 
DOCCS explained Monday that it allows personal protective equipment to be used when "medically necessary." It cited guidance from the Centers for Disease Control and Prevention and the state Department of Health that masks should not be worn for protection from COVID-19 and should only be worn by medical personnel and first responders working "directly with individuals who are sick and those who are infected." 
There are several measures adopted to prevent the spread of COVID-19 in state prisons, according to DOCCS. The actions include temporarily ending visitation, suspending transfers of incarcerated individuals and implementation of a health and travel questionnaire for all staff entering correctional facilities. 
"DOCCS continues to evaluate all options in response to this public health crisis while preserving public safety," the agency said. 
NYSCOPBA made recommendations on changes DOCCS could make to reduce the spread of the virus. Those recommendations included ending non-essential inmate transportation and suspending visitation. While DOCCS has addressed several issues raised by the union, NYSCOPBA believes more should be done to protect its members. 
The other requests from the union include protections for officers who are at a high risk of severe illness if they contract the virus and accommodations for workers in isolation units. 
"Each day that our members are prohibited from wearing protective equipment, they are exposed to being infected and spreading the virus inside and outside of the facilities," Powers said. "We recognize and appreciate that some of our concerns have been addressed. However, further delays to our reasonable requests to protect staff must not continue." 
Politics reporter Robert Harding can be reached at (315) 282-2220 or robert.harding@lee.net. Follow him on Twitter @robertharding.
Concerned about COVID-19?
Sign up now to get the most recent coronavirus headlines and other important local and national news sent to your email inbox daily.