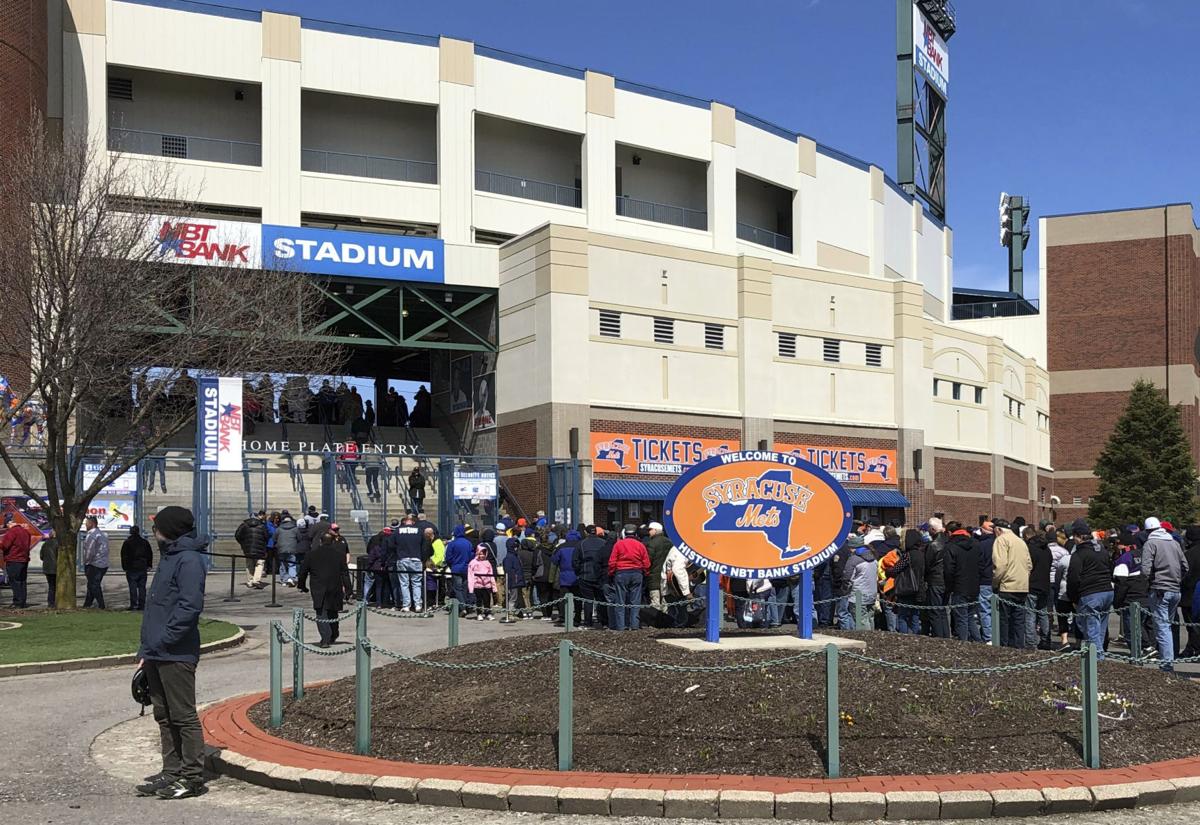 When Gov. Andrew Cuomo announced that New York's two Major League Baseball stadiums could open at 20% capacity, the same standard applied to smaller ballparks, including facilities used by independent and minor league teams. 
Four county executives hope the state will reconsider its decision and allow these stadiums to have more fans in the stands this year. 
Suffolk County Executive Steve Bellone, Rockland County Executive Ed Day, Broome County Executive Jason Garnar and Dutchess County Executive Marc Molinaro are asking the state to allow smaller ballparks to open at 50% capacity. The proposed change would affect the Syracuse Mets, the New York Mets' Triple-A affiliate, and apply to Falcon Park in Auburn. While the Auburn Doubledays are no longer a minor league baseball team, Falcon Park would be limited to 20% capacity under the state's existing regulations. 
Bellone, whose county is home to the Long Island Ducks, an independent professional team, said that 20% capacity may work for major league stadiums. Yankee Stadium can host nearly 11,000 fans, while Citi Field can have up to 8,492 fans. But for smaller ballparks, it would have a significant financial impact. 
The Long Island Ducks play at Fairfield Properties Ballpark in Central Islip. The stadium has 6,002 seats, but would be limited to 1,200 fans under the state's COVID-19 rules. 
"The fact is that smaller independent minor league teams cannot survive," Bellone said. "They do not have television contracts. They cannot survive at that level." 
There are similar concerns in Dutchess County, which is home to the Hudson Valley Renegades, the New York Yankees' new Single-A affiliate. Molinaro believes that the 20% cap imposed by the state is not sustainable for the Renegades and other minor league teams. 
The Renegades' ballpark, Dutchess Stadium, has 4,500 seats. If the state's 20% capacity limit stands, there would be 900 fans allowed for home games. 
"This is an opportunity for us to really do something very special and very important for our communities, for our economy and these teams," Molinaro said. He supports increasing capacity from 20 to 50%, and establishing other health measures for fans to attend games. 
"We can be safe, but we can be successful at the same time," he added. 
Garnar, like his colleagues, supports raising ballpark capacity to 50%. However, he also thinks local governments are best positioned to determine how many fans should be allowed at games. He wants the state to allow for more local control so that local governments, along with the baseball teams, can determine the appropriate capacity for ballparks. 
While he's hoping for more say in the process, he views the 50% target as a "really good compromise."
"We want to have this team flourish this year, both on the field and their ability to generate revenues," said Garnar, whose county is home to the Double-A Binghamton Rumble Ponies. "It's going to be really difficult to do it at 20%." 
Politics reporter Robert Harding can be reached at (315) 282-2220 or robert.harding@lee.net. Follow him on Twitter @robertharding.