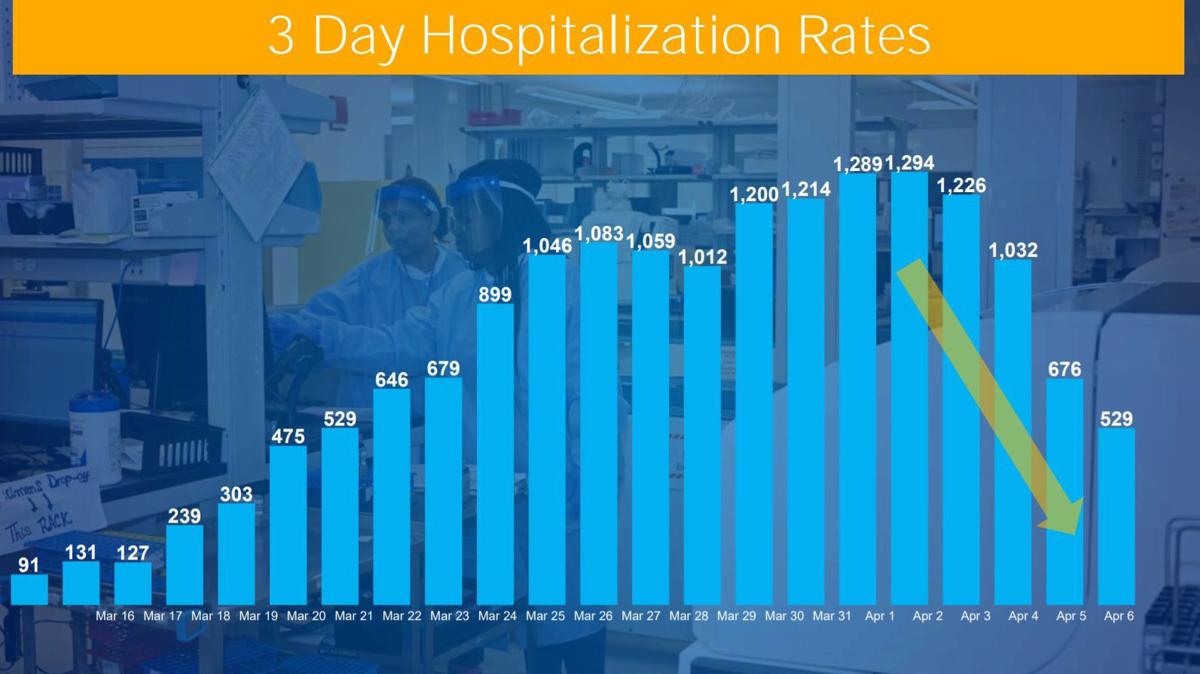 Even as the hospitalization rate drops in New York, the coronavirus death toll continues to rise. 
There were 731 coronavirus-related deaths reported on Monday, the highest single-day total since the beginning of the outbreak. The statewide death toll is now 5,489, doubling the number of people killed in New York on 9/11. 
"Behind every one of those numbers is an individual, is a family, is a mother, is a father, is a sister, is a brother," Gov. Andrew Cuomo said Tuesday. "So a lot of pain again today for many New Yorkers and they are in our thoughts and prayers." 
Cuomo described the number of deaths as a "lagging indicator" compared to the hospitalization rate. That's because some COVID-19 patients experiencing severe symptoms are hospitalized for an extended period and placed on a ventilator. The longer a patient is on a ventilator, he said, the less likely it is that they will recover. 
There are some encouraging trends. While the number of COVID-19 hospitalizations ticked up on Monday, from 358 to 656, the three-day hospitalization rate is at its lowest point in more than two weeks. As of Monday, the three-day average was 529 hospitalizations. 
Daily intensive care unit admissions and new intubations also dropped to two-week lows. 
There were 1,224 patients discharged on Monday, up from 1,179 on Sunday. For seven days in a row, at least 1,000 patients have been discharged from New York hospitals after recovering from COVID-19. 
Based on the projection models used by the state to track the spread of the virus, it appears New York is reaching a plateau in the number of hospitalizations. But as he did Monday, Cuomo sought to prevent New Yorkers from getting overconfident. 
"This is a projection," he said. "It still depends on what we do." 
While the focus is on the public health crisis, Cuomo has been discussing when to restart the economy. Because must of the outbreak is affecting the downstate area, he's having conversations with Connecticut Gov. Ned Lamont and New Jersey Gov. Phil Murphy about a tri-state strategy for the reboot. 
A quicker restart could come if rapid testing is available. New York is studying its own testing — an antibody test that would determine if someone had the virus — and is interested in companies that can boost the state's testing capacity. 
The state will invest in companies that can accelerate the testing capacity, Cuomo said. Interested companies should call (212) 803-3100 or email covid19supplies@esd.ny.gov.
• Cuomo once again called for federal action to help state governments affected by the coronavirus pandemic. 
"The state budget has been decimated by this situation," he said Tuesday. He added that state revenues "collapsed" due to the economic shutdown. 
President Donald Trump signed a $2.2 trillion coronavirus stimulus bill last month. The legislation included billions in aid for New York, but it wasn't all direct funding for the state government. 
Cuomo said he's sending a letter to the state's congressional delegation urging them to take action and get additional funding for New York in the next emergency measure. 
"I have no doubt it gave aid to a lot of people and places that needed it," Cuomo said of the last stimulus package. "But it was not fair to New York and that has to be remedied in any legislation that goes forward." 
Politics reporter Robert Harding can be reached at (315) 282-2220 or robert.harding@lee.net. Follow him on Twitter @robertharding.
Concerned about COVID-19?
Sign up now to get the most recent coronavirus headlines and other important local and national news sent to your email inbox daily.