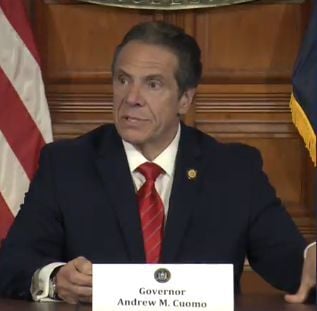 Peter Kosinski, the Republican co-chair of the state Board of Elections, said Thursday that he won't attend meetings until Gov. Andrew Cuomo appoints a second GOP commissioner. 
The state Board of Elections was scheduled to meet Thursday. But hours before the meeting, Kosinski issued the statement publicly announcing his plans. 
The meeting was canceled. 
There has been a vacant seat since Gregory Peterson, who was one of the GOP election commissioners, resigned at the end of 2019. His resignation was announced at the board's meeting in February. 
Since Peterson's departure, a replacement hasn't been appointed. Kosinski said that an unnamed nominee was presented to Cuomo in March. 
"While I understand the focus was on the pandemic, he recently found time to appoint over 50 people to over a dozen positions, but he could not find time to make one appointment to our board which he has had since March," Kosinski said. "It is inexplicable, inexcusable and unacceptable." 
Rich Azzopardi, Cuomo's senior adviser, said they are reviewing two nominations and "expect to make an appointment soon." 
The spat over the vacancy comes in the midst of a busy election year for the board. The state Board of Elections oversaw expanded absentee voting for the June primary election and is preparing for a similar scenario in November. 
Kosinski, the lone Republican commissioner at the moment, noted that the board has been operating with three commissioners since January. Douglas Kellner, the Democratic co-chair, and Andrew Spano, another Democrat, are the other commissioners. 
"The work of the board is critical in this presidential election year and a fully staffed board is necessary to the smooth bipartisan operations of the board," Kosinski said. "In addition, we will soon be taking up the responsibilities of the Public Financing Commission and bipartisan participation is essential for all candidates and the public to have faith in the process of public financing." 
Politics reporter Robert Harding can be reached at (315) 282-2220 or robert.harding@lee.net. Follow him on Twitter @robertharding.
Get Election 2020 & Politics updates in your inbox!
Keep up on the latest in national and local politics as Election 2020 comes into focus.