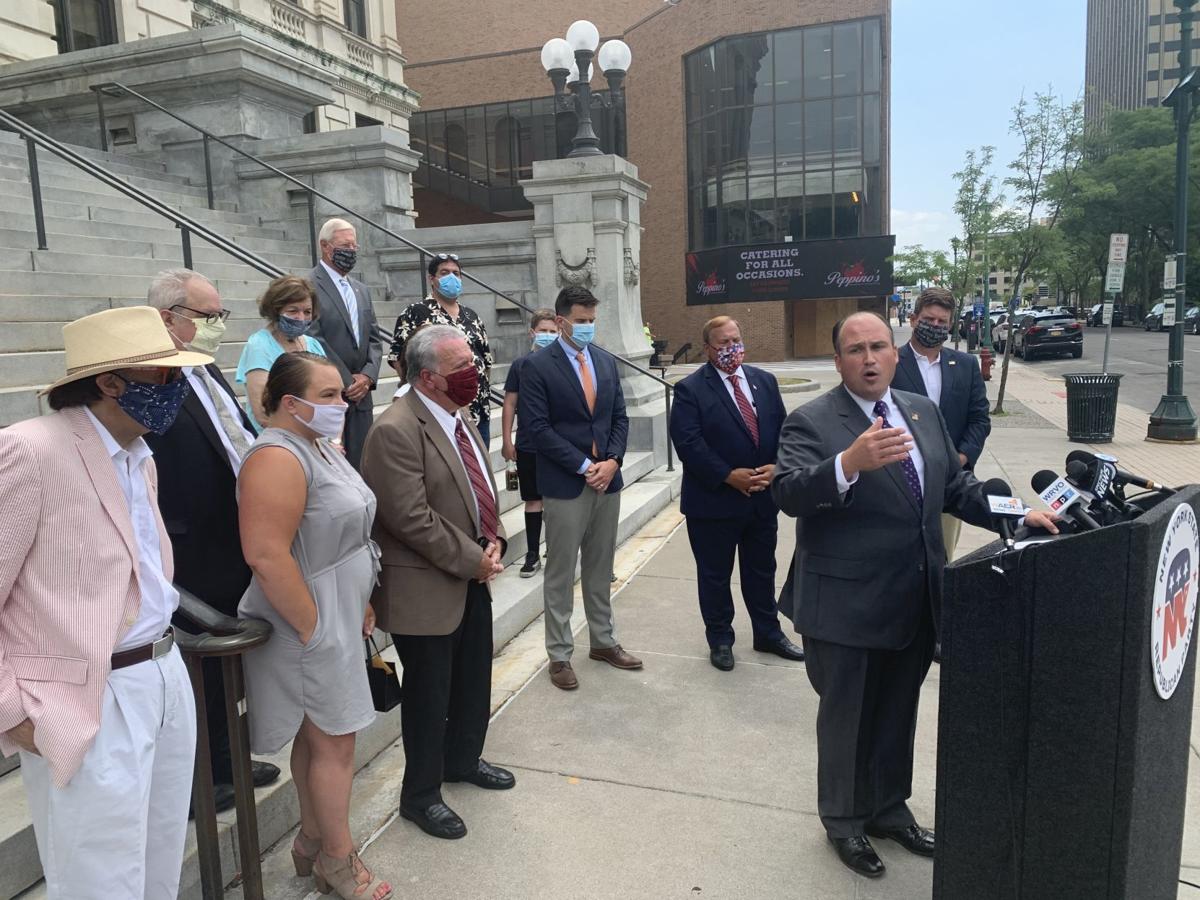 SYRACUSE — New York Republican Chairman Nick Langworthy acknowledges the state government's role in responding to the COVID-19 pandemic. But he believes too much power has been given to Gov. Andrew Cuomo and that the state Legislature hasn't done its job. 
Langworthy visited Syracuse on Wednesday to chide central New York's Democratic state legislative delegation and call on the state Legislature to curb Cuomo's emergency powers. 
As the COVID-19 outbreak began in New York in March, state lawmakers reached an agreement with Cuomo that granted the governor extraordinary authority to respond to the pandemic. 
With the state Legislature unable to meet because of virus fears, Cuomo issued several executive orders that included forcing the closure of non-essential businesses and requiring New Yorkers to wear masks in public when they can't comply with social distancing guidelines. 
At his press conference, Langworthy said state legislators have "thrown the keys to the state government right over to the governor and said, 'You run the show for the next year.'" 
Cuomo's emergency powers are due to expire in April 2021 unless the state Legislature acts before that date. 
"They've abandoned this constitutional duty as a co-equal branch of our government," Langworthy said. 
It's not just Cuomo's authority that was panned by GOP leaders. It's also how he has used that power. 
Angi Renna, the Republican nominee in the 50th state Senate District, criticized Cuomo's orders affecting businesses in New York. She said the governor's actions have "pulled the rug out" from small businesses.
She also mentioned the mixed messaging with the reopening of malls. It was thought that malls may reopen in an earlier phase, but that didn't happen. Cuomo said Wednesday that malls can reopen on Friday. 
"We're now seeing the great effects of one-party rule down in Albany and downstate New York City," Renna said. "The fact that we do not have a voice here in central New York has not only impacted us up until this point but don't think it's not going to affect us in an adverse way going forward." 
The Cuomo administration has addressed criticism of the governor's emergency powers. Good government groups recently argued that Cuomo's powers should be curtailed. 
During a briefing on Monday, Cuomo said it's an "unnecessarily stupid idea" because the state Legislature already has the authority to overrule Cuomo on executive orders. Secretary to the Governor Melissa DeRosa added that "it would've been complete and total anarchy" if the governor didn't have executive authority to respond to the COVID-19 pandemic. 
"If we didn't have the expediency to be able to close down the businesses when we did, to mandate the masks when we did, for the governor to be able to the things he needed to do, so many more lives would've been lost," DeRosa said. "This is just a continuation of playing politics." 
On Wednesday, Langworthy claimed Cuomo is a "power-obsessed dictator" and that the state Legislature gave him "unchecked, dictatorial" powers. 
He urged the central New York state legislative delegation to intervene. 
"You took an oath to stand up and be the voice for your community," Langworthy said. 
The state Legislature is expected to resume session this month. The Buffalo News reported Wednesday that the Assembly and Senate will meet for a few days beginning July 20. 
Politics reporter Robert Harding can be reached at (315) 282-2220 or robert.harding@lee.net. Follow him on Twitter @robertharding.
Get Government & Politics updates in your inbox!
Stay up-to-date on the latest in local and national government and political topics with our newsletter.