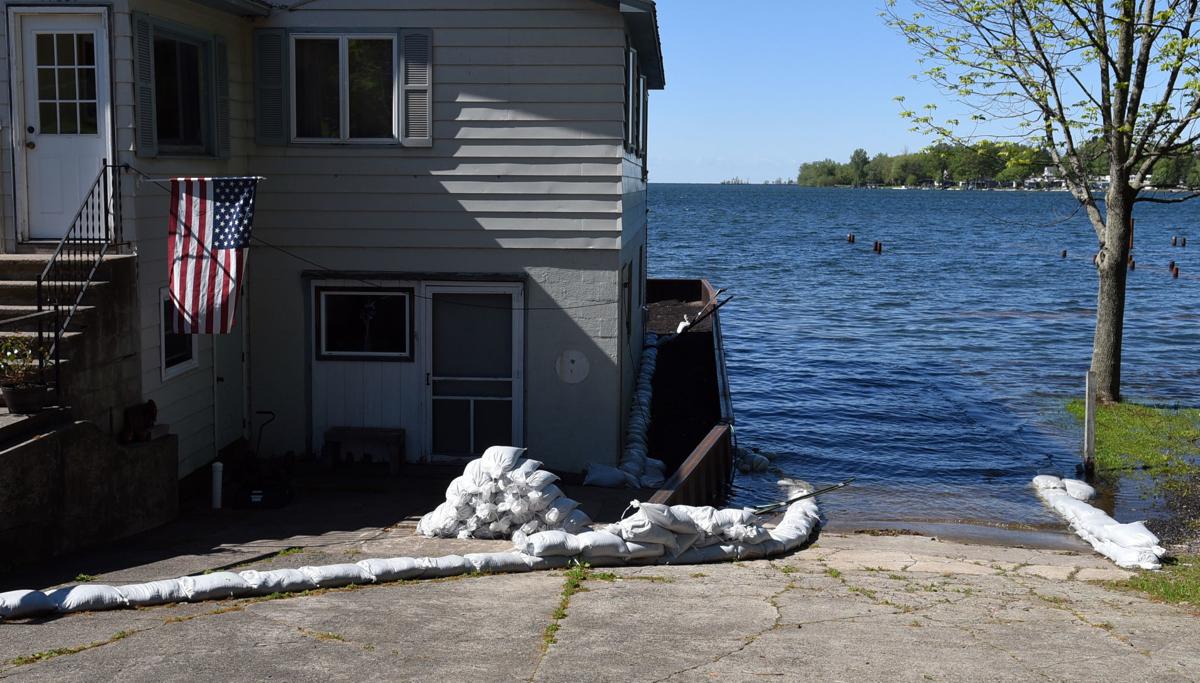 A trio of New York congressmen who represent communities along Lake Ontario chastised the International Joint Commission and called on the bi-national agency to take "immediate action" to prevent flooding. 
U.S. Reps. Anthony Brindisi, John Katko and Joe Morelle are concerned there will be flooding again this year. As of Thursday, Lake Ontario was at 246.33 feet — nearly two feet higher than the historical average for this time of year and above where water levels were in 2017 and 2019 before the flooding occurred. 
In a letter to the U.S. and Canadian section chairs of the commission, which oversees shared boundary waters between the two countries, the congressmen criticized the panel for failing to meet its goal of reducing lake levels to 245.4 feet by Jan. 1. On New Year's Day, the lake level was at 246.10 feet, according to the IJC's website. 
The IJC announced in December that, through the Lake Ontario-St. Lawrence River Board, it would maintain high outflows through the winter. However, outflows declined from a peak of 375,400 cubic feet per second on Jan. 3 to 249,700 cubic feet per second on Jan. 20. Outflows are slowly increasing, but Brindisi, Katko and Morelle are concerned about how the commission plans to address the flooding risk this year. 
"While we understand that water supply to Lake Ontario has been atypically high in recent years, that does not abrogate the International Joint Commission's responsibilities to adapt to evolving environmental conditions and to protect riparians along the Lake Ontario shoreline," the members wrote. 
Brindisi, Katko and Morelle have been critical of Plan 2014, a water management scheme adopted by the commission in late 2016. Katko was an early opponent of Plan 2014 and believes it should be abolished. Other elected officials think Plan 2014 contributed to the flooding in 2017 and 2019. 
The commission has defended Plan 2014 and blamed extreme weather, not the document, for the high water levels. They argue that heavy rainfall and inflows from the other Great Lakes led to flooding along Lake Ontario and the St. Lawrence River. 
When flooding occurred in 2017, the damage was severe enough that President Donald Trump issued a major disaster declaration for eight counties along the lake and river. There wasn't a similar disaster declaration for the 2019 floods, although Gov. Andrew Cuomo issued a state of emergency and unveiled a new $300 million initiative to bolster the shoreline and support economic development projects. 
However, those resiliency projects won't be done before the spring. Based on where the water level stands now, there's a real concern that flooding will occur for the third time in four years. 
Brindisi, Katko and Morelle submitted a few questions to the commission regarding its outflow maximization strategy, adjusting the maximum limits on outflows that balance the need to lower water levels while ensuring safe conditions for commercial navigators, and whether additional members will be appointed to a committee tasked with reviewing Plan 2014. 
"With the persistent high water levels in mind, we are calling on the board and the IJC to learn from 2017 and 2019 and take immediate action to develop a more realistic plan for managing Lake Ontario water levels that addresses the concerns of upper and lower riparians equitably," the members added.
Online producer Robert Harding can be reached at (315) 282-2220 or robert.harding@lee.net. Follow him on Twitter @robertharding.
Get Government & Politics updates in your inbox!
Stay up-to-date on the latest in local and national government and political topics with our newsletter.