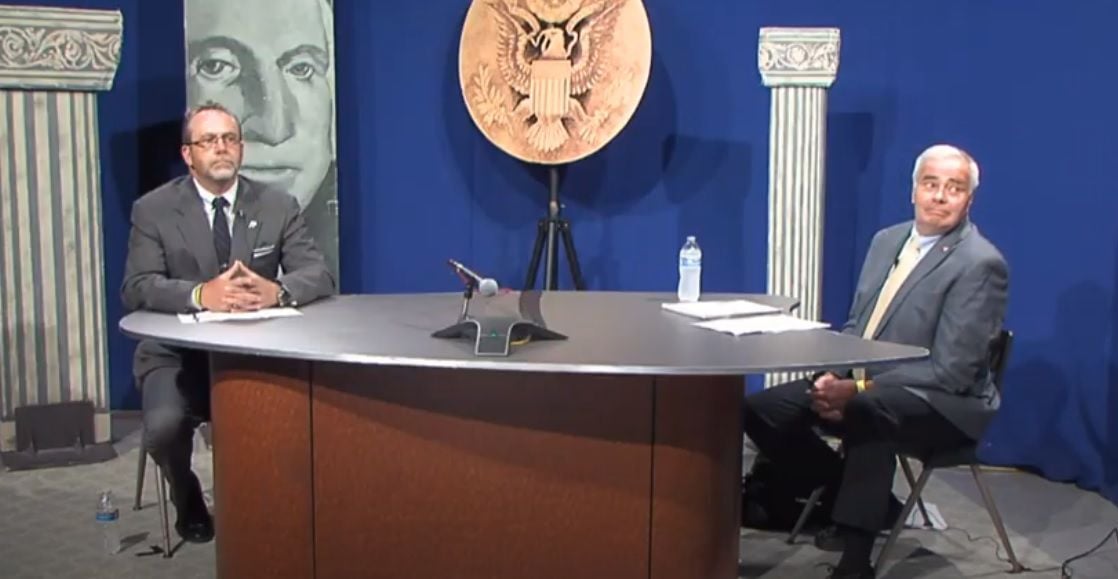 Bail reform has been a hot topic in state legislative races across New York. But in the 51st state Senate District race, the candidates agree that the new law is flawed and should be changed. 
At a debate hosted by Cayuga Community College Tuesday, the candidates in the 51st district race — Democrat Jim Barber and Republican Peter Oberacker — detailed their positions on the new law. 
During the 2019 budget process, Gov. Andrew Cuomo and state lawmakers agreed to major changes to the cash bail system in New York. One of those changes is eliminating bail for most misdemeanor and nonviolent felony offenses. 
The law has been panned by critics, especially those in law enforcement, because they believe it allows criminals to get back on the streets and takes away authority from judges to set bail in certain circumstances. 
Barber, D-Middleburgh, said he had a conversation with Cayuga County Sheriff Brian Schenck about the bail reform. Schenck told him that one concern is that someone could be arrested multiple times for similar crimes and, if it continues, they could reach the point where they're facing felony charges. 
He agrees with supporters of the bail reform law that it was intended to address an unfair system. One of the criticisms of bail before the law took effect is that those who couldn't afford to post bail would be kept locked up, while others who could afford bail would be released if they were charged with the same offense. 
But Barber thinks the process excluded important voices, including law enforcement leaders and judges. 
"They didn't have the right people in the room," he said. "The folks with firsthand knowledge of everything that's going on to really craft legislation that would be effective." 
Barber added, "It needs to be looked at again. Let's make the adjustment so we do have more discretion for judges. We can find ways to help the people that need help." 
As the son of a former judge, Oberacker, R-Schenevus, said the bail reform law took "judging out from the judges' hands." He believes the changes have an adverse effect on the ability of law enforcement to help individuals, especially those struggling with addiction. 
"It's one of the first opportunities that these folks actually get for some mental health evaluation and to get into a system that actually addresses those issues," he said. "The way that cash bail is set up they're back right out, they're back in the same element and it really is a detriment to the individual." 
Oberacker echoed Barber's comments that the intent of the legislation may have been good, but it didn't factor in the thoughts of law enforcement leaders. 
"It simply pushed down another mandate from Albany," he said. 
The candidates also addressed the possibility of succeeding retiring state Sen. Jim Seward, who has been in office since being elected in 1986. Seward, R-Milford, announced in January that he would not seek reelection this year. 
Oberacker said Seward called and asked him to consider running for the state Senate seat. After conversations with his wife, he decided to enter the race. 
If he's elected, Oberacker said he will retain Seward's staff. 
"The vast knowledge that they possess will just make us so much more efficient," he said. 
Barber pledged to work as hard as Seward did in traveling the district and securing resources for communities across the 51st district, which includes a portion of Cayuga County. Regarding the latter, he said that one reason Seward was able to get funding for the district is because, for most of his time as a state lawmaker, he was in the majority. 
If Barber is elected, he will likely serve in the majority. Democrats, which hold 40 of the 63 seats in the Senate, are expected to retain the majority of seats in the chamber. 
"The dynamics have changed," he said. "Now, if we want to be represented in the Senate effectively, you need to have a seat at the table with the Senate majority where the decisions are being made so that you can build those alliances that are going to be so important." 
Absentee ballots have already been distributed in the 51st district. Early voting begins Saturday, Oct. 24 and continues through Sunday, Nov. 1. Election Day is Tuesday, Nov. 3. 
Politics reporter Robert Harding can be reached at (315) 282-2220 or robert.harding@lee.net. Follow him on Twitter @robertharding.
Get Government & Politics updates in your inbox!
Stay up-to-date on the latest in local and national government and political topics with our newsletter.