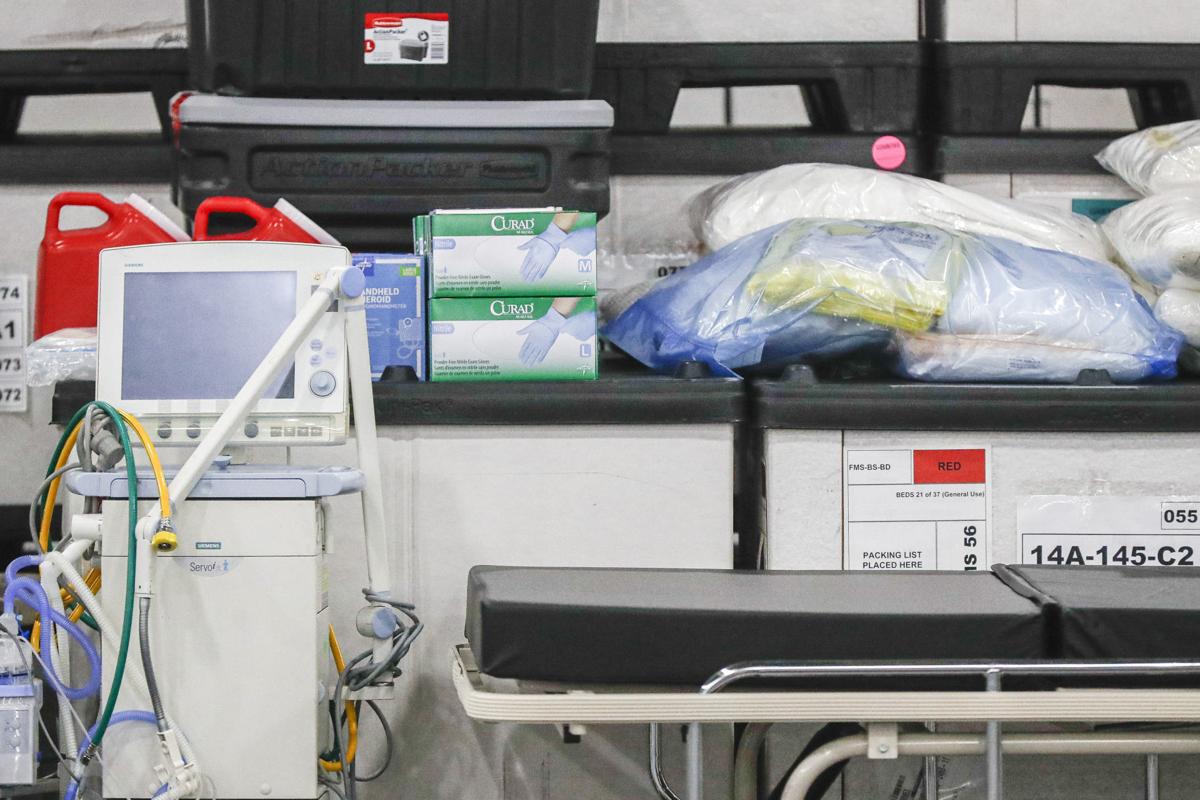 Gov. Andrew Cuomo is ordering Auburn Community Hospital and other upstate medical centers to give up ventilators and personal protective equipment for the downstate response to the coronavirus pandemic. 
Cuomo said Friday that he would issue an executive order allowing the state to "take ventilators and PPE from institutions that don't need them now and redeploy them to other parts of the state and other hospitals that do need them." 
On a conference call with Cuomo and state Health Commissioner Dr. Howard Zucker, hospital executives — including Auburn Community Hospital President and CEO Scott Berlucchi — were asked to provide between 10 to 20% of unused ventilators and personal protective equipment. 
Rich Azzopardi, a senior adviser to Cuomo, clarified that the state is requesting hospitals loan 20% of their unused ventilators to downstate hospitals. The state will either return the equipment or reimburse the hospital. 
The National Guard will be deployed to transfer the equipment from upstate to downstate medical facilities. Berlucchi said Auburn Community Hospital will comply with the order. 
"We will strike a balance between the immediate needs of the downstate hospitals while protecting our local patients and our community in case of a surge in positive cases for COVID-19," Berlucchi said in a statement. "As a small community hospital, we will work with our hospital team and community leaders to find innovative solutions to meet these challenges while caring for our patients. Our supplies are not large, but we will do what we can." 
More than 93% of the 102,863 confirmed coronavirus cases in the state are in New York City, Nassau, Rockland, Suffolk and Westchester counties. There are 14,810 people hospitalized, including 3,731 in intensive care units. A vast majority of the patients are in downstate hospitals. 
Cuomo identified eight hospitals in the New York City area that are considered "hotspot" facilities because they have the highest number of COVID-19 hospitalizations. 
With a rapidly growing number of downstate hospitalizations and ICU admissions, the state needs more ventilators. While the state has been able to purchase more ventilators and the federal government provided more than 4,000 machines, Cuomo has estimated the state will need at least 30,000 ventilators. 
"I'm not going to get into a situation where we're running out of ventilators and people are dying because there are no ventilators but there are hospitals in other parts of the state that have ventilators that they're not using," Cuomo said Friday. "I'm just not going to allow us to go there. I think it would be wholly irresponsible." 
Cuomo's order has been criticized by several upstate elected officials, including state Sen. Pam Helming. 
Helming, R-Canandaigua, represents several towns in Cayuga County and a portion of Auburn. She said that several county health departments in upstate New York do not have an adequate supply of COVID-19 test kits. 
She believes it sets a dangerous precedent to take equipment from hospitals for use elsewhere. 
"The state of New York needs to work with all our hospitals to get the resources to the right places, while ensuring they have what they need to take care of their own patients," Helming said. 
Erie County Executive Mark Poloncarz said he's had conversations with hospital executives in the Buffalo area and all of the ventilators are in use. As of Thursday, there are 79 COVID-19 patients in Erie County who are on a ventilator. 
Poloncarz pledged that no one in Erie County will have a ventilator taken away to send to a downstate hospital. 
"We're all in this together, but someone's life downstate is no different than a life up here," he said. 
But with ventilators in short supply at downstate hospitals, Cuomo is seeking help from other hospitals in New York. 
He said the "burn rate" for ventilators is about 300 a day, meaning that 300 ventilators are needed daily to meet the growing demand. 
When the outbreak worsens in upstate New York, he said the state would divert resources to those hospitals. 
"I'm not going to let people die because we didn't redistribute ventilators," Cuomo added. 
Politics reporter Robert Harding can be reached at (315) 282-2220 or robert.harding@lee.net. Follow him on Twitter @robertharding.
Concerned about COVID-19?
Sign up now to get the most recent coronavirus headlines and other important local and national news sent to your email inbox daily.