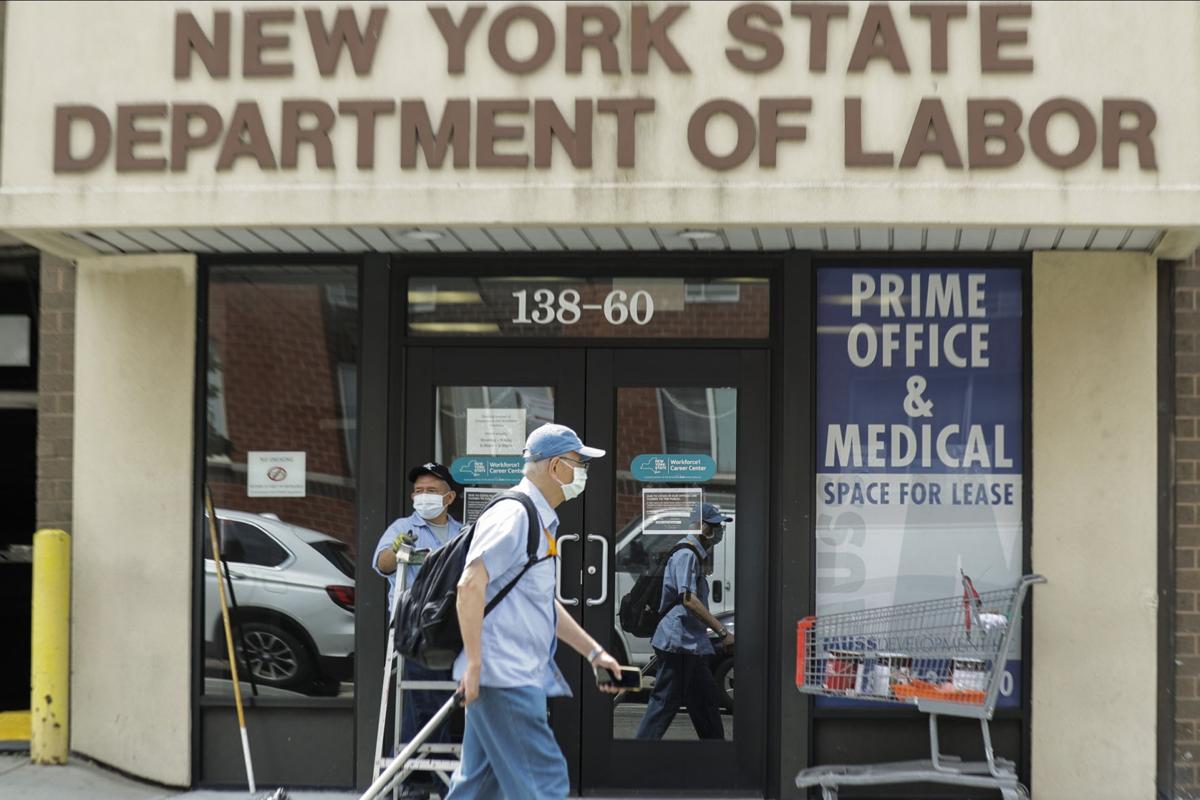 Unemployed New Yorkers will begin receiving $300 payments in addition to their regular jobless benefits next week. 
The state Department of Labor has created a Lost Wages Assistance program to provide the $300 in weekly benefits to unemployed workers. The program is funded by the Federal Emergency Management Agency, which approved New York's application for a grant to fund the additional payments. 
The payments are intended to partially make up for the loss of the $600 weekly enhanced unemployment benefits that were paid out until July 31. Since Congress hasn't reached an agreement on a new COVID-19 relief bill that could provide additional benefits for the unemployed, President Donald Trump took executive action that called for the creation of a program to provide the $300 weekly payments. 
Nationwide, the unemployment rate was 8.4% in August. In New York, the jobless rate was 15.9% in July. The state paid $43.7 billion in unemployment benefits to 3.5 million New Yorkers during the pandemic. 
"Throughout this crisis, states' unemployment systems have been pushed to the limit and constantly changing federal guidance — including this haphazard presidential executive order — have only delayed our efforts to get benefits to New Yorkers in need," state Labor Commissioner Roberta Reardon said. "But we have worked day and night to stand up this program, and millions of New Yorkers will see payments next week." 
An estimated 2.4 million New Yorkers will be eligible for the $300 weekly benefits, which are retroactive to the weeks ending Aug. 2, Aug. 9 and Aug. 16. FEMA has released funding to allow the state to pay out the first three weeks of benefits through the Lost Wages Assistance Program. 
Most of the eligible unemployed New Yorkers — about 2 million people — have qualified for the program because they have stated their unemployment is due to the COVID-19 pandemic. They won't need to take any action to receive the $300 weekly payments and will begin to receive the benefits next week. 
An email and text message will be sent to these individuals notifying them that they have pre-qualified for lost wages assistance. 
Other New Yorkers will need to certify that their unemployment is because of the COVID-19 pandemic to receive the $300 payments. This includes approximately 435,000 people who can certify online or by phone beginning Friday, Sept. 11. An email will be sent to certify online or claimants can call (833) 491-0632 and use an automated phone system to submit their additional certification. 
If the certification is completed by 5 p.m. Tuesday, Sept. 15, the $300 payments will begin next week.
New York could receive more federal funding for its lost wages assistance program unless the federal Disaster Relief Fund, which is being used to finance the payments, falls below $25 billion or if the $44 billion allocated for the weekly benefits is exhausted. The payments would be discontinued if Congress reaches an agreement on a new unemployment assistance program.
If funding remains available and Congress doesn't have a replacement program, the $300 payments will end Dec. 27. 
Politics reporter Robert Harding can be reached at (315) 282-2220 or robert.harding@lee.net. Follow him on Twitter @robertharding.
Concerned about COVID-19?
Sign up now to get the most recent coronavirus headlines and other important local and national news sent to your email inbox daily.